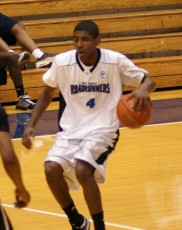 The Duke Men's Basketball staff has been very busy during the most recent open recruiting period and they hope that the hard work pays off by months end.  This should prove to be an eventful week for Duke in that they have in homes and official visits in place.
Let's start out talking about Austin Rivers.  As some of you may know by now, Rivers had a great visit, so much so that many feel Duke made more than just a good impression.  It's up to Rivers now [private] in that he must first de-commit from Florida before Duke can actively recruit him.  The Duke staff told Rivers and his Mom to go home and discuss the matter with Doc.  There is a lot going on behind the scenes these days in Florida and Donovan is learning that building on those two titles is not so easy.  It is not out of the realm of thinking to see that a player sees how the Gators treated Jai Lucas and that they are still going after Brandon Knight. So, all eyes are now on the Rivers camp to see when they make an announcement.  Rivers is a Duke player through and through and he got along with the players very well during his visit.  We'll have more on this hot issue later.
Duke has cooled on the aforementioned Knight, only because Kyrie Irving is their first choice and they feel very good about the New Jersey native becoming one of their own.  Coach K and Chris Collins will be in Jersey today to visit with Irving and he will then visit Duke.  I think Irving will be a Dukie, it's just a matter of time.  Irving fits the Duke system well and the team has defined his role already.
Duke is taking no breaks with Harrison Barnes.  In fact, Coach K and Wojo visited Barnes during an open gym in Ames yesterday.  The Blue Devils are in very good shape with Barnes and in my opinion are the leader for his services.  UNC came in hard but they were late in doing so.  While I am not counting them out, I think the visit is more than wearing off.  The Heels gave it their best shot and followed up with a Roy Williams visit, but they now realize it is going to be tough to swoop him away and they are running out of bullets.  Barnes is still considering Kansas and Oklahoma.
The Blue Devils had their in home visits with Josh Hairston and Tyler Thornton on Sunday as we mentioned earlier.
Not much out there on Roscoe Smith due to trying to get in touch with him at Oak Hill Academy.  Here is the deal, Nate James visited Roscoe at his school this past week.  Duke is working on setting up an in home with his parents and that will likely take place in the next couple of weeks.
In the class of 2011, Duke has seen Quincy Miller, Marshall Plumlee, Brad Beal, Adonis Thomas, Michael Gilchrist and Trevor Cooney during this open period.
Duke took in2012  prospect Amile Jefferson, and JP Tokoto has also been seen this month.  So needless to say, the Duke staff has been working their butts off.
Here is a list of standing offers - Kyrie Irving, Harrison Barnes, Brandon Knight and Roscoe Smith from 2010.  Quincy Miller, Marshall Plumlee, Brad Beal and soon to be Michael Gilchrist in 2011.  In 2012, only JP Tokoto has been offered. [/private]