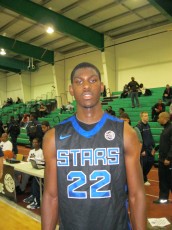 HAMPTON, Va - By the end of the Nike EYBL Session I, many were talking of the improvement in Alex Poythress game from a season ago.  In one game he matched teammate Tony Parker's numbers of 17 points and 11 rebounds and he used that game as a springboard.  When Parker had to sit out with back spasms, Poythress picked up the slack.
Poythress is a 6-8 combo forward that has gained a lot of confidence of late.  He would mix it up with anybody during this past weekends Nike EYBL, exploded around the basket and was very aggressive in his movements.  He has developed more of a jumper as well and displayed all the improvements on the Nike stage for all evaluators in attendance to see.  Here is a video clip and interview of Poythress. [private]
His current list consists of Florida, Tennessee, Georgia, Memphis, Stanford, Alabama, Texas, Marquette and others, but he'll be getting plenty of new calls this coming week.  He is open to Duke and ACC schools, so we'll see if his newly formed game translates into interest.
What is your current height and weight?
6-8, 215
What do you feel like your strengths are at this time?
My strengths are probably taking bigger defenders off the dribble and small guys, I post up.  I need to improve my ball handling.
Who has offered you to date?
Alabama, Vandy, Georgia, Tennessee, Florida, Marquette, Stanford, um, there is c couple more.
There has been a little bit of vague interest between you and Duke.  Can you talk about that?
Duke is a good school you know, it's one of the top schools in the country.
Have you spoken to any of their assistants?
No sir.
How would it impact you if they became more aggressive?
Um, I'd probably take a look at them.
Are any of the schools recruiting you harder than others?
No sir, they are pretty much the same.
Did you have a dream school growing up?
No sir.
Do you pattern your game after any player?
No sir.  I just play out there.
What do you need to do to get readt for the next level?
Probably hit the weights more, be more physical.
How would you feel if you were recruited as a power forward?
I'd be okay with it.  I just want to find a place I am comfortable playing.
What do you think your position will be in college?  Do you consider yourself to be a hybrid type of forward?
Yes sir. [/private]