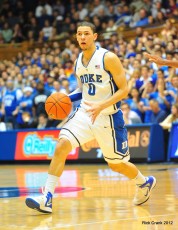 Here are a few more notes on Duke Basketball for your Friday -
Next up, Maryland
Nobody is ready to let go of the Duke_UNC game just yet including me as you will see as you read on below.  But Duke has to put that game behind them and prepare to defend the home turf.  Duke should handle Maryland in that they have but so much fire power but overlook any team beyond the bottom dwellers and an upset can occur.  The Terps feature the leading scorer in the ACC in Terrell  Stoglin, but they're thin up front.  With a much improved N.C. State coming in next week, getting this game into the win column is a must to remain atop the conference and in the ACC race.
Has Duke found their go to guy?
The last question asked in Coach Mike Krzyzewski's press conference was about Austin Rivers and his ability to step up.  I know because I posed the question and I'd been seeing signs of young Rivers starting to get the college game.  Coach Krzyzewski basically said he needed his juniors and senior to step up but in the back of his mind, I am certain he saw exactly what I had.  Well, everybody saw it when he drilled a three point shot over Zeller as time ran out securing a win over arch rival North Carolina.  What you saw offensively is exactly what Rivers did on a regular basis on the AAU level but now he had one of those patented performances on the biggest stage possible.  Duke has found their go to guy and you can bet that the ball will be in his hands a lot as the season wears on.  The bottom line is that Austin Rivers blew up last night showing the kind of confidence that cannot be taught.  If Seth Curry and Rivers get on the same page, Duke will be much improved and last night was a good start towards that mix.   The key here is that Rivers wants to step up and he's become tougher each game out.  Much like I mentioned early on this season, at some point the light would go off for Rivers and that's exactly what happened against North Carolina.   Check out Duke Blue Planet's Comeback Video by clicking this link.
Good job Coach
Coach Krzyzewski kept his team confident and playing hard against North Carolina and they kept playing hard and the end result is the epitome of why you do so.  Krzyzewski shrewdly brought his team in without calling a timeout where he made the move to Tyler Thornton to guard Tyler Zeller.  The reason was that Zeller was the player he wanted fouled and the perceived mismatch caused North Carolina to play right into his hands.  Just before that, Roy Williams called a full timeout for strategy and his team totally came apart being outscored 10-0 down the stretch, struggling to get a shot off during the Blue Devils run.
Streaks
The Blue Devils win will keep their streak of remaining in the top ten in the polls in tact at 88 straight.  Duke also ended the Tar Heels 31 home court winning streak, the longest in their history.  Coach Krzyzewski also kept the edge over his rival 37-36  and one must remember the arly lean years when taking those numbers in when he was building his program.  Krzyzewaki is 13-9 against Coach Williams.
Rasheed Sulaimon named to McDonald's All American Team
Coming in next season for Duke is a slick guard out of Texas, Rasheed Sulaimon and he's made the McDonald's All American team.  Sulaimon is potentially a lock down defender and he can slash about in a way I think you'll like for he brings the energy.  Duke has a bevy of prospects on the team as well starting with Shabazz Muhammad, a sky walker and complete player for his age.  Tony Parker also made the squad as did Amile Jefferson, a Philly kid Duke recently offered.  Jordan Jones, the sister of Duke verbal, Matt Jones made the girls team.
Amile Jefferson nears his decision
Duke prospect and top 20 rated Amile Jefferson is about to make his collegiate choice.  Here is a recent article link.  For more on this recruitment, join Blue Devil Nation Premium and discuss the matter with other members.  BDN Premium is an extended subscription service where you get the inside scoop on all things Duke Hoops.
Duke and Carolina
Here in the Triangle, the two teams have always been referred to as Duke and Carolina and not Duke and North Carolina.  And you have to understand some of the localese pronunciations.  Duke is "Deeyewk" and Carolina is "Carelina."  So, you add a bit of a "w" when you say Duke and lose the "r" when you say Carolina.   Also, if you're a Blue Devil fan never use the spelling "Dook" for it is derogatory like a gangsta slurring his rivals.  And "Dookie" is a no-no, but "Dukies," is okay.  What?
How big was Rivers shot and or where does it rank?
You see a lot of newspapers running stories on this and research is required for most, but ole Watzone was there is in person for Gene Banks shot in Cameron as well as Jeff Capel and his launched three.  I've seen most all of the famous shots but there is a separation point.  In this case, buzzer beaters to win games instead of great shots.  Rivers shot ranks third behind Christian Laettner's two shots.  The first is his shot heard round the world to beat Kentucky to go to the Final Four where Duke won. The second was a Laettner shot as well, versus UConn the year before, again in the NCAA's.  But Rivers shot will live for years to come and to me, it was the biggest shot in the lone Duke-UNC history.