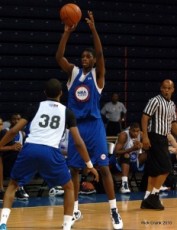 One of the top players out of the state of Pennsylvania, Amile Jefferson has many schools trying to gain his services. The forward had a great summer AAU season in which he impressed almost everyone who came out to watch him.  During the AAU season, Amile also played alongside Duke recruit Savon Goodman. The two have built quite the chemistry playing together.  BDN got a chance to speak with Amile and discuss his summer, recruiting as well as his interest in Duke.
First off  could I get your current height and weight?
Sure, I'm about 6'8, 185-190lbs.
You had a busy AAU season.  Can you tell us how your summer went?
I think my summer went well. I played on a really good team this summer, Team Philly.  We did very well I thought.  We played great as a unit and we played up and did a lot of damage and we won a lot. We went out to Vegas and we won that and I thought it was big, how we played as a team. I thought I did well leading our team and being the leader, keeping the guys [private] on and playing hard.
Did you enjoy your time in Vegas?
Oh yeah, definitely.  It's a little hot at times but I enjoyed it!
Definitely some big time heat. Earlier this summer you played at the Bob Gibbons Tournament of Champions.  Did you get a chance to check out any of the schools or their facilities?
We actually played in Cameron, and you know that was about it.  I didn't check out either of the schools down there.
Can you give a current list of schools that are recruiting you right now?
Sure. Villanova, Wake Forest, West Virginia, Florida State, Georgetown, Duke, Stanford, most of the Philly schools have been in contact a lot.
Do you have any sort of timetable for making a decision?
I'm not sure as of right now.  As of now I haven't been on one unofficial visit outside of Philadelphia. I've talked to coaches starting in June when they could call, but as of right now I have no idea where I want to be.
So you had an open gym yesterday I believe? Is that correct?
Yeah, we were supposed to, I believe, but we didn't.  Yesterday was actually my first day of school, and we didn't.  But assistant coach Nate James did stop by and I did get a chance to see him briefly, but we didn't have the open gym.
Have you spoken with any of the Duke coaches?
Well I went to Duke's camp back in freshman year, so I got to talk with most of them there.  And James has called me as well.
Now when you eventually do make your college decision, who will you look to to help with that decision?
I'll definitely look to my family.  Especially my father, he's been on the AAU circuit with me since the beginning. Everywhere I've been, he's been. Definitely my head AAU coach, he's given me a lot of advice and I've been playing with him since I've been about 10, so I definitely will look to those two. Lonnie Lowry, he runs our AAU squad basically, so I'll look to him.
Just one last question now, do you have any visits planned for the upcoming college basketball season?
I'm hoping to get to a lot of stuff this fall.  I'm hoping to get to Duke.  Countdown to Craziness I believe it is?
Yeah, that's what it's called.
Yeah, I'm hoping to get down there to start to get a feel of schools so I can start to think of where I want to be.  So, hopefully this fall will be a busy one, and hopefully I'll be able to get out and see some schools.
Alright, thanks a lot Amile, appreciate your time.
Yeah, no problem.
Watzone's take - Duke is still following the progress of Jefferson who brings some very attractive skills to the table and is a solid character kid.  The hold up could be his size where he needs to put on some muscle and show interest or take to the weight room.[/private]