Browse:
Home
/
Austin Kelly
By Bob Green on September 21, 2010
Except the lopsided final score, Duke survived the Alabama game from a statistics perspective, which goes a long way toward validating the humorous saying often quoted, "Liars, damn liars, and statisticians." There is more to football than numbers. However, that is equally true of the final score, which was the result of being overmatched against […]
Posted in Duke Football | Tagged Austin Kelly, Coach Cutcliffe, Conner Vernon, Desmond Scott, Donovan Varner, Duke Football, Josh Snead, Lee Butler, Sean Renfree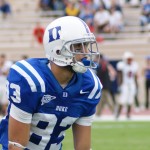 By Mark Watson on October 26, 2009
Not to be lost in all of the basketball hullabaloo is Duke's second consecutive ACC win in football.  The Blue Devils took care of business against Maryland posting a 17-13 victory.  BDN caught up with Austin Kelly to get his thoughts on the game.  Kelly had a team high nine catches for 61 yards. Just […]
Posted in Duke Football | Tagged Austin Kelly, Blue Devil Nation, Duke 17 Maryland 13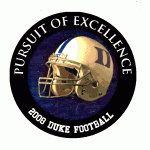 By Mark Watson on October 7, 2009
Coach David Cutcliffe lauded the improvement of Austin Kelly on Tuesday and the Blue Devil Nation caught up with the eldest Duke wide out shortly thereafter to get his thoughts – Just press play!
Posted in Duke Football | Tagged Austin Kelly, Blue Devil Nation, Duke-NC State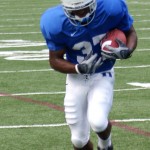 By Mark Watson on August 31, 2009
The Duke Blue Devils kick off their second season under Coach David Cutcliffe when Richmond visits Wallace Wade Stadium this Saturday evening at 7:00.  Duke will look to build on last season's four wins, but to do so will require that playmakers step up at the wide out positions.  Last season the Blue Devils leaned […]
Posted in Duke Football | Tagged Austin Kelly, Connar Vernon, Donovan Varner, Duke-Richmond, Johnny Williams, Tyree Watkins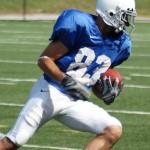 By Mark Watson on September 9, 2008
[private]You had some key catches on Saturday … Eron went down and Coach stressed to us he needed somebody to step up.  I was able to get open, got the ball in my hands and I made the play.  After a tough loss, how do you rebound?  What is your overall feeling going into the Navy game? […]
Posted in Duke Football | Tagged Austin Kelly, Duke Football