The Voice of the Blue Devils, Bob Harris, along with BDN's Bob Green, took the week 3 honors, correctly picking 8 out of 10 games. His week 3 performance propelled Harris into a 3-way tie atop the overall leaderboard with BDN's Andrew Slater and Patrick Cacchio. Here are this week's standings: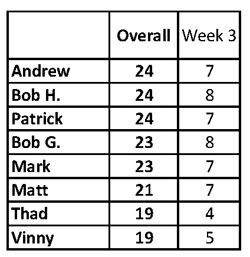 The NFL season is in full swing, and Blue Devil Greats Vinny Rey and Matt Daniels were both victorious in their week 2 contests last Sunday. Vinny helped the Bengals to a 34-27 win over Thad Lewis' Cleveland Browns, totaling 7 tackles and 1 sack on the afternoon. Daniels' Rams escaped with a 31-28 victory over Robert Griffin III and the Redskins. This Sunday, the Rams travel to Chicago, while the Browns host the Bills, and the Bengals try their luck against RGIII's Redskins.
Before Sunday's NFL matchups, however, stands a full slate of marquee college football games on Saturday. Eight ranked teams will square off against each other this week, including Michigan's trip to South Bend to take on the Irish, and Bill Snyder's Wildcats invading Norman to try and upset the Sooners. The top two ACC programs square off in a nationally-televised primetime game, as Tajh Boyd's Clemson Tigers will try their luck against a tough Florida State defense. Elsewhere in the ACC, Virginia will try to upset the Horned Frogs of TCU, while Miami will try to slow the Ramblin' Wreck. Riding a two-game losing streak, the Tar Heels look to get back on track against in-state rival ECU. And of course, it's Homecoming in Durham, with the Blue Devils listed as heavy favorites against the 0-3 Memphis Tigers.
Here are this week's picks:
Patrick Cacchio: The Blue Devils will build off of their performance in last week's win, as the offense looks to find consistency. Expect to see more touches for Josh Snead and Jela Duncan, along with the continued strong play of Conner Vernon, Jamison Crowder, and Desmond Scott. The Blue Devil secondary will again come up with some opportunistic takeaways to put the game away. Duke, 48-21.
Bob Green: In recent interviews, Coach Cutcliffe has emphasized the need for consistent execution. Memphis represents the last opportunity for Duke to fine tune their offense prior to the start of the ACC schedule so I expect to see Blue Devils seniors and offensive captains Sean Renfree and Conner Vernon exert influence and lead the team in an impressive performance.
Memphis has been yielding 483 yards of total offense to opponents so far this season, which is ranked 108th out of 120 teams. They have given up 264 yards through the air (91/120) and 219 yards on the ground (108/120).
Duke ran the ball better in the second half against NCCU after switching to a formation with Renfree under center. It will not be surprising to see Duke start the Memphis game in this formation in an attempt to establish a strong running attack to set-up play action passes to their cadre of talented receivers.
This game will be all about executing fundamentals sharply. Duke is too talented in all phases of the game for Memphis to keep this one competitive. Duke 42, Memphis 18.
Andrew Slater: In their homecoming game, the Blue Devils have an excellent opportunity to move to 3-1 on the season for the first time since Coach Cutcliffe's initial season at Duke against the Tigers of Memphis. I expect the Tigers to be competitive against Duke through the first quarter and then the depth and talent differential should work in Duke's favor. Teams have had success running the ball (4.8 yds/ carry) against Memphis and I expect that the staff will try to utilize this pre-ACC game to work on establishing the run and imbue the players with confidence. In terms of pass protection, Memphis has not registered a sack yet this season and Duke has done a good job of avoiding sacks, only giving up two sacks through three games. The Tigers will be missing their most explosive runner, Durham native Jerrell Rhodes, due to personal reasons, which should force them to throw even more short passes than they otherwise would have in order to maintain ball control (averaging over twenty-seven minutes of possession per game). 37-17 Duke
Mark Watson: The Blue Devils can set up a huge game with Wake Forest next week with a win and they'll rise to the occasion and come away with victory versus the Tigers. Look for Renfree to build off his performance against NCCU and Conner Vernon to bounce back with a huge game. Duke 46 Memphis 17
Bob Harris: Duke scores 37.7 PPG, Memphis gives up 37.7. Duke gives up 31.0, Tigers score 25.0. Devils WIN 37.7-28.0, according to stats. ACTUAL FINAL: DUKE 49-MEMPHIS 14
Matt Daniels: Similar to last week's game, Duke is the better team and it is homecoming! Duke 42, Memphis 10
Thad Lewis: We scored in all three phases of the game last week. Looking forward to building on it this week with more consistent play. Duke 38, Memphis 17
Vinny Rey: The Blue Devil offense will again make many plays, and the defense will cause turnovers. Duke 34, Memphis 24