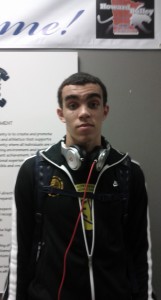 "He who is prudent and lies in wait for an enemy who is not, will be victorious." - Sun Tzu
At fifteen, Tyus Jones, the 6'1" 175 lb point guard from Apple Valley, Minnesota, has accomplished more on the basketball court than almost all of his peers, utilizing a mix of court vision, change of pace, and advanced perimeter skills.
On a national level, Jones' coming out party was last April in Dallas when, playing for the Howard Pulley Panthers, he scorched a Seattle AAU team for forty-five points, despite being more than two years younger than his competition. He quickly followed that up by earning a spot on the ultra-competitive USA Basketball's U-16 team in Colorado Springs, Colorado. Soon thereafter, the self-described "pass-first point guard" helped lead the United States to a gold medal at the FIBA Americas 16U Championship in Cancun, Mexico. Jones broke current Duke point guard Quinn Cook's tournament assist record, dishing off twenty-eight assists to, amongst others, fellow Duke recruits Jabari Parker, Jahlil Okafor, and Theo Pinson.
Tyus has been playing varsity basketball for Apple Valley, a suburb of the Twin Cities and home of the Minnesota Zoo, since he was an eighth grader. Last year, he missed more than eight weeks (thirteen games) of the season after lacerating his kidney, when he unfortunately landed in the heel of a St. Louis Park player.
This year, the sophomore came back and lead the Eagles to a 23-6 record, scoring more than twenty-eight points per game. For the season, despite being the focal point of a variety of "junk" defenses, the precocious point guard shot an eye-popping 56% from the field, 44% from beyond the three-point arc, and better than 86% from the charity stripe. In addition to earning a MaxPreps All-American distinction and the Star-Tribune's Player of the Year, Gatorade named the sophomore Minnesota's Player of the Year, noting his performance on the court, 3.1 GPA, and charitable work with Feed My Starving Children.
In the late winter, Coach Mike Krzyzewski formally offered Jones a scholarship to Duke University. It was an unusually early scholarship offer for the Duke program, but, as a rising sophomore, Tyus Jones first captured the attention of the four-time National Champion and Olympic gold medal-winning head coach at last year's Peach Jam. Jones has already visited unofficially three Big Ten schools: Ohio State, Michigan State, and his hometown Minnesota Gophers. Tyus told BDN that he will definitely visit Duke in the future.
The sophomore lead guard comes from a tight basketball family. His affable father, Rob Jones, who is 6'6," played for Proviso East (IL) HS and the University of Wisconsin-Parkside, while his mother, Debbie, won a state title as the point guard for Devils Lake (ND) HS. His older brother, 6'2" Jadee, played for Furman and Minnesota State-Monkato. Jadee has been Tyus' trainer and the one he credits for his shooting prowess, working on repetitions and technique.
If anyone thought that there might be a sophomore slump with Tyus, they've been sorely disappointed. The shrew lead guard is now at the top of the national leaders in both points (21 per game) and assists (6.55 per game), while exhibiting more vocal leadership skills. His team, the Howard Pulley Panthers, currently have a 5-4 record through the first two legs of the competitive Nike EYBL. This weekend, at the Boo Williams Complex in Hampton, Virginia, Tyus concluded the weekend with a 37 point, 8 assist, and 5 rebound performance in a win over the Bluff City Legends of  Tennessee.  Throughout the two live period weekends, the Duke coaches have been a constant presence at his games.
After an EYBL game, Tyus spoke with me about, amongst other things, leadership, USA Basketball, pre-game visualization, his use of change of pace, the early Duke offer, pressure to stay home for college, and his family's support.
You recently won the Gatorade Player of the Year.
It was a huge honor. It's a humbling experience and feeling. It's just amazing. It just goes to show that hard work and dedication does pay off and my teammates helped me with that with making shots to help us win games. My coaches setting up stuff, so I just was really proud of that honor.
It's also a well-rounded award. I was talking to the guy that runs it and obviously basketball is a key criteria, but they're also looking for people who won't embarrass their brand off the court. 
Exactly, exactly. My parents raised me to be the young man that I am. They keep me grounded and I don't want to embarrass them.
You've been playing varsity since the 8th grade.
Yeah, it helps me because this year we had a young team that is helped because I had some experience seeing a lot of the situations in the games that they hadn't. I've just got to lead and lead by example and be vocal. It's helped a lot. 
 [private]
Being vocal is an issue I wanted to get to, but I want to wait a bit. Let's talk about playing in front of your home fans. It can get really packed. Your dad, Rob, said that your home games were almost all sell-outs and obviously it's been standing room only here.
It was great playing in front of hometown fans, like you said. We've got a good turnout, a lot of families have come here. It's been a good turnout, I think we've shown our fans in Minnesota that we can play and we can play at a high level. We can compete and it was good. I'm impressed with how we played. 
Sure, I was speaking before with Jahlil about the USA Basketball experience and we were talking a little bit about you. What are your memories of going through that experience about going through the tryouts and winning the gold medal and everything else?
Right, USA Basketball was an amazing experience. It was an unbelievable feeling to put USA across your chest to represent your whole country, the whole nation. It was an unbelievable experience. We built a great bond with our teammates. Credit goes to Coach Showalter and Coach Jones. They trained us and worked us hard and brought us together to become a family. They're great guys.
Give the audience a sense of the tryouts. I know they were very competitive in Colorado Springs. 
The tryouts were in Colorado Springs. They were very tough, very tough. Every single drill, every single play, every possession. It was unbelievable and you've got to come to play and you can't take a play off because you'll get exposed. 
What's your take on Jahlil (Okafor) and Theo (Pinson)? 
They're two of my good friends and we all in a sense, them included, bonded together. They're great characters, they're great students, they're great basketball players, so everything worked out. 
You had a lacerated kidney. What did you learned about yourself and basketball in the time you were unable to play?
Oh, yeah, that was a huge thing in my career. 
For the audience members who may not know, how did it happen?
Oh, yeah, I got double-teamed and got pushed into a kid. 
Cheap shot?
If you want to say so.. I fell onto the back of his leg and into his heel. His heel just pushed right up into my kidney and cut it. 
That's terrible. 
Yeah, it was. I cut it and I ended up having to sit out for eight weeks. It kind of made me step back and see…
What did you realize?
It made me step back from the game of basketball and really what I had in front of me and what was really important and just kind of cherished the game more and just cherish everything more because the game can just go away from you. In a split second, it can be gone. 
Who do you try to model your game after?
I try to take bits and pieces from, you know, all the great point guards in the NBA. Guys like Chris Paul, I think he does everything well and I try to just take as much as I can from him.  And Rondo, you know he sets up his teammates incredibly well and…
He's a great defender.
Yeah, exactly, and he anticipates and everything like that. He anticipates everything well on the floor. And then there's Russell Westbrook..
Well, by the way, you might shoot a little better than Rondo at this point.
(laughs) With Russell Westbrook, I love to see how he uses his explosion and just gets his team where they need to go. And there's all kinds of little things you can take from different  point guards' play because they're in the NBA for a reason.
You come from a bit of a basketball family. Your father, your mother, and your brother all played at various levels. How do you think that helps you and differentiates you from other players?
Yeah, it helps a lot because any one of my relatives I can go to and talk about basketball just like they're all behind me and support me in any way I need and whatever I do. They're all there for me. So, you know, being born and raised in a basketball family, it's helped me love the game and just pushed me. 
Does it make you more competitive when you're growing up in a family like that?
Yeah, definitely. I was trying to compete with my brother, my cousins, everyone who was older. I just was always trying to compete with my brother in everything. I was just trying to hang with them as much as I could and I think it just helped. It really turned me into a competitor. Yeah, now that I'm older I can hang with them. We're much more competitive.
You guys must kill with two-on-two at the local YMCA.
(laughs) It's competitive. We always go back and forth.
What was it like when you first beat one of your older relatives?
It kind of just told me that I was getting there. I was getting bigger, I was getting older. 
It was a first step.
Right, right. It felt like a big deal.
In terms of leadership, what was it like being the captain of the team this year as a sophomore?
Being captain was a good honor. It was big being named leader of your team and you've got to set a good example. I think I do that well and guys are looking for you to lead and you just got to be on point and you've got to be ready to lead them.
You wanted to be more vocal this year. You mentioned it a little bit earlier as well.
Yeah, I mean, you can never communicate too much.
Particularly with a young team.
Yeah, exactly, especially on a young team, you're being just vocal and communicating, it makes it a lot easier for everybody. Than if you are being quiet, just being vocal it starts up top and everybody else communicates.
Are you loud or more quiet by nature?
I would say I'm more laid back and quiet by nature. So it's just something that's out of my element to be more vocal. You know, I'd rather lead by example, but I just have to be more vocal. It's something that I have to constantly work on and have to step out of my comfort zone and be vocal. 
Another important issue with point guards is leadership. We talked before about you being named captain, but how would you assess your leadership skills at this point? 
Leadership is obviously important. You're the leader on your court at all times and I'm just a point guard and just try to take that and go with that. 
We talked before about all the fans showing up to support you in high school and here. Would you say there's a lot of pressure for you to stay home for college?
There is. There's been a lot of pressure to stay home, but I've just got to take it in stride. You just go through this once and you just have to have fun with it.
I was at your game last year in Dallas where you scored over 40 points (45 points). Shooting is obviously one of the things you do relatively well. How do you account for your shooting and what is your shooting regimen?
Oh, yeah, I just try to put up as many shots as I can in the off-season, just work on repetition. You know, you can never put too many shots up. There's never too much repetition. 
How did you learn how to shoot originally?
My older brother was a tremendous shooter and he worked with me a lot and, you know,  it just worked its way out. 
You try to mentally and visually prepare before the games. That's something unusual for a kid your age. 
Oh, yeah, I just kind of get into my own zone and where I want to go with the ball and how I want to pass it. A lot of guys are just different. I don't know. It's the way I feel I need to get ready for the game and it's worked for me. Some guys goof around, some guys are very serious, and some guys are off on their own. It's a matter of trying to be comfortable with how you feel.
What about your use of change of pace?
Oh, yeah, definitely change of pace is very important to me. I'm trying to work on my change of pace because it makes it hard for guys to try to stay in front of you.
It's kind of like in baseball where if you're a changeup pitcher, it makes your fastball look a lot faster.
Yeah, that's a good example.
What do you view as your strengths and weaknesses right now?
My strengths are just seeing the floor and being that true point guard out there. My weaknesses are, you know, you can always be a better defender. I've just got to work on the little things, like being a good leader out there. Those little things are always very important. 
You get a lot of junk defenses thrown at you, particularly in high school ball. How have you adjusted to the different defenses?
Oh, yeah, I think I've seen them all. It just comes with the territory from our team's success. You know, when we get success, you just have to go with it and figure out a way for your team to win.
Do you watch a lot of basketball? I know Rubio is another popular point guard around here. Do you watch a lot of college or pro basketball?
I do. I watch as much basketball as I can, both college and pro.
What about being a passer versus scorer? You're sort of known as being a scoring point guard with your AAU team, but for USA Basketball, you were much more of a facilitator as a passing point guard.
I actually think I'm a pass-first point guard, but I just try to take what the defense will give me. If the defense gives me points, I'm going to take it, but if the defense gets up on me, I'm going to pass it immediately and I'll hit the open man. I love to set up my guys. It just makes it fun, it makes it easier. I love to just, you know, get your team going.
So, all things being equal, you like to have a great pass over a great jumpshot?
Yeah, exactly.
Who do you turn to for guidance whenever you make big decisions?
My parents, they've been there since day one and they really have my best interest at heart. 
You're quite lucky to have both parents.
Yeah, I've also got my grandparents, as you can see right behind you. My grandparents are right here, my aunts are right there, they're all here to support me. I've got a great core group of people. I feel very comfortable with them. I really like to listen to their thoughts on things. 
I mentioned before about that forty-five point game. That game sort of helped to put you on the map to a degree. What was going through your mind and what do you remember about that day?
It was just one of those days where I was just feeling it and our coaches are always like if you're feeling it, just go with it. Don't let up. They just say that if we're feeling it, just keep going with it, so I just kept putting it up and it just kept falling. It was just incredible.
In terms of a timeline, when would you like to decide by?
I'm waiting, I'm not trying to rush into my recruitment or anything. I'm not looking to give an immediate commitment. I'm looking to survey things and looking deeply into everything. So it'll be just a little while.
Have you taken any visits?
I've taken unofficials to Ohio State and to Michigan State.
And probably Minnesota too.
Yeah, and to Minnesota as well.
What would you like the audience to know about you away from the court?
I'm just a laid-back kid, I like to have fun. I'm not trying to draw a lot of attention to myself. I'm trying to be laid-back and do the right thing. I'm not one of those kids who is a trouble-maker or anything like that. I'm just pretty laid-back and I keep to myself.
You've grown up in Apple Valley.
Yeah, I grew up in Apple Valley. We have the Minnesota Zoo. It's a nice community to grow up in.
What's your current size?
I'm about 6'2," 175. 
Before we were talking about change of pace and I remember reading that one of the reasons you wanted to add that to your game was because you may not be the fastest guy…
Yeah, I'm definitely not the fastest guy, so I felt like if I could just add that to my game, I'd just be a lot more difficult to try to stay in front of, rather than if I rely on my straight-forward quickness. 
Lastly, can you talk about the Duke offer and what you know about the program?
Yes, Duke has offered me a scholarship. I'm very grateful to them for that. Coach K is a legendary coach and he's an unbelievable coach and Coach Wojciechowski and Coach Capel are great guys. I saw the Duke coaches watching. They've coached a lot of great players. It will be interesting to see what happens with this recruiting period.
Were you surprised by the offer? It's much earlier than they usually give players scholarship offers...
Yeah, actually, I was. I guess it was earlier than they traditionally do offer kids. I just feel very blessed and I just feel very humbled that they're even recruiting me and I never thought that I'd be recruited by any of the big-name colleges and so I feel very blessed to have them even interested in me.
Any thoughts on visiting them in the future?
Yeah, eventually, definitely. I want to take an unofficial there. 
What are some future tournaments you will be playing in for fans who want to catch you? Obviously EYBL…
Yeah, EYBL at all of the locations, then at the end of the month, I'll be in California. 
Lastly, what are you hoping to show coaches this year?
I'm just hoping to show them my hard work and just the little things, like boxing-out and getting on the floor and just the little things. 
[/private]