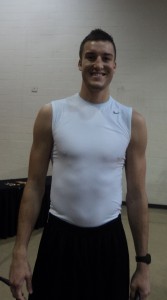 Blessed with a reported thirty-six inch vertical, a 6'11," 247 lb. frame, and the mind of a high school salutatorian, Miles Plumlee is a rare specimen. On a relatively young squad, Miles, a twenty-three year-old third generation college basketball player, has started more games, forty-one, than any current Duke player. The team will need him to provide leadership, experience, and low-post production to a more featured frontcourt.
Already a national champion, having grabbed three rebounds in nine minutes against Butler in the 2010 Championship game, the eldest of four Plumlee progeny brings the hunger of a man anxious for one last good meal. The psychology major has tried to take advantage of the opportunities presented to him this summer. Initially, the one-time engineering student with an entrepreneurial zeal worked in New York for Jesse Itzler, a serial entrepreneur who created Marquis Jet. The Winona Lake, Indiana native followed that experience up by participating in the college portion of the LeBron James Skills Academy, as one of the twenty invited players, including his talented and gracious brother, Mason. Most recently, the former high school track star enjoyed a thirteen day around the world trip with his Duke University teammates as part of Duke's Friendship Games, playing in Dubai and three Chinese cities, Kunshan, Shanghai, and Beijing.
In the three games competing against the Chinese junior national team, Miles Plumlee, who is the team's second-leading returning scorer, rebounder, and shot-blocker, averaged nearly eleven rebounds and eleven points, while providing a vital role as a low-post scorer and offensive rebounder (corralling eight offensive rebounds in the final game against China's large front court).
After Coach Trent Johnson left Stanford for Louisiana State, Miles Plumlee opted to open up his recruitment at Christ School in Arden, NC and ultimately decided to enter Duke University. At the time, he had a reputation for being more of a face-up four and had contributed to consecutive State Championships for the Greenies. Last summer, Miles transformed his physique and game by adding nearly twenty pounds of muscle. Near the end of the 2011 season, Coach Krzyzewski reinserted the eldest Plumlee into the starting lineup, where the Ft. Wayne-born big man immediately stepped up his game in the ACC Tournament, highlighted by his play against Maryland (10 points, 9 rebounds) and using his length against North Carolina's finesse frontline (helping to hold Henson and Zeller to a combined 9 for 26 in the ACC Title game). Based upon his recent play, it appears as though he has continued to become more acclimated to the transition from a floating big to the team's biggest physical presence, while seeking to maintain the athleticism that once allowed him to perform a 6'9" high jump.
This year, with both brothers Marshall and Mason on the Duke's campus, Miles Plumlee would like to take more of a leadership role in his final season of college basketball and go out with a second National Title. Miles spoke with BDN about a variety of topics, including stepping out of his comfort zone and into an increased leadership role, his relationships with both the coaching staff and his brothers, his team-centric focus, and an entrepreneurial future.
Maybe we can start with both leadership and your role on this team.
You know that's the biggest thing I've been thinking about in this off-season. I've been focusing on it and, you know, I had an experience where I was doing an internship with one of the coaches' friends.
I'm definitely going to get to that in just a moment...
Yeah, well, it kind of goes hand-in-hand.
Okay, great.
The biggest reason I wanted to go there is because I know [Jesse Itzler]'s a great leader in what he does and I learned a lot from him. I picked his brain and I got a lot of great advice. He started his own company a few times now, so he's been successful and that was one area where I think it's going to help me, but also coming back and being an older brother my life, you know, trying to apply that to the team. Just trying to bring that brotherhood to the whole team.
[private]
I wanted to get to the issue of you and brothers, too.
(laughs)
What are the expectations from your perspective and the coaching staff? What have they asked you to work on?
Well, I don't have any personal accolades in mind, but all of my coaches know how high my ceiling is and I know how high it is. So, I'm just trying to reach a level that I'm really happy with, but more importantly, I'm concerned about the team competing for national championships.
Yes, absolutely. I mean you've already accomplished that once.
Yeah, but now to do that and be a leader on the team would be another thing. That's the biggest goal on my mind.
Is being a captain something you aspire to? Have the coaches talked about you being captain or part of a committee, so to speak?
Yeah, I know, they said they're going to wait and see how everything goes in China. They want to see how people's roles surface, but, you know, I've been through more than anyone else on the team.
Right.
I've played with a lot of great leaders, like Jon Scheyer, a lot of great seniors growing up.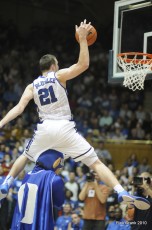 Who was the best leader you've played with? Is Scheyer the best?
He and Lance did a great job that year. There's a reason why we won it. What was the initial question?
It had to do with leadership and whether you aspire to be a captain.
Oh, yes, they're not going to make a decision until after China, but I'm already trying to assert myself and get out of my comfort zone because I'm not the most vocal guy.
Neither am I, but I try to push myself too.
Yeah, well, I'm trying to talk more on defense and also off the court. Yeah, you know, defensively, I can talk to people on the court, but I'm really trying to become a leader off the court. It's not something I'm really comfortable with, but it's something that I'm trying to grow into. I want to get that role.
Just out of curiosity, as you were saying it, I was thinking about being the oldest brother. I'm the oldest brother as well and by nature, you almost have to a leader among your younger siblings. Do you think that will help and have you found that to be the case?
Definitely, I think it's a huge advantage in my position. I don't think I've been the best big brother in the world, but I think there's some things I've done right, and if I can learn from them..
God knows, I haven't been.
(
laughs) Yeah, you know, I've made a lot of mistakes, but all of them are experience that maybe an older brother has to have.
They can, sort of, learn from your own mistakes.
Yeah, yeah. Then, they can make their own. (laughs)
How do you think you've developed, both physically and from a skills perspective over the past few years? Physically, you've gotten a lot bigger.
Yeah, you know, I'm still continuing to push my body.
Always a work in progress.
I'm trying to get stronger and that, but I got really pretty athletic when I got to college and you know, I was more of a face-up player, but I've tried to adapt my game and become more of a back-to-the-basket player since coming to college.
Yeah, I wanted to touch on that as well.
Yeah, so you know, that's probably been my biggest focus and the other stuff's there and we've got such great guards coming to Duke each year. Yeah, maybe down the road I'll use that more at the next level, but right now I want to make the biggest impact I can for our team and so that's inside, giving us a low-post game.
In terms of mentoring, it sort of goes hand in hand with leadership, but how do you feel you've done as a mentor to your brothers and some of your future teammates this year?
I think it's something I'm going to have to make a conscious effort to do. We have so many young guys and I need to mentor them and show them the ropes. We need them to win. They don't even realize it yet. I mean, I was in that position as a freshman too, I didn't know where I was at. We've got to bring them on board real fast and mentoring will be a big part of that.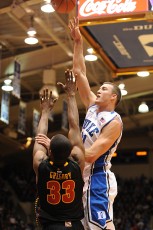 You know him better than anybody, what dimension do you think Marshall can bring to program? Maybe give a scouting report on him to the fans that may not have seen him play.
Yeah, he's surprised me. He's really grown into his body. I think the number one thing if you're scouting him is his motor. He never gives up, he goes full blast all the time he's out on the court.
He's a really nice kid, too.
Oh, yeah, he's really nice, but he'll take it to you on the court.
Yeah, he's very serious and competitive on the court though.
Oh, yeah, definitely.
He said he's very good at video games too.
Yeah, he is. Me and him always go at it.
In terms of a scouting report...
Yeah, a scouting report..he's going to be going at you every minute of the game. He's going to be busting his ass 100%. Yeah, I think that's his biggest attribute right now is just running the court.
How do you think he differs from you and Mason at the same point in your lives?
You know, his whole life he always wanted to be a big guy for some reason, and it just so happened that he kept growing. You know, a lot of guys want to be big buys, but you can't control that. So, I think he's grown up wanting to be in the post doing the dirty work. He has fun just running the court and getting the ball. A lot of big guys don't want to do that, they get spoiled, lazy, and they don't want to do all of that work if they're not going to get the ball every single time. That's huge for a team. That changes the game.
Yeah, it does. I was just curious about that. What are you trying to work on this summer primarily on the court?
The same thing, but you know, just taking that post game to another level and getting more comfortable. I really thought that I made huge strides towards the end of last year, just having confidence when you get the ball in the post, and wanting the ball, and in the end, that makes a huge difference in the game when it comes down to the wire. You've got to want it.
Is it a "no hesitation" kind of thing for you?
Yeah, exactly. I really think that's been my biggest setback is really getting out of your own head. You catch it and you immediately react.
I remember going to one of your practices a few years ago and Coach Krzyzewski was talking about how you were very hard on yourself, but that was a few years ago.
Definitely, that's been my biggest problem. In practice, I play great for three years. Well, my freshman year was kind of tough, but for the last few years I played great in practice, and now the thing is to try to translate it to the games.
And it can happen, it's just a matter of time and concentration.
Yeah, absolutely it can happen.
Can you touch on being an engineering student and how that differentiates your game? I remember you used to be an engineering student.
(laughs) Oh, no, that was way too much.
I was an Economics major there.
Yeah, my first semester there was the hardest of my life.
What's your major now?
Psychology. You know, I think it's something that's applicable to anything I do in life, but, you know, it's way more flexible for basketball.
Way more merciful too. They're tough in terms of grades too.
Oh, yeah, it's just tough.
The reason I was asking was because I was wondering if you saw the court differently by having somewhat of an engineering background.
Oh, yeah, you know I always thought I see angles differently. I don't think a lot of basketball players realize what they're seeing. I think it gives me a better sense of what I'm seeing...helps to visualize.
Would you describe your summer job as more of a finance job? How would you categorize it?
Yeah, well, it's sort of hard to explain, it was really more of a company that Jesse Itzler founded, more of like a marketing thing. He founded Marquis Jets and now it's like more of a marketing agency and a brand incubator. We came up with a few of our own products.
Would you like to get into that post-basketball? Perhaps be an entrepreneur?
Yeah, you know, that's what it really opened my eyes to. An amazing opportunity would be to play in the NBA and not just squander it.
I'm glad you have your eyes wide open. There are so many sad stories, unfortunately.
Yeah, I know there are. Yeah, I want to make things happen. There are a lot of guys from Duke that have done great things like here or in China and you know, really have an entrepreneurial mindset just like him, and you know, it was a great experience.
What is your emotional reaction to finally get the opportunity to play with all of your brothers and be at the same school together? Excited? Happy?
So excited! I really think this is going to be the funnest year by far. You know, I've always had a blast, but you know, me and Marshall, we grew up hanging out together like non-stop and I was so much older than him, but, now, you know, we're competing on the same level and it's an adjustment.
Do the three of you ever just walk into the Y or something like that? Did the three of you walk in and people just go "Holy cow?"
(laughs) Yeah, I mean, we did, but we didn't used to be this tall. Yeah, the last time I was at a place like that was back home and I was only like 5'9" or 5'10" as freshman. But I think it's going to be a blast. It's going to be a great senior year.
And what's Mason's take on all of this?
Oh, yeah, he's been great. We both just love Marshall to death. It's just fun to have all three of us together again.
Can you talk about the addition of the freshman class and Coach Capel? Those are the two big post-season additions to the program.
Yeah, I mean, everybody in the freshman class seems to have a great attitude. They're really skilled, they're really athletic. I think they all really have a great attitude, they all really want to get better. Coach Capel is just a great addition because he knows so much, he's coached great players, and I love his positive attitude. He's really good at pumping everybody up.
He can also relate to players. He's still young and yet he's got that head coaching experience, which is a great combo to add the staff.
Yeah, everybody's pretty young and it's a lot of fun. It's a great group to be around.
What's your relationship like with both Coach K and Coach Wojo?
First of all, I've got to say it's like family. I mean, they've been there for me in more than just basketball. That's just one small part of the whole thing. You..you come to Duke and I had no idea what it was all about. You become part of this family. They've become like fathers to me. There's a bond. I come to them for advice on everything. I know..I know I'm going to stay in touch with them for the rest of my life. It's something that's really special to me.
I don't think a lot of recruits necessarily realize that, to paraphrase Coach Holtz, it's not a four year thing, it's a forty year thing.
No, you know, I don't think a lot of them realize it. You don't realize what you're signing up for. If they did realize it, I think even a lot more would jump on it, but I know that I wouldn't trade it for anything in the world.
How comfortable do you feel you are with your back-to-the-basket game and how far out do you feel your range is at this point? Because you still have that face-up game that you were talking about before.
I've always felt that I'm really versatile and now it's not just a matter of how to use it, but when and where to use it, what opportunities you have and reading the defense. So, becoming a lot smarter and putting it all together. It's something I've really worked on in the last year.
And in terms of your back-to-the-basket game?
Yeah, I'm realizing how much you can control the game with your back to the basket. Seeing, you know, guys like Tim Duncan and those kind of guys..taking your time, seeing the floor.
Is that what you worked on at the LeBron James Academy?
Yeah, you know, it was great playing against some of the best players and some of the best bigs. I was just trying to see where I stack up.
How did you do and what was the toughest guy for you to defend?
Dude, you know, everybody's tough. Everybody's good. I feel like I did as well as anyone. It was a great experience and I'm looking forward to where it takes my game.
What are your expectations or goals for the team this year? A National Title?
A National Title all the way, that's all I've got to say. We've always got talent. I just feel like we've just got to bring it together and develop that chemistry along the way.
Thank you very much, Miles.
No problem.
Do you like this interview?  This is a sample of what you'll find as a member of Blue Devil Nation Premium.  We are still running a membership special where you can save up to 15% off our normal rates, so take advantage of this offer today!