Andrew Slater added to his lead last week and finds himself with a two game cushion heading into the final two weeks of the college football season. With ten tough games each week, it's still anybody's ball game, but time is running out.
1. Andrew Slater
2. Bob Green -2
T-3. Patrick Cacchio -5
T-3. Guest -5
5. Mark Watson -7
The Guest picker has slowly surged back into a tie for 3rd place on the season, a testament to the quality of guests we've had join us this season. The tradition continues this week as we welcome back former Duke LB Vincent Rey. Rey has seen action in all nine games this season for the 6-3 Cincinnati Bengals. He finished his Duke career 9th all-time in tackles (330) and is the Duke all-time record holder with 3 fumbles returned for TDs. Thanks for joining us this week, Vinny!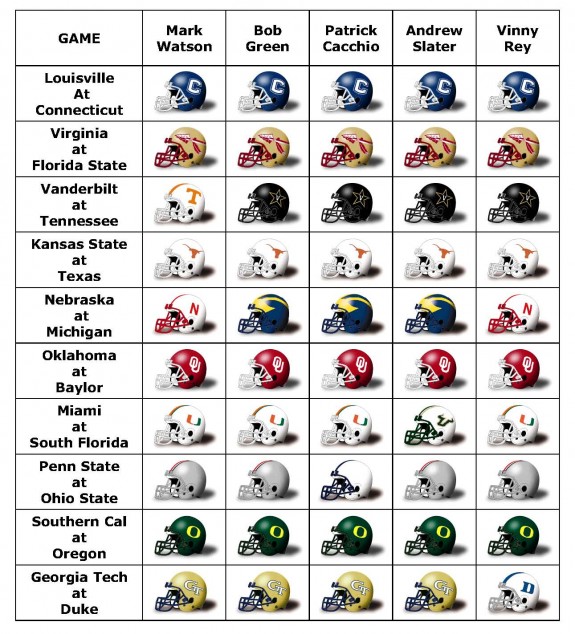 Mark - The Blue Devils have been hit hard by inuries and they'll face the option for the first time this season. The secondary has been missing assignments of late, but it'll be the very young front that will have to be disciplined for Duke to win. Tech is beatable, just not on this day. Georgia Tech 35 Duke 21
Patrick - A year ago, the Blue Devils faced three option offenses, but this season, just one. The option offense is difficult to prepare for and with a plethora of injuries on both sides of the ball, Georgia Tech will represent a significant challenge for Duke. Duke should have success moving the ball against Georgia Tech if they stick to an aggressive gameplan; expect another big day for Duke's "Killer V's." An emotional pair of seniors in Matt Daniels and Charlie Hatcher will try to will the Blue Devils' defense to an upset victory, but the explosive Yellow Jacket offense will still find its way into the end zone. Georgia Tech 35, Duke 24
Bob - Duke has lost five games in a row and if the Blue Devils are to prevent the streak from reaching six the first step is to slow down Georgia Tech's running game. Moreover, the Duke offense must open up and score points against the ACC's top rated passing defense. It is time for Coach Cutcliffe to pull out all the stops and throw the whole playbook at Coach Johnson. With Duke's injury report listing multiple key contributors as Doubtful or Questionable, I believe the Yellow Jackets will be too tough to handle. Georgia Tech 35, Duke 21
Andrew - This should be a dangerous match-up for a reeling Duke team. Georgia Tech enjoys both one of the best passing defenses in the country and one of the most disciplined offenses in college football. Although there were definitely some positives out of last week's road game against UVA, I think the mounting Duke injuries and talent differential will prove to be too much for the Blue Devils. Georgia Tech 35, Duke 21
Vinny - Georgia tech runs the option really well, and Paul Johnson has been developing it as well. However, the Duke defense has seen the option a lot, and will play it well. Led by Matt Daniels, the defense well make crucial plays. The high-powered Duke offense will put up the points needed against the Tech team. Most importantly, Duke will win the drive-starting average, thanks to their special teams players playing fast and physical. Duke 27, Georgia Tech 21.