Down went #1 Alabama last week, much to the dismay of our team of pickers. Andrew Slater lengthened his overall lead, correctly picking 9/10 games. Vinny Rey, fresh off a big win against the New York Giants, also climbed out of last place with a 7 point week.
Here are this week's overall standings:
All eyes will be on new #1 and #2 this week, as Kansas State travels to Baylor, and Oregon hosts Stanford. Elsewhere around the country, Notre Dame looks to stay undefeated as they host Wake Forest, and Urban Meyer's Buckeyes hope to continue their perfect season when they travel to Wisconsin. In the ACC, two crucial Atlantic Division matchups highlight the schedule. The Wolfpack will look to pull off another unlikely upset as they travel to Death Valley to face Clemson, while the division-leading Seminoles travel to Maryland to take on the injury-stricken Terrapins. The Blue Devils and Yellow Jackets will do battle in Atlanta, both hoping to keep their dreams of Charlotte alive.
Here are this week's picks: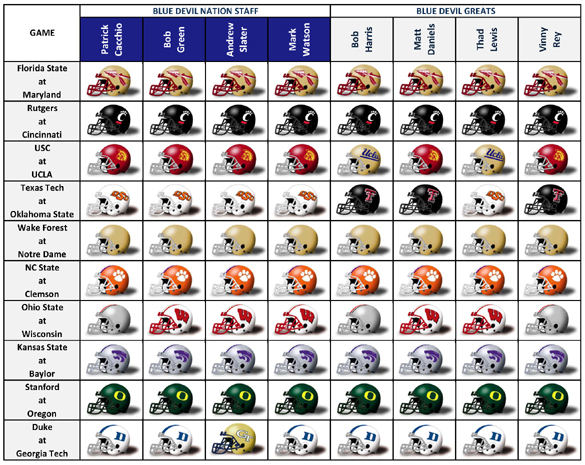 Mark Watson: The Blue Devils will tough out a win over Georgia Tech in Atlanta to keep their great season and prospects going - Duke 34 GT 31
Patrick Cacchio: The Blue Devils will slow the Ramblin' Wreck's triple option by jumping out to an early lead, winning the turnover battle, and controlling field position. Duke 38, GT 31
Bob Green: Georgia Tech's offense blitzed Carolina for 68 points so step one for
Duke in securing a victory in Atlanta is to ensure everyone on defense
understands and executes their assignment against the triple option.
Coach Cutcliffe has stated that assignment discipline is key.
Steps two and three are scoring early to force Georgia Tech to play
from behind and solid kicking game execution to keep the Yellow
Jackets playing on a long field. The triple option is not a good come
from behind offense, while a short field is its biggest friend.
On offense, the Blue Devils must be multidimensional so look for Duke
to try and establish the running game early to set-up the downfield
strike via play action. The short passing game will be worked in to
keep Georgia Tech's defense off balance.
Ross Martin will kick a couple of late field goals to propel Duke past
Georgia Tech in a barnburner.
Duke 41, Georgia Tech 38
Andrew Slater:  It's obviously a critical week for the Duke secondary to stay aware at all times and not get lulled into a daze with the incessant running plays of Johnson's version of the triple-option offense. Last week's increased playing time of Vad Lee, the Durham native, for the Yellow Jackets increases their likelihood of legitimately utilizing both aspects of the "dual-threat" quarterback this weekend. The Georgia Tech defense has been consistently porous this year and ultimately cost Al Groh his defensive coordinator position earlier in the season. Coach Cutcliffe has exploited weaker defenses in the recent past and I expect the Blue Devils will be able to consistently move the ball this weekend. In many ways, this game will come down to which defense can contain the other for consecutive series. Georgia Tech 41, Duke 34
Bob Harris:  To paraphrase Charlie Daniels, "The Devils went down to Georgia, looking for a game to steal. They were in a bind 'cause they needed to find a way to sting old GT. And they played fire on the mountain, run Duke, run. The Devils' in Grant Field, stoppin' Tech's run. Pickin' off passes, where's Al Groh? Did Tech's Wasps bite? No, child, no." Duke 42 – GT 31
Matt Daniels: The Blue Devils are strong when it comes to stopping the option..it is vital that the defensive line steps up and LBs come to play..Duke wins a tight one 31-28 and is one step closer to reaching ACC ship!
Thad Lewis: Duke will pull it out this week. We are healthy after the bye week, got a chance to work on GT for two weeks. I'll take Duke. 49 to 28.
Vinny Rey: The Duke defense will play sound with the front seven on the dive option and they will be disciplined on the back end against the deep ball. The bye week will prove to pay off. Duke 31, Georgia Tech 17