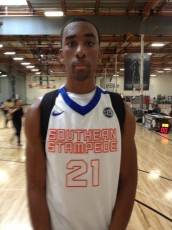 LOS ANGELES – As Duke's search for wing players continues it has brought them to Jalen Lindsey, a 6'6 swingman from Nashville Tennessee. Lindsey, who currently sports a 4.0 GPA, says that Duke has recently expressed interest in him. The swingman possesses solid athleticism which he thinks is one of his strengths. Lindsey, who plays for Christ Presbyterian Academy, is coming off of back to back Class AA state championships and many believe his team is in line for a threepeat next year. This past year he won the state championship tournament MVP as well as the Mr. Basketball award for the state of Tennessee.
BlueDevilNation was able to catch up with the Nashville product and discuss the new interest from Duke.
BlueDevilNation: For someone who hasn't seen you before could you give us a scouting report?
Jalen Lindsey: I'm definitely, I'm really athletic. I use my athleticism a lot. You know, I can knock down the three too. It's kind of an all around game so you gotta be prepared for anything.
BDN: What would you consider a strength of yours then? [private]
JL: Athleticism definitely.
BDN: What do you feel you have to work on?
JL: Oh definitely ball handling. That's something I've been working on for months and months lately, years actually.
BDN: Is there any player you try and model your game after?
JL: Uh not really, not really.
BDN: You're just kind of your own guy?
JL: (laughs) Yes sir.
BDN: Does your role differ from AAU to high school ball?
JL: Yea it's completely different cause I'm like the tallest guy on my high school team so I'm kind of a post man, post-forward. And in here (AAU) I'm a 3 so I have to go back and forth between those two.
BDN (Andrew Slater): You won a state title this past year…
JL: Yes, yes. Second year in a row.
BDN: Do you view yourself as a 3 or a 2?
JL: I do, I view myself as a 3 and every college coach and a lot of my friends tell my I'm going to play the 3 in college and hopefully if I go to the NBA I'll play the same position.
BDN: What's your current height and weight?
JL: I'm 6'6 195lbs.
BDN (Andrew Slater): What kind of student are you?
JL: I have a 4.0GPA
BDN (Andrew Slater): Wow..you're articulate so..
JL: (laughs) My dad, my mom and dad are on me about grades so I definitely work hard in class.
BDN: Do you have any recent offers?
JL: Not any recent offers. I have 20 total offers, I couldn't name them all right now but not any recent offers.
BDN: Any schools that have recently come into play?
JL: Yea, uh, Duke has been coming onto me pretty hard. Duke's been coming in pretty hard lately.
BDN: Have you spoken with them recently?
JL: I have. I spoke to Coach James like 2 days ago.
BDN: Did they say they'd be here to watch?
JL: Yes, definitely.
BDN: What do you know about Duke?
JL: You know, I know Duke's a great school. Great coach and they got a lot of background and I really like Duke.
BDN: So you would be open to them?
JL: Yea, definitely.
BDN (Andrew Slater): Have you taken any recent visits?
JL: I haven't. I haven't.
BDN (Andrew Slater): Do you have any planned?
JL: I plan on taking some visits during the summer but I'm not sure which ones.
BDN (Andrew Slater): Are you going to cut down on your list?
JL: Yea, sooner or later I will. Sooner or later I'm going to cut down on it to where there's less schools.
BDN (Andrew Slater): More manageable?
JL: Yea exactly. I'm just taking my time right now.
BDN (Andrew Slater): What are some factors that are going to be in your decision?
JL: Academics for sure. And then you got the facility and the relationship between the coaches is a big thing for me too.
BDN (Andrew Slater): Just out of curiosity how did you select your high school?
JL: My coach I've been playing with him since I was young..
BDN (Andrew Slater): I remember he played college ball at Vanderbilt?
JL: Vanderbilt, yea. So I've played with him since I was little, I was on his AAU team so I joined them and that was it.
BDN: And just one last question. You have a new teammate in Grayson Allen can you give me a scouting report on him?
JL: Grayson's a great player. He's athletic, he can dribble, he can shoot, he's got the whole package. Grayson's a great guy too so he's fun to play with. [/private]