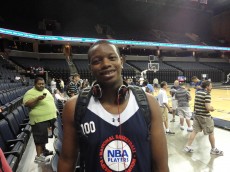 Hailing from DeMatha, the highly successful Hyattsville, MD school which has produced Duke All-American Danny Ferry and freshman Quinn Cook, 6'7" 275 lb. Beejay Anya is able to create large shadows of his own. Five years after picking up a basketball, the slimmed down sophomore was arguably the best big man in Washington's competitive Washington Catholic Athletic Conference this year and earned a place on the WCAC's First-team All-Conference.
The gregarious big man, nicknamed "Big Baby," became a full-time starter this year for the Stags and immediately delivered, averaging more than a double-double with just over six blocks per game. The team, which got got off to a 10-0 start, including winning the Les Schwab Tournament in Oregon over Shabazz Muhammad's Bishop Gorman team 58-52, went through some rough patches, notably a loss to fifty point loss to St. Anthony's at the HoopHall Classic. Ultimately, however, Coach Mike Jones, who recently helped coach the USA U-16 team to a Gold Medal in Mexico at the FIBA Americas, was able to refocus his troops and the suburban D.C. Catholic school went on to defeat Gonzaga, which included Duke recruit Nate Britt, 51-48 for the program's third consecutive WCAC Title. The Stags followed that up by defeating Roosevelt 52-50 for their third consecutive D.C. City Title. In their biggest game, Anya rose to the occasion, scoring fourteen points, swatting six of the team's nine blocks, and grabbing another six rebounds.
This spring, playing up an age level, Anya has been the center for the Team Takeover 17s, Mike Gbinije's former AAU program. Immediately, the wide-body made his presence felt by nearly taking down the basket on a missed "tip dunk" at the Pittsburgh Jam Fest. He helped lead the Nike-affiliated team to the Pitt Jam Fest Championship and earned an All-Tournament selection. The rising junior has continued to be solid throughout providing interior toughness and rebounding for Team Takeover, which is the only program to have an unblemished record throughout Nike's EYBL season (15-0).
In early June, Beejay, born Chukwunonso Beejay Nduka-Anya and the son of a Nigerian immigrant, was among the twenty-seven young men helping the 2011-12 USA Developmental National Team prepare in Colorado for the FIBA Americas U16 Championship. Afterwards, he was invited to compete at the NBA Top 100 Camp in Charlottesville, VA.
While there, BeeJay spoke most recently with Blue Devil Nation.
Who's recruiting you at this point?
UCLA, Pitt, St. John's, Rutgers, West Virginia, Virginia, Seton Hall, Florida, Florida State, UConn, Maryland, Virginia Tech, N.C. State, Georgia Tech, Texas, and Duke called me. [private]
Now, which of these schools has offered you?
All of them have offered. Yes, sir.
There's quite a bit of diversity there. Will distance be a factor for you at all?
No, not really. I just want to go to a school that will fit my personnel…a school that I'll be at home at and a school that'll show me some love and things.
In terms of position, are they mostly recruiting you as a four?
Yeah, mostly as a four, but a four or five doesn't matter to me. I just think I'm a Jared Sullinger or DeJuan Blair kind of player. I'm not as tall as most big men in the NBA or something like that…so I just want to be like them.
What's your current size?
I'm about 6'8" and 275 pounds.
How much taller does your doctor project you to grow?
I don't know. I didn't even ask him.
Do you have a timeframe in mind for when you'd like to decide by?
Oh, no, I'm totally open right now. I have nothing in mind and just keeping it open.
Did you have a "dream school" when you were growing up or a favorite team?
Nah, but, when I was younger, I used to like to watch Syracuse and Texas I think because of how they used to use their big men, but now I like a lot of schools. Right now, I see a lot schools coming on TV and then they're showing me a lot of love..so I like that.
Do you watch both college and the NBA?
Oh, yeah, I watch all of them.
Who do you try to model your game after?
Right now, since I'm not as tall, Jared Sullinger…most  definitely. I think he's one of the most dominant players in college basketball Next year, with him staying, they're going to be unbelievable .
I saw you play with DeMatha up at the HoopHall Classic against St. Anthony's (75-25 St. Anthony's), which had to be the low point for the year, but then you guys rebounded and won the City title for D.C.  How would you asses your season?
Oh, yeah, well, it was an up and down season, but, you know, we came out well and won the championship and everything. I feel like it left things off on a good note, you know. We've won a lot of championships over the past few years.
Who are some coaches that have stood out to you so far? Any names stand out?
Oh, man, I can't remember all of the coaches names right now. There's been a lot that came out to DeMatha and watched us workout. You know how it is.
And do you have any visits planned?
Oh, no, I don't have anything set up right now.
Have you seen any schools?
Oh, yeah, me and my coach and James Robinson went up to VCU during Boo Williams to check them out. I saw the coaches and they seemed like really good guys.
You're close to Georgetown and Maryland too.
Oh, yeah, I mean I've visited Maryland, but it was nothing serious.
Are you a good student or a solid student?
Oh, yeah, I'm a very solid student. I take my schoolwork seriously.
That's good to hear. By the way, did you ever play football? I know DeMatha's turned out some good players and you look like a great D-line candidate.
Oh, no, I haven't, but they call me every day to ask me if I want to change my mind. (laughs) They're always wanting me to play on the line for them.
Just out of curiosity, what was your reaction when Duke called and what do you know about the program?
I didn't take the call. My mother and my father did. My mom sent me a text saying that Duke had called. I like Duke. Duke is a storied program and I feel that it is one of those schools which has a great tradition and hopefully they'll recruit me more. If they recruit me a little bit harder, that are definitely one of the schools that will be in the running next year, my senior year.
Do you know Quinn at all? I know he was at your last game.
Oh, yeah, I know Quinn definitely. He's a good guy and he's gonna do big things.
What would you like the audience to know about you away from the court?
Oh, I'm a fun guy. I like to have fun away the court too. They call me "Big Baby" because they think I'm like him. [/private]