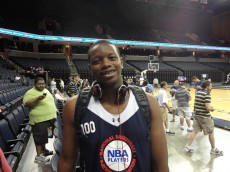 Standing at close to 6-9 and packing 255 pounds, prospect BeeJay Anya is hard to miss when to take in a Team Takeover game on the Nike EYBL circuit.  Anya is a class of 2013 big man who has garnered a lot of interest and he recently told BDN that his coaches told him Duke sent out feelers.  Anya is of course the teammate of Ishmail Waintright, who already holds a Duke offer and he will have the chance to prove his self as the coaches continue the evaluation process on a bevy of players.  Here is what Anya had to say -
Feel me in on what you are working on with a new AAU season at hand.
What I'm trying to do this AAU season is to get better and make my team better, so I'm just doing what I can to do that.
You have some games under your belt in the NYBL and coaches have been able to attend early on this season.  Have any new teams come in of late?
Duke called and asked my coaches a little bit about me and they were also interested in my teammate Ishmail (Waintright). So, I'm not really sure how that stands right now but they called my coach. No other schools came in other than the ones I already have listed.
How do you like Duke?  Is that a school you would be interested in going to?
I'm interested in Duke, but I like all my schools. Duke outs out great players and Coach K is one of the best coaches in college basketball.
Who are some of the other schools reruiting you the hardest?
There are a few, let's see ... Indiana, Syracuse, Kansas and a lot of Big East, Big Ten and ACC schools. I love the attention and look at them one school at a time. I feel grateful that all these schools are interested, you know. Some people don't have the chance to be recruited by the schools I am recruited by, so I thank God everyday for giving me the opportunity.
Name me one important factor or something you seek in a school you might attend.
I would like a school with a good strength and conditioning program. I've been working with some guys trying to get.
What is the toughest pat of being a prospect who is being recruited hard by major schools?
It's just the fact that you get to know all these coaches and you start to feel bad when it is time to make a decision. I have a good relationship with a lot of coaches in the summer and don't want the, to think I don;t like them. I have a good relationship with all the coaches recruiting me and I know that it's front to be a hard decision for me but it's something that has to be done.
What are you looking for in a coach at the college level?
I want a coach that treats me like I'm one of his kids, like my AAU coaches who treat me like a son and one who pushes me and reach past my limitations and get better as a player.