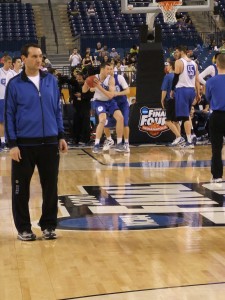 DURHAM, N.C. – Duke head coach Mike Krzyzewski received the New York Athletic Club's Winged Foot Award at a gala dinner Wednesday night in New York. The Winged Foot Award was established in 1996 and is given annually to the head coaches of the men's and women's NCAA Tournament champions.
Duke won its fourth National Championship with a 61-59 victory over Butler at Lucas Oil Stadium in Indianapolis, Ind. The Blue Devils returned to the site of the school's first national title and returned home with No. 4. The four championships (1991, 1992, 2001, 2010) rank as the fifth most by any school in NCAA Division I while head coach Mike Krzyzewski tied Kentucky's Adolph Rupp for second most among all-time coaches.
Kyle Singler  was named the Final Four Most Outstanding Player while Jin Scheyer and Nolan Smith were each selected to the All-Final Four tournament.