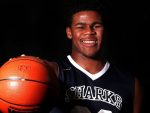 One of the best sure-fire big man prospects in the nation is Vernon Carey.  The scary thing is that the young man is just starting to reach his potential.
Carey is considered a can't miss one and done prospect and he has the nations blue blood programs listed in his final five schools.
Duke has stayed in touch with the Florida prospect where he regularly talks to Mike Krzyzewski and the Duke assistant coaches.
While some believe Duke to be the leader for his services, other schools continue to push hard as well.
The Blue Devils will be in dire need of big men next season with the expected departure of Marques Bolden.  They continue to give maximum effort with concern to Carey and would like to team him with another bug man.
The last time I spoke to you was in Raleigh during the John Wall Invitational.  Talk about how your game has changed since that time.
I am just trying to be more aggressive over the high school season and then to this summer.  Just working on my game every week.
What do you do during the week and who do you train with?  
I do it with one of the NBA trainers, Stan Remy and I workout with Dwayne Wade and Brandon Knight.
Wow, that is impressive.  You have that down home Florida thing going on.
Yeah.
So, your final five per twitter is Duke,  Kentucky North Carolina, Miami (FL), and Michigan State.  Can you touch on who has been the most active of late in your recruitment?
Miami, they text me everyday and say I can bring a legacy to Miami.  Coach Nate James and Mike Krzyzewski (knows how to pronounce it) texts me everyday to and says that I am a guy who can help lead the Duke program.
How did Duke say that they can use you in their system?
Yeah, like one and done guys like Marvin Bagley and those guys who played this year and are going to the NBA.
You see the success of teams like Duke and Kentucky with one and dones...
Ahem.
Is that an attractive situation for you?
It is.
When you get down to making a decision, is there any timeline on that or is it still early?
It's early, but I am trying to do it before high school season next year.  I would like to make a decision by then, but I am not sure yet.
Vernon, being a highly rated player like you are guys will come after you hard.  Who are some of the toughest competitors you have face on the circuit?
Guys like Keion Brooks  (Mich. St. may lead IU and Kentucky) and really everybody.  They're all coming at me hard.
Do you have an unofficial visits planned?
Maybe Miami, but just because they are close to home.
Just how far are you from the Miami campus?
Maybe thirty or forty minutes.
Yeah, that is close.  Is that an advantage for them?
Some, but I will go where I feel like there is the best fit.
Who do you like in the NBA playoffs?
The Cav's.  (Interview was done before the first game)
Do you pattern your game after any particular NBA guys?
I would say DeMarcus Cousins and Anthony Davis.  I like to watch them and how they play.
What do you hope to accomplish during your coming high school season?
Hopefully win a state championship and compete and win a national championship
Will you be attending the same high school, University School this season?
Yes.
Okay.  Thanks for your time and good luck the rest of the summer and the upcoming Peach Jam.