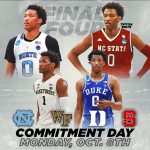 Key Duke Basketball prospect Wendell Moore Jr. announced his final four schools this afternoon and will choose his collegiate hoops destination this coming Monday.
Moore is a five-star prospect from Concord, N.C. and a player the Blue Devils staff has coveted for a long time.    Chris Carrawell has been the lead assistant recruiter for the Blue Devils and Mike Kryzyzewski has been heavily involved.
The Cox Mill product would likely start for the Blue Devils where they expect to lose up to four players to the NBA Draft.
Moore is 6-5, 215 and can play multiple positions.  He is also being heavily recruited by N.C. State and has North Carolina and Wake Forest on his list.
For more information on Moore, join Blue Devil Nation Premium during our special offer of 60.00 for one year's coverage.   You can find our analysis on the situation there.