[private]Normally this time of year marks the beginning of basketball season in Durham.  The stage was set once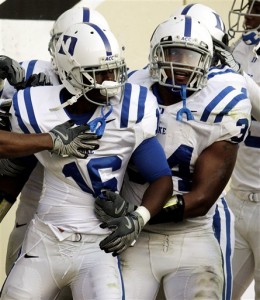 again when the Duke Men's Basketball team walloped Virginia Union on Saturday afternoon in Cameron Indoor Stadium.  Just seconds after that win, the Duke Football team received the kickoff in Nashville, Tennessee against previously ranked Vanderbilt.
The Commodores had Duke in as a supposed sacrificial lamb for their homecoming and were ten point favorites.  A win would make Vandy bowl eligible and they had quite a streak going against the Blue Devils.  The majority of the fanbase and the nation thought it would be business as usual and that Duke would sport a losing record at days end.
Nobody told David Cutcliffe that it was basketball season.  Nope, he didn't get that memo.  Nor did anyone tell him that football usually folds up in late October.  Instead he served notice to the aforementioned fans and the nation that it's still football season in Durham.  Duke held on for an important 10-7 victory on Saturday pushing their record to 4-3 on the season.
The game certainly wasn't a work of art but the bottom line is that Duke dug down deep in a hostile environment and did what it takes to win.  In the process, Duke showed it is far from done and that they still have some fight left for the stretch run.
You can't blame some of the fans for their apathy.  If one were to add the bye weeks in with losses to Miami and Georgia Tech, they would realize it had been four weeks on Saturday since Duke tasted victory.  Many felt it would be hard to stop the slide in that they are still hanging on to a losing culture.  That's something fans were familiar with having been through more winless seasons in one decade than any school should go through in their history.
That said, make no mistake, the victory in Nashville is huge in many ways.   All of a sudden, Duke is going into next weeks Wake Forest game with spring in their step and there is reason to believe that it's indeed the "Dawn of a New Day."  Duke has now won on the road and defeated a team that has been playing good football.  It's the kind of spark which can carry over into November where Duke takes on its three in state rivals.  More importantly, it's a game where they can point to when on the recruiting trail.
So, let's get a good crowd on the road to Winston Salem this week and win or lose, let's pack the stadium when NC State comes to town.  Basketball season can be put on hold for a few weeks and in case you haven't noticed Duke is over .500 more than halfway through their season.[/private]