VENICE BEACH -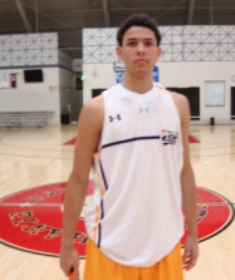 Highly sought after rising senior, Austin Rivers, was recently ranked as the #1 prospect in the 2011 class by Rivals. After having a busy summer playing for USA Basketball, and bringing home the gold, the rising senior gets a chance to end his summer with a bit of fun out in Venice Beach, California. Austin took some time after the Midnight run to talk with BDN and here's what he had to say.
We've got Austin Rivers here at the Elite 24 Midnight Run. First off, congratulations on being invited to the Elite 24 for your second year in a row, that's a big accomplishment. Last year, you were out at Rucker Park; this year, you head out to the West Coast for Venice Beach.
Thanks man, appreciate it.
Now, you've been playing AAU for a few years now, do you find at events like this that you bond with players? And have you been hanging out with anyone particular over the summer?
Definitely. I think being with the best players in the country just hangin' out with them you get to bond with them and create relationships with people you'd never get to meet. I've become best friends with Myck Kabongo, he's one of my real good friends, Brad Beal, Quincy Miller, Quinn Cook, all of the guys out here. I've became friends with [private] all of them even just today, and I know most of them already but just today I met new people and I'm already friends with them. Just to be out here and bond with them and connect is cool.

So you've had quite a busy summer so far and you've been quite successful. You won the Disney Showcase. Do you have a favorite moment throughout this summer?
Yea I'd say the Disney Showcase just because how my team got to enjoy the W. Ya know I played pretty well over the summer overall but just to win is obviously the greatest feeling. We went in there with our heads high and came out winning; it was good for our team and was kind of our last hoorah, if you will. I've been with that team for like 9 years so just to end on a good note like that was nice.
Now another big thing you did this summer was playing on the U18 Team USA. Congratulations on bringing the gold over here! Can you talk about that experience and what it means to wear the USA across the chest?
Oh yea man I totally forgot, I didn't even think about that when you asked me what was the greatest moment (smiles and laughs). Now that was probably the greatest moment of the summer, winning for my country. You know it's one thing when you represent your town or your city or state of Florida, but it's another when you represent the whole country. So just going out there with your country across your chest and for us to win the gold medal meant a lot. Getting to play with great players like Patric Young and Kyrie Irving and go out there and getting the victory was big.
I'm sure it was a great feeling. You got to play with those great players in Kyrie, Quincy, Lebryan Nash. Is playing with great players something that will come into play when you make your big decision for college?
You know of course. To win championships you got to have great players, you know there's never really been a team that I've known in college basketball that has won with just one great player and everyone else is bad. They've always had three or four or even five great players. So that's one thing you always have to be looking at is who you're going to be playing with and who's going to help you and get you better.
Yea definitely. Now recently in an interview, Kyrie Irving said that if he was so fortunate to be in a position to be a one and done, and if you were to commit to playing with him, that he would definitely consider staying to play with you. Is that something you guys talk about often?
You know we definitely have talked about it, if I was to come there he'd love to stay. But then again, you know a player like Kyrie if it's time to go I'm sure he's gonna go. I'm pretty sure he's going to leave after this first year, you know I wish the best for him, I don't wanna jinx him or anything like that. Just playing with him this summer he's already kind of ready, he's a hell of a player. I think Coach K will put him in a position to succeed there.
Now in my opinion you have one of the better offensive games I've seen for a player your age. My favorite move of yours I think is the little jab step/head fake that I saw you doing a little earlier. Would you say those are your go to moves? Or do you have any other ones you use a lot?
Really I just read the defense, and those are kind of my go to moves, the jab step. You know John Wall told me earlier (as he laughs) "I don't wanna see none of them jab steps out here!". Yea that's kind of my go to move, I like to shake them with my jab and kind of get people off of their feet. But as far as in the open court I just read the defense and I try to go to the side where the players are weak and try and attack.
One thing you've talked about is your defense. Is there anything you try and do to get better? Perhaps taking on the best perimeter player each night?
Yea definitely, that's what I did for USA Basketball. They stuck me on the best player, and coach actually saw me as the best defender on the team. He saw that I had the potential and said "you're a great defender, you just gotta do it". Just for Coach Capel, Coach Hewitt, and Coach Witherspoon to have the confidence in me to play defense really helped me and I think I've become a pretty good defender over the summer and I think I'm a good defender now.
I definitely agree. You've got a big year ahead of you coming up. You've got to defend your state title and I know that was a special moment for you. Can you talk about how you want to repeat and what steps you try to take to accomplish that?
Yea, you know, it's always harder to repeat something cause after you win your next year people maybe start slacking off or teams start coming at you a little harder. I think it's going to be special if we can win this year and I think we have a great chance to. We have some new guys coming in and we still got people returning and we have some good players around me.
Are you going to be used in a similar way as last year?
Yes, but I think this year I'm going to average a lot more rebounds because we'll miss our big man, Adam Jones, who graduated last year. I'm definitely going to have to board more and average around 7-8 rebounds a game. And I'll probably have the ball in my hands a little bit more this year, just attacking the defense more and getting people open a bit more, so just to try and be an all round stat-sheet filler.
Going into your senior do you have any personal or team goals that you'd like to achieve?
Yea I'd say our team goals are obviously to win the state championship and I'd just say have everybody be open-minded. You know not everybody is going to be playing as much as they wanted to or doing as much as they can. But I just think as a leader of the team I kind of have to set an example, and I'd say my goal is just to try and establish a good chemistry with my team. I just hope we can come into the season with no ego's and just come in ready to play and win.
Everybody has their own role type of thing?
Yea, yea exactly.
Now originally you had made an August date to announce. That got moved back a little bit. Is that something that you and your family talked about?
Yea, exactly, definitely. My brother rushed it two times actually, in Indiana he's still kind of not comfortable there. It's just my families had tough times with those schools and I just thought it's too early, and I was already so busy with my summer, I just thought I needed to slow down and think. I've already set some visits. I think it's October 1st I go up to Duke and uhh I think October 16th I go to North Carolina.
For their Late Night?
Yea, I've already set up dates for that, both of their Midnight things, whatever their dates are. My parents set that all up, I don't know the exact dates. So I've already set up dates for Duke and North Carolina, and Kansas, Kentucky and Florida will be up next.
Will your visits be a situation where you will visit everyone of your schools, or will you perhaps pull the trigger if you feel it's right?
Yea, you know it could be. If I have the right feeling for a school I think I would pull the trigger. It's just a matter of where I feel comfortable and where I feel I could really succeed. Um I might wait just a little bit just to see the season you know. I wanna see how they use Kyrie. I wanna see if they let Kyrie go, I wanna see how North Carolina plays with Harrison, you know you wanna see how colleges do with their players. How Kansas does with Shelby (Josh Selby), just to see ya know. The schools I'm looking at all kind of have players at my position, so I'd like to just see how they let them go let them play, and it'll help determine where I go.
Yea I understand that. Now one last question, if I was to take your iPod and check it out, what would you be listening to recently?

Well right now I'd probably be playing a little bit of Roscoe Dash, little bit of Lupe (Fiasco), and I'm a big Kanye dude. Oh and Jurzey. But I'm a big Lupe guy, I love listening to Lupe.
Thanks a lot Austin.
Sure man, no problem. [/private]