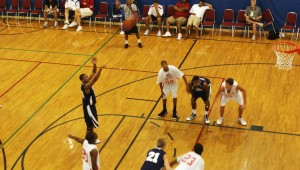 Brad Beal caught the eye of Duke coach Mike Krzyzewski during the LeBron James Skills Academy a week ago.  That put Beal high on the list of 2011 prospects for the Devils, who continued to watch him during the Nike Peach Jam.  In fact Coach K and one assistant were front and center for two of his games, and a Duke assistant was in place for the rest of his games.
Beal is a well rounded player who understands the game of basketball. There are few weaknesses in his game at his young age and has steadily climbed to recruiting rankings into a top ten spot.  Beal first caught my eye during the Boo Williams Invitational, where I took in two of his games.
When on the court for his AAU team, the St. Louis Hawks, Beal wears number 23, but his favorite college player growing up was JJ Redick.  During the Peach Jam he was playing well, but foul trouble made his second to last game the worst I had seen him play.  But he bounced back for a 29 point, 10 rebound, 4 assist, 4 steal effort in his teams final victory.
After watching this kid play, it didn't take me long to realize that this guy has some skill, so we've followed him ever sense.  In fact, we were the first Duke site to ever mention Beal and secured the first interview with him.  Our staff now seen Beal play 9 times, so we can break down his game for you.  In fact, BDN has seen all Duke prospects numerous times, thus we can give you a "true" first hand account .  I mean, would you rather hear about Andre Dawkins from someone who has seen him play in 23 games, or someone who goes on hearsay?  That's what makes BDN Premium the clear choice for Duke Basketball fans.
The following interview is our fourth with the Beal - [private]
You really got into a lot of foul trouble in the previous game, fouling out with like eight minutes of play?
I really couldn't get involved out there in the game at all with the fouls.  I felt as though I really let my team down but there really wasn't a lot I could do.  There were a few bad calls but I just have to fight through and really play through it.
You really bounced back in a big way with a double-double of 29-10.  Did you feel like you had to come out and prove something after the last game?
Yeah, I did.  I mean we lost a gam earlier and we were all down and depressed about that.  Coach told us not to worry about this game and just keep playing.  And that's what we wanted to do, finish up strong in our last game.
Where does Brad Beal go from here?  What are your thoughts with the process.  You have said Florida was one of the leaders, but Duke seems to be hot on you now.  I mean, we keep hearing Florida is in pretty good with you.  Is there a chance that Duke might spark your interest and get into the fray?
It's possible.  I am open to them right now, but all the schools that were in there from the beginning, they are in there.  They were in it early, but Duke seems to just now be coming in.
So, you appreciate the schools that have been on you for a long time or from the start?
Yeah, I do because they took the time to come out and watch me early as a freshman, so I really respect that from the coaches.
Your mom mentioned that you had a lot of brothers go to school away from home, so distance is not a big factor ..?
No, not at all.  My brother goes to school in Illinois and my older brother goes to school in Alabama so we are used to being aways from home, so it is no big deal.
Tell me a little about your high school and what it is like?
It's a college prep school.
So, education is a pretty big deal for you?
Yes, it really is.
You are too young to have taken entry tests, but how about your GPA?
It's a 3.8.
What are your favorite subjects?
Science and math courses.
What makes Brad Beal tick off the court or when you are away from basketball?
It's kind of hard being away from basketball.  If I am, I am just hanging around the house with my family.
Is family big for you?
Yes, it really is.
Your Mom said she was stunned by all the colleges coming out to see you.  Did you envision this happening or did you know you would garner this kind of attention and was it a goal for you?
Yeah, it really was.  I wanted to prove myself to all the kids who were ranked above me.  I was low and not really as known before and I just wanted to show everybody I could shoot and play as well as they can.
Have you ever given any thought to what you want to take in college or is it too early for that?
Probably, Sports Medicine.
You have aspirations for the NBA, is that correct?
Yes sir.
Who do you pattern your game after in the NBA and college?
Probably Ray Allen and Kobe.  Ray Allen in the way he shoots the ball and Kobe in his aggressiveness.
Did you grow up watching college ball?
Yeas, I like college a lot.  It's more exciting.  For some reason it's faster than the NBA.
I appreciate your time.
Thank you.
In a brief chat with Beal he said that Coach K called him on Wednesday evening and that Duke would start recruiting him and they were now in the top four schools.  BDN will have more on this later and we will also bring you an interview with Beal prior to this one.  His mom was excited to see Coach K in attendance and mentioned that she hope Brad would change his mind about an early decision and hear what Duke had to say.  She then mentioned Brad grew up a Duke fan.  Tlak about this article on the BDN Premium message board.
[/private]