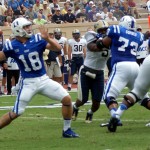 The Duke Blue Devils dropped a close decision to Pitt and in the process fell to 0-2 in the ACC.
With the score 51-28 Pitt, the Duke Blue Devils teams' past would have folded the tent, tucked it in an went home with a butt whipping. But that didn't happen in one of the more bizarre games in recent memory.
Duke outscored the Panthers 27-7 the rest of the way showing no signs of quit but the one thing they could not overcome was the fact they committed four turnovers in the way of Brandon Connette interceptions, the last one going for a touchdown which happens to have been the only Pitt score in the games last 34 points.
If you were told earlier in the day Duke would score 55 points, one would have thought they cruised to an easy win, but Pitt scored early and often and in the process they take home a 58-55 win.
You get the impression that had Duke got the ball back, they would have scored again in a game that featured 1130 yards gained by both teams. Unless the Duke defense can right the ship and in a hurry, it could be a long season for a team that had its sight set on a bowl, but to do so, they have to create turnovers.
There was a lot of frustration in the air at Wallace Wade after Pitt seemed to do anything they wanted offensively, but the Blue Devils effort leaves hope for the rest of the season and some positives can be taken from this game.
Firstly, it is clear that Duke has one of the best playmakers in the ACC in Jamison Crowder who scored three touchdowns, one by the rush, one by the pass and one on a punt return to go with his 279 all-purpose yards on the afternoon.
And Connette? While he threw four interceptions, he never let it get him down and he showed signs of learned leadership. In his third start, he threw for a career high 323 yards and had a whopping total of 424 yards of total offense.
I think it's safe to say that Connette learned a lot in this game and had Duke folded the proverbial tent and ran out of their own stadium, many fans would have instantly proclaimed it basketball season.
This Duke team is not without its problems in the secondary and getting off blocks on defense and that must be corrected and fast with a high scoring Troy team on the horizon but if the Blue Devils can tweak a few things, there will be more wins this season.
In the pre season I wrote an article that hinted there would be bumps in the road for a program still rebuilding and the loss to Pitt is one of those. It was a game many had Duke slated to win in their armchairs before the season started, but who could have predicted two quarterbacks in Anthony Boone and Thomas Sirk would both go out to injury? And both were slated to start in dual roles with Connette being the Blue Devils version of their human Swiss Army Knife.
Duke teams past or before David Cutcliffe took over just dreamed of being in a game like this and the Blue Devils while far from perfect on the day continued to compete.
Chances are this team will right the ship in time but only if they create turnovers and commit less of their own. On this day, it was the turnovers that were the clear difference and had Duke created one more or had one less, they could have been on the winning end.