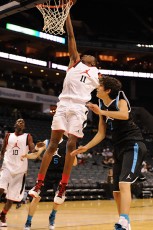 Out of a country that historically has championed hockey, there has been a basketball sensation named Andrew Wiggins, who has generated a great deal of interest internationally. At thirteen, an internet highlight video of him playing basketball spread virally and has generated nearly 2.7 million hits. Last summer, as a fifteen year-old playing for Canada at the FIBA 17U semi-finals in Hamburg, Germany, the Ontario native scored 20 points on seven of thirteen shooting against a loaded Team USA squad in a loss. Wiggins followed that performance up by scoring twelve points in helping Canada earn a bronze medal with a narrow 83-81 win against Lithuania.
Genetically, he's been blessed by having two world-class athletes as parents. His father, Mitchell, was an honorable mention All-American at Florida State and a first-round draft pick in 1983 for the Indiana Pacers. Mr. Wiggins, who was born in Kinston, North Carolina, played shooting guard professionally for a span of sixteen years, including six in the National Basketball Association. 
Andrew's mother, Marita Payne-Wiggins, originally from Barbados, was an All-American track star at Florida State, where she met her future husband. At age 23, the 5'8" track star,  won two silver medals, representing Canada, at the 1984 Summer Olympics in Los Angeles. More than twenty-five years later, she still holds the Canadian women's outdoor record for speed in both the 200 meter (22.62 seconds) and 400 meter (49.91 seconds). Although Mrs. Payne-Wiggins didn't win another medal, she competed for Canada in the 1988 Seoul Olympics as well.
Andrew, the middle of five Wiggins children, played briefly in America during the 2009-10 season for Ro Russell and Christian Center Faith Academy in Creedmoor, North Carolina, a thirty-minute drive from the Duke campus. Wiggins' parents elected to take him back to Canada to go to Vaughan Secondary School, just north of Toronto, for one year. This season, while competing for the Vaughan Voyageurs, the nearly 6'7" wing averaged twenty points per game. In very likely his only high school year in his native Canada, Wiggins enjoyed a storybook ending, scoring twenty-five points and grabbing thirteen rebounds in the gold medal game to lead Vaughan to a OFSAA AAAA Championship.
The now sixteen year-old Wiggins has joined CIA Bounce, where the 2014 prospect has been a major contributor (averaging nearly twelve points and over five rebounds per game) on both ends, for their 12-3 Nike EYBL campaign.  This upcoming high school season, the oft described Canadian prodigy will very likely take his talents to an American prep school.
Sixteen miles from where his mother won two Olympic medals,  Andrew Wiggins, the confident but soft-spoken young man with a loud game, spoke with a lilting Caribbean accent to Blue Devil Nation.
What's your current [private override_message="Just ahead is a 1600 plus word in depth interview with Wiggins, who says Duke is one of six schools to make contact thus far. By joining BDN Premium, you get access to this and all the latest information on the recruiting front. Wondering about the content here? Just go to "BDN Premium," articles and see just how many offerings we've had of late, "] size?
195 and 6'7"
What position do you view yourself as, a three or a two?
I think of myself as a two.
What schools are recruiting you?
Florida State, Duke, NC State, Kentucky, LSU, Kansas State, Syracuse, and that's about it.
Do you have a time frame in mind for when you'd like to decide by?
I would say grade twelve year.
Your father was obviously an NBA guy and your mother was an Olympic-level track star. Can you talk about their influences and how they may have helped you?
Well, since they're both athletic, I have amazing genes. I can look up to both of them because they're both athletes. If I have any questions or doubts, I can always ask them.
Yeah, I'm the middle child. I have two older brothers who play basketball and two sisters.
So you can always ask their advice too?
 
Yeah.
Do your parents tend to differ in terms of their advice, in that they come from different backgrounds or fields?
They're both competitors and they both just want the best for me.
Did you ever do track, by the way?
(laughs) Just in public school... in Canada.
Does it give Florida State an advantage with both of your parents having attended there?
Probably a little bit, because my parents went there. Yeah.
What advice has your father given you? Also, is he the type of father who wants to give you a lot of advice when you're on the court or is he the type that backs off and lets the coaches do it?
Yeah, yeah, he does. He just tells me to play my game and also to work on my shot when my shot is off.
Do you ever play against him, by the way?
No, not too much.
What's the best piece of advice he's given you so far?
Just play the game like it's your last.
That's cool.
He's very competitive.
What are your strengths and weaknesses? What would you say is your greatest strength?
I would say my strength is attacking the basket or attacking the rim.
What are you hoping to improve upon most this summer?
This summer, I mostly want to work on my jump shot.
What do you feel is your range normally? Where do you feel comfortable shooting the ball. I was watching out here tonight.
Well, my shot was pretty off.
I've seen enough of you before to know that you can shoot it a little bit.
Yeah, thanks, I feel comfortable out to the three point line. I feel pretty much comfortable anywhere out to that.
What style of play do you prefer? I would think with your natural ability you would like to go up and down.
Yeah, definitely up and down.
What are you hoping to show college coaches this summer in their limited time?
I'd like to show them where my skill level is at and that my jump shot has improved. 
Who are the most difficult players that you've had to defend against?
In Canada or the US?
Either one.
In the US, I'd have to say Michael Gilchrist. In Canada, I'd have to say Kevin Pangos.
Is there a guy either in college or the NBA that you try to model your game after?
Oh, yes, the one I try to model my game after is Kevin Durant.
That's a good one to model your game after.  Where do you plan on going to high school next year? Somewhere in America? There are rumors about Florida.
(Laughs) Somewhere in America, that's all.
Okay, somewhere in America, that's what we know.  Who are some people that you'll turn to for guidance when you do decide?
Just my parents.
You've got that spin move and a crossover, but do you have a go-to move?
Oh, yeah, I like to sweep right and either go all the way to the basket or step back and hit the shot.
Do you have any visits planned to colleges?
No, no.
You're probably looking at high schools, right?
Yeah, high schools, definitely.
Have you spoken to any college coaches lately?
No, I can't speak to them.
Just checking.
(laughs)
Will distance be a factor for you at all?
No, not at all.
Which do you prefer to defend? The two or the three? They tend to switch you a lot during games.
I like to defend the two. They tend to be more high scoring and I like to shut them down. I try to take pride in my defense.
What differences do you find between Canadian basketball and American basketball?
The style of play and the competitiveness. Americans just seem to want it more and they're hungrier.
They say you're the next big thing out of Canada.
(laughs) Yeah.
Can you give the audience a scouting report on how you play, how an opposing coach would describe you?
I can defend well, I can defend any position. I can get to the basket, I can shoot jump shots. I can penetrate and kick. I think I can pretty much do anything I put my mind to.
Speaking of your defense, I was wondering how you would assess it at this point? It sounds like you're pretty satisfied with it.
Yeah, I think my defense is pretty good right now.
Who are some guys nationally that some people might be surprised that you're close to?
No one, really.
What tournaments do you have coming up for the rest of the year?
Well, the rest of the BYBL, and then I've got national team tournaments for Canada. We're going to Cancun, Mexico for that one. 
That should be fun. What was it like representing Canada last year?
It was a great experience. I got to play against some top talent. It's an opportunity to see where I'm at.
Kyrie Irving from the US and Kyle Wiltjer from Canada said that it's such a great experience and bonding time. They talked about how it created a brotherhood in such a short period of time.
Yeah, we all bonded.
Have any of the Duke coaches contacted you?
My parents.
What do you know about their program?
It's a good program. They've got great players that come out of there, great coaches, and great fans, too. That's about it.
What are your goals for next season? What are you hoping to accomplish?
I'd like to be considered the best player my age.
I was meaning to ask you about that. Is that important to you? Some guys shy away from it and others embrace it.
I don't really think rankings mean that much, but it'd be nice to be considered that. I guess that's about it.
Lastly, you've got a bright future on the court and seem to be nice off of it too. I need you to help resent for the Andrews out there. Bynum's been killing our name in LA lately.
(laughs) Sure, don't worry. I'll represent.
Thank you very much for your time.
Sure.
[/private]