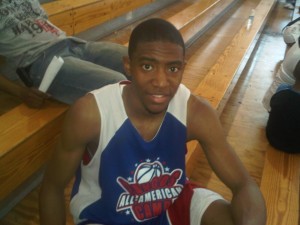 Chasson Randle is a 6'2" combo guard from Rock Island, Illinois. Last summer, he won a gold medal as a member of the USA U16 National Team in the FIBA Americas Tournament in Argentina. This past high school season Randle lost in the Illinois state sectional final to Jereme Richmond's Peoria Richwood's team, despite contributing twenty-two points and thirteen rebounds. With a reported 4.0 GPA, the young man, who describes himself as a "good kid," tries to exemplify the student-athlete that the NCAA lauds. He recently visited Duke University as part of the Bob Gibbons Tournament of Champions and the school's interest in him has increased. This weekend he was invited to the Pangos All-American Camp and made the Top 25 Cream of the Crop game. Prior to the game, he spoke with Blue Devil Nation about a multitude of topics.
Let's start with recruiting. What visits do you have planned? I heard you were going to visit Stanford on Monday.
I haven't visited any so far, but, yes, this Monday I'll be visiting Stanford Monday while I'm on the west coast. I'll probably schedule a few more after this.
But there is nothing firm set up yet?
No, not yet.
What schools are heavily involved with you?
I'd have to say Stanford, Illinois, Purdue, Wisconsin, Kansas, Georgetown, and Duke.
Those are your six or seven schools. Now, have all of them offered you? [private]
No, not all of them. It's a mix.
Did you visit Duke last weekend as well?
I was there, but I didn't visit.
Do you still view this as early in your timeline?
Yeah, yeah, yeah. I mean I'm not opening it up, but I'm..
You're not going to be deciding in the next week.
Right, right.
How about in terms of position? You sometimes pt to a one. Are you a one or a two?lay like a two trying to conver
I can play both, wherever the coaches feel I'm a better use for.
Where do you feel more comfortable though? Let's say in high school, for example
Well, in high school, I play the two. I realize though that I'm realistically going to have to play the one at the next level. So, that's what I'm working on now.
Will distance be a factor for you? The majority of your schools are in the Midwest, but you've got schools on both coasts.
No, I don't think so. It'll be wherever I'm comfortable and wherever I fit in.
Where do you like to catch the ball?
Somewhere on the edges of the three point line so I don't get jammed if I'm playing the two. Somewhere on the wing where I can go to work and have room to either shoot it or take it to the basket.
In terms of your handle, let's say on a scale of one to ten, where is it now versus where you want it to be?
I'd probably say that it's like an eight. It's not where I want it to be and so I'm still working on it.
You're still tightening it up so that you can play either position, if need be.
Right, right.
How about in terms of modeling your game after some people, who would they be?
I try to take a little from different players. I try to take a little from Rondo.
Well, he's similar to you, in terms of physique.
Yeah, and I like to watch Kobe's approach to the game and the way he shoots the ball. I just try to take a little from both of them.
What's your height and weight right now?
I'm 6'2" and about 175.
Who will you seek guidance from before you ultimately decide upon a college?
My parents, my mom and dad, and my coaches, Mike Mullins, from my AAU team and coach Thom Sigel.
It's been reported that you were first in your class earlier this year. In terms of ultimately deciding upon a university, how important is the school's academic profile to you?
Right, right. I take my academics very seriously. It'll definitely be an important factor to me and will definitely be part of my decision.
What will be some of the other factors and what will you be looking for in the college that you ultimately decide upon?
Academically?
No, just in general.
Oh, I want to go to a school that I'm comfortable at and one where I can get valuable minutes.
By that, do you mean valuable minutes right off of the bat? Is early playing time something that's very important to you?
I'm going to have to work for it.
Well, all of those schools have guards that have talent so it's good that you recognize that you're going to have to beat out some talented players to earn minutes.
Right, right.
You just want an opportunity to be able to earn them.
Exactly right. You know I also want to know how comfortable I'm going to be with the coaching staff. Do I feel good around them? Do I feel comfortable?
How often are you allowed to speak with them at this point? Once a week yet?
Soon, it'll be like that, but I'm not sure. I think, right now, it's once a month.
Can you get a feel for them yet?
Well, I can call them as much as I want. It's okay. They'll e-mail you or whatever to try to get updates.
How do you feel about the process so far?
I'm enjoying it. A lot of kids would love to be in this position.
Absolutely, is it stressful, exciting..
It's all exciting.
What would you like the audience to know about you away from the court?
I think I'd like them to know that I'm a good kid and someone they can have faith in.
Thank God there's at least one of you out here. The world needs a few more.
(laughs) Thanks.
Who are some of the other kids on the basketball circuit, maybe the more high-profile names, that you're pretty close with?
I'm friends with Quinn Cook and Brad Beal.
I saw you sitting with Anthony Davis the past few days.
Yeah, Anthony Davis too. He's another Illinois kids too.
Speaking of Illinois, how did you choose to go with Illinois Wolves over say, Mac Irvin or Anthony's team MeanStreets?
After my freshman year of high school, my high school coach heard about them and then I just went up there and tried out and liked those guys.
Who's the best player that you've faced so far?
I'd have to say Evan Turner.
Another Illinois kid..he was a kid that was somewhat of a late bloomer and now he's developed himself into a lottery pick
Yeah, and a Naismith Player of the Year.
What do you view as your strengths and weaknesses?
I haven't perfected anything yet, so I need to just keep getting better at everything.
It looks like you've tightened up your body, gotten leaner, dropped body at, et cetera.
Yeah, well, I've actually added muscle so maybe that's it.
Alright, maybe. What do you feel you can bring to a program?
My leadership, my versatility and stability. I'm well prepared when I get out there.
Are you very competitive?
Yeah, very competitive.
How did you do this past high school season, as far as your team goes?
We did pretty well. We made it to the Sweet Sixteen, but lost to Jereme Richmond's team.
What's your range right now?
My range?
Yeah, how far out do you feel comfortable shooting the ball? In this game, you shot a lot of threes.
Oh, yeah, well my shot just wasn't falling at all today.
You had decent form but it looked like you weren't getting just enough lift.
Yeah, yeah.
How'd you do in that game?
I played pretty well. We went to the final four.
Which Duke coaches have you spoken with?h.
Coach Wojo.
What are your impressions of him so far?
He's just a straight up guy. He was a guard and he's direct and I'm sure he'll be  a head coach someday, if he wants to be.
Now, I know there have been some reports that you were thinking about taking an additional day to tour around the campus, but that the cost became prohibitive to change your return flight at that time. Are you still planning on visiting them in the future?
Yeah, yeah. I definitely plan on visiting with them before I make my final decision.
Well, how were the practice facilities?
Oh, they were real nice. New and clean and just nice. It was a cool experience.
Thanks for your time, Chasson.
Thank you. [/private]