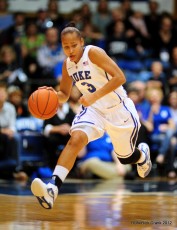 The Duke Blue Devils clinched the top seed in the upcoming ACC Women's Basketball tournament with a 74-64 win over 5th ranked Miami. With the victory Duke improved their conference mark to a legue leading 14-1 and 23-4 overall while Miami fell to 13-3 in the ACC and 24-4 overall.
Duke was led in scoring by freshman sensation Elizabeth Williams who dropped 19 points to go with 9 rebounds. Her play and 10 points from Allison Vernerey helped the Blue Devils dominate the Hurricanes by a 50-16 margin in the paint.
Chelesea Gray dished out 9 dimes to go with her 12 points and her play earned the praise of Miami Coach and former Duke player, Katie Meyer. Haley Peters was also a force in the paint with 12 points and 7 rebounds.
The Duke defense forced 21 Miami turnovers, forcing Meyers to go small as the game progressed. The Blue Devils aso held a 17-9 scoring edge off turnovers and a 10-5 margin on fast break points. And the Blue Devils bench was solid despite the injury shortened bench outscoring Miami 19-11.
Duke built a 14 point lead at the 5:41 mark in the 2nd half but a furious Miami comeback cut the lead to 3 with 1:52 left in the game, but Duke who struggled from the freee throw stripe connected on a few down the stretch which helped them to the final margin of victory, a 74-64 win.
The Blue Devils have now won or shared 11 ACC regular season titles. Coach P has 10 wins against top 10 teams since her tenure at Duke. The Blue Devils finished the season 13-1 at home and Duke has now wons 30 straight ACC game in a row in Cameron.
The Blue Devils will next travel to North Carolina on Sunday at 3:00 Duke vs Miami Photo Gallery from BDN