The Blue Devil Nation was on the scene for the 37th Annual Tournament where we caught all of the action in a sold out venue.  We talked with John Wall about the recruiting process and where he stands.  BDNP talked to Duke commitment Ryan Kelly as well.  The following is an in depth report laced with plenty of details and full of scouting reports, interviews, pictures and behind the scenes chatter.  We will continue our live blog of the event on the Premium Message Board this afternoon.  It's a great time to join Blue Devil Nation Premium.  Details for membership are in the menu just under our name. [private]
Word of God - When Word of God players arrived in the media room, John Wall, CJ Leslie and Bishop Daniels joked about with each other about missed finger rolls or dunks.  While the three got along well together off the court, there were time when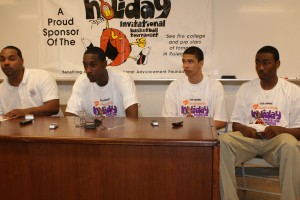 some of the Word of God players seemed to take their shots when they got them for fear of not getting enough shots.
John Wall - Word of God  is very athletic and the crowd really got into their game.  But all of their players seemed to want to make the showboat play.  Wall would show off his ball skills in an almost taunting manner when guarded one on one.  There was one short, stocky kid which got a five second call on Wall after his showboating.  That's a call he'll talk about to his family about one day when Wall is in the NBA.
In reality, his team is giving the crowd what they want and they run the court non stop, but did play a zone this evening which is uncharacteristic of their team.  Quite simply, WOG plays on emotion and their talent allows them to try and do things other teams wish they could.
Wall showed the ability to make amazing dunks from any and every angle.  His leaping ability is something to behold, especially considering he gets up so quickly.  He can make up ground like no other guard in the country and came floating through the air effortlessly for two blocks and a third which was called a foul.
Wall is a streaky outside shooter.  He would nail a couple and then miss one badly.  His strength is going to the hole and he actually needed the ball in his hands more in order to create on the break.  His half court PG skills need work, but he is a motor guy who will be a star on any level.
ESPN is doing a documentary on Wall and a piece for an upcoming ESPNU show.  The camera seems to follow Wall everywhere in an almost comical fashion, be it in the
stands before the game or close enough to see sweat glands at work in the team huddle.
Much has been made of past attitudes and problems with Wall.  His coach had this to say, "One of the things that people don't see is the strides that these guys has made as young men.  If you were to interview people that knew these guys years ago, they would tell you what they have developed most is not their game, but their character.
My Q & A with John Wall -  (Keep in mind there is limited time during this event and I fired off as many questions as I could which was pretty much half the questions asked total)
Somebody is going to bring up recruiting and where you are in the process, can you speak of that?  There was a TV camera on you quite a bit.  Is this the continuation of the documentary they were filming since the last time I talked to you in person at the Peach Jam.
"I'm not sure, really.  I think that's ESPN," said Wall who then turned to his coach asking, "Is that ESPN 360 ... I think?"
When will you trim your list?
"I think I will do it when I take two or three more visits.  When I take my last couple of visits that's when I will try to trim my list down and make a decision in April."
Are any of those visits set or in the near future?
"I've got to take one to Miami and Baylor and then I've got to take one more after that."
... and your list consists of?
"Kansas, Memphis, Baylor, Miami, N.C. State, Duke and Oregon."
Rising Star Bishop Daniels- Daniels was a sharp witted youngster witha big smile and seemed mature beyond his years.  When asked about playing with Leslie and Wall.  "Man they treat me like a little kid. They treat me like the baby. (room laughing) It's fun playing with them.  I go at them hard because they go at me hard.  They try to hurt me in practice (Jokingly), but it's different with two superstars on the court.  I'm trying to show what I can do on the courts too."  I then asked him to tell me something nobody knows about John Wall and CJ Leslie as both players put their faces in their hands.  "CJ is a clown and Johns a clown too.  They like to have fun, more fun than anybody I know."  Once in the hallway, I asked Bishop where he thought Wall might be leaning.  "It depends on which day it is.  He changes back and forth all the time."
Ryan Kelly -Kelly continued his perimeter play often handling the ball out front in his teams opening night win.  Kelly scored 21 points grabbed 4 boards and had 3 blocks. Ravenscroft defeated Apex 71-56 and the opponent had nothing to combat the size of the Ravens.
Kelly flushed three dunks and handled the ball well.  When he did take the ball in low, it allowed him to kick back out to teammates for open shots.  Kelly still needs a little work on his three point stroke, but his movement is smooth.  Again, I am impressed by his length when challenged defensively.  He easily mad up ground against shorter players.  He will be in action again this evening.
Ravenscroft teammate Matt Wilson who is heading to UNC-Wilmington had a solid game where he tallied 18 points.  FWIW, the official stats seem to need an extra stat person for they indeed differ from what many of us are keeping.
Former Duke player and Ravenscroft coach  Kevin Billermans comments -
Opening statement - "Our guards made some threes early which opened the game up for us and our defensive pressure allowed us to open it up to twenty points."
He wanted folks to know his team has not been healthy- "One of the things that people don't understand is that Madison is coming off a sprained ankle and has not been able to practice for an extended period of time.  Luke Davis our PG had streped throat down in South Carolina and did not have the energy he normally had.  When those two guys are healthy they created plays where Matt and Ryan can finish."
I asked about how he was using Ryan and that it seemed different from last year -We wanted to feature Matt (Wilson) more in the post this year.  Most teams don't have two big men.  With Ryan, he's so skilled and can create shots for himself Matt and our perimeter players.
Q and A with Kelly-
Did this game help your team get back on track after dropping one of three games in the Chic-Fil-A tournament?
"Yeah, definitely!  We began to get into a little bit of rhythm once now that this tournament has begun.  Obviously we didn't do as well as we would have like down at the Chic-Fil-A tournament.  But we finished with a win there and started off with one here and hopefully that can translate as we continue into the tournament."
I asked Kelly if having Chris Collins and his Father Doug in the stands got him more pumped up -
"I go out in every game prepared to play as hard as I can.  It's great to see that the coaches are supporting me, but I play the same with every game - the same emotion.
Chris Collins and Doug Collins - It's always great to see these two basketball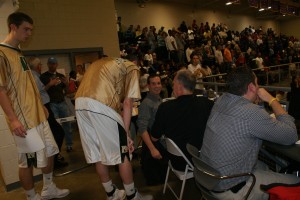 purists together.  They were going over X's and O's during the game and ESPN was sure to get a shot of them.  Kelly stopped over to talk with them after I talked with him.  Once a player is committed coaches are allowed to talk with their kids.
I will be covering the event today and will have a live blog going on the message board for members.  Mason Plumlee plays this evening followed by Ryan Kelly. [/private]