Coach K's Birthday -Let's start off by wishing Coach Mike Krzyzewski a happy birthday.  I remember when Coach first came to Durham and I'm glad we have both seen birthdays since that time.  We are truly lucky that he came to Duke and I am in awe of the job he has done.
Looking back on UNC, the positives - Duke found it's offense in that game and the staff wants that to carry over.  The Blue Devils competed until the end. 
To simply play in a game like this helps prepare teams for the wars ahead.  For the most part Duke neutralized the perceived player of the year Tyler Hansbrough.
Why UNC won -They were the better team - you have to give them that.  Ty Lawson has really turned it on after a sluggish start to the season.  UNC spread the floor well in the second half which allowed Lawson to operate and find the open man.  The Heels would have been in a big hole in the first half if it weren't for the Fraser three point shots, his play was vital and timely.  UNC was 27 of 31 from the free throw stripe and got there a lot more than the Devils.  UNC shot the ball very well.
The AC - There is no getting around talking about this.  Fans were miserable from the heat and a look back at the film shows the Duke players slipping much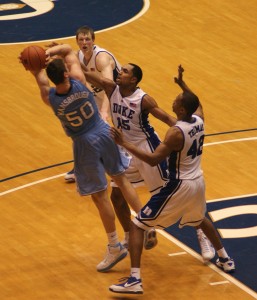 more often than their opponent.  Many of those slips came in the second half and unforced turnovers allowed UNC to spurt ahead for good.
Singlers elbow -  How anyone can see that Single intentionally tried to elbow Hansbrough is beyond me.  If you look at his hand, it's going for the ball.  Tyler is a tough kid, yet he went down to the floor like it was a left hook.  Is there a such thing as a "rabbit elbow?"
Harrison Barnes visit -Well, at this point it's no secret tha Harrison Barnes visited for the game.  In short he enjoyed his visit and this was the second time he payed out of pocket for the journey.  We go into more detail in our subscription section - Blue Devil Nation Premium.  If you want to be in the know on recruiting, it's the place to be.  Discuss the latest happenings in our premium members only message board.
Next play, Boston College - This is indeed a trap game.  Duke is coming off an emotional and draining game and yet they travel to Chestnut Hill to take on a dangerous Eagles team.  This is the same team that went into the Dean Dome and came away with a victory.
Tyrese Rice - You can bet that Al Skinner watched the film and that the Eagles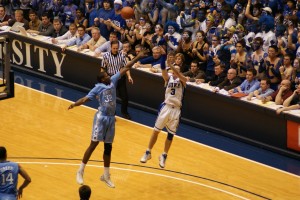 will turn this guy loose.  For the second straight game Duke will face an elite PG.  How Duke defends Rice will be a key to the game.
The game is pretty darn important - Duke now has three losses and they have entered a log jam of teams in the conference.  True, all conference games are important, but responding well after defeat is almost a must for confidence.  This is the only time Duke plays BC this (regular) season. 
Brutal stretch -Duke has five road games at Boston College, St, Johns, Maryland, Virginia Tech remaining and just two home games against Wake Forest and Florida State.  Duke wants to carry some momentum into the tournaments and it will not be an easy task.  At this time, teams are jockeying for NCAA seeding.  Duke just happened to get saddled with a brutal conference schedule, another testament how unfair the unbalanced schedules can be.  In short, there is not a single game left where Duke doesn't have to give maximum effort.