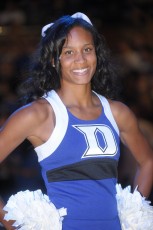 Good Monday morning to you Blue Devil Nation!  It's time for another Monday Musings column from BDN where we take a peek at the coming schedule, talk of Plumlee, Rivers and Okafor and of course have this weeks Cheerleader of the Week -
So, Duke made it to the title game and lost, sort of ...
I like to look at the Blue Devils 7-1 record to date like an NCAA test run.  Duke won a nail biter against a tough and veteran Belmont team in a game that simulates NCAA Tournament play to start the season.  They then took out Michigan State in New York and returned home to defeat a solid Davidson team.  In Hawaii, they rolled through Tennessee, Michigan and Kansas.  Duke then got handled easily at Ohio State, but to make too much of a big deal out of that game would be a mistake.  Duke has 6 solid NCAA Tournament resume building wins.  From a teaching standpoint, the loss at Ohio State gave the staff a chance to rethink some things and you can bet that Krzyzewski will tinker with his rotation.  For whatever reason, a lot of the Duke players just didn't show up for that game be it fatigue or just not being prepared to play in a hostile environment.   There are no excuses for the loss, no matter the perceived culprit but one can't help but note that the Buckeyes, unlike the Blue Devils had yet to play a game outside of Columbus.  What I am saying is despite this loss, the season has been a good one to date for a young team still learning itself.
Enter the next stretch, the Holiday games
It all starts with a 5-3 Colorado State team coming in this Wednesday and it ends with Penn on New Years Eve.  Coach Krzyzewski likes to break down his schedule into mini seasons or tournaments.  I'm sure his take on which games are included could vary greatly from mine, but the Holiday games generally come against the lightest competition on the remainder of the schedule.   Duke does take on a good Washington team in New York, but Cameron is home with UNC-G, Western Michigan and Penn.  While the team must muster up emotion with most of the students and band gone, there should be little trouble in handling all of the home games.  Yes, I know you take them one at a time, but even Washington, the best of the bunch in this stretch is no match for the Blue Devil in New York, a home away from home for Duke.  And then comes ....
Temple, the next tough road test
We'll see what the Blue Devils learned in the Ohio State loss, for the Owls will be lying in wait with their best effort.  See, that's another thing to keep in mind, is that Duke gets every teams best shot for the four letters on the jersey make players, coaches and teams give their best effort.  Anyhow, we'll stop looking ahead now, but Duke should be 12-1 going into Philadelphia.
Mason Plumlee
The junior center is coming into his own this season, having established himself as not only one of the ACC's top big men, but the nation as well.  Plumlee has been consistent and was one player who certainly showed he belonged on the court at Ohio State.  He showed well against Jared Sullinger on a night when his teammates seemed lost.  Plumlee will need to bring that effort every night for the Blue Devils to make a run come March.
Austin Rivers
Young Rivers is just starting to get the college game and he is showing flashes of really breaking out.  The game seems to be slowing down for him now and that is a good sign for he's had to make a big adjustment at the college level where all the players on the court are good.  His decision making is getting better and his assists should go up when he realize defenses will key on him or collapse on drives.  Rivers got questions about him being overrated in some media columns.  I snicker when I think that and those who wrote that will soon be eating crow.  Austin Rivers is just too good to not have the light go off at this level.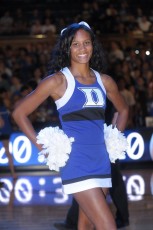 Redshirt chatter
Arm chair coaches amaze me when they get upset that Duke might redshirt certain players.  Nevermind a coach that has the most wins in all of history, for some will always know what is better and throw out their lack of trust in message board forums.  It's one of the reasons I rarely read message boards anymore, for the discussions are so often ridiculous in nature.  I for one trust in Coach K and his staffs judgement.  For those waiting for redshirts to be officially announced, I hope you packed your lunch for it will not happen.  However, expect Marshall Plumlee to be one provided there aren't a rash of injuries forcing him into action.  Now, Alex Murphy seems to be in the same boat and while he'd be more likely to play than Plum 3, the plan is to sit him the rst of the year, unless again, there are injuries.  Second guessing the decision of the staff is fair game for sure but silly in nature for this has been something they have sat down and given meticulous thought to before coming to the decision.
Jahlil Okafor visit
Okafor is in the class of 2014, but his size of 6-8 and 260 makes him a hot commodity.  Okafor visited the Duke campus this past weekend for an unofficial visit.  He is one of the top ranked players in his class and is highly regarded, holding offers from Duke, Connecticut, Michigan State, Illinois, Georgetown and Ohio State.  The Blue Devils are in early on Okafor who hails from Chicago, Coach K's stomping grounds where he plays for Whitney Young High School.  He is in every rating services top five.