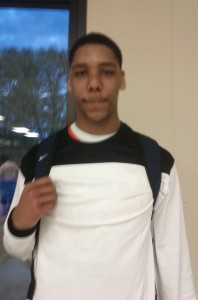 Hailed as the best big man from Chicagoland since Eddy Curry, 6'11" Jahlil Okafor, the Brobdingnagian sophomore center from Whitney Young, has lived up to the high expectations. Last September, Jahlil was the first player that Duke coach Mike Krzyzewski offered a scholarship to in the 2014 class. It was a particularly early offer from a program that historically has been conservative in both the sheer number and timing of its offers, but clearly the staff felt that Okafor was an exceptional person and player. Jahlil was coming off of a summer where he played a critical role, shooting a remarkably efficient 71.1% from the field and 82.6% from the charity stripe, in leading the United States to a gold medal at the FIBA Americas 16U Championship in Cancun, Mexico.
At Whitney Young, the Chicago academic magnet school that includes Michelle Obama as an alumna, Jahlil, a 3.4 GPA student, took on much more of a substantial role this season, while the team travelled all over the country playing challenging contests in California, the Carolinas, and St. Louis against nationally ranked teams like Bishop Gorman and Gonzaga as well as Chicago powers Simeon and Curie. After starting three games on a 20-10 team as a freshman for the Dolphins of Whitney Young, Okafor stepped up his game and made second-team All-State as a sophomore and MaxPreps named him to their Sophomore All-American team. Blessed with a 7'3" wingspan, Jahlil averaged nearly thirteen rebounds, twenty-five points, five blocks, and four steals, while shooting nearly seventy percent from the field this high school season.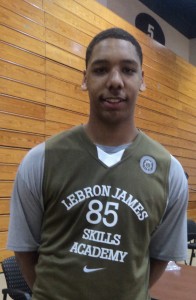 In early December, Jahlil, a pure low-post player who isn't afraid to bang inside, visited the Triangle and took an unofficial visit to Duke University, touring the facilities and also watching the team practice. Twice this high school season, Coach K of Duke University returned the favor, coming to watch the sophomore big man play in person. In the initial viewing at the Beach Ball Classic in Myrtle Beach, South Carolina, Coach K observed Jahlil score ten points and grab a dozen rebounds in a 46-44 buzzer-beating win over Prestonwood (TX) and 6'9" force Julius Randle, one of the top players in the 2013 class and a Duke recruit. At the second viewing, Coach K watched Jahlil battle his Mac Irvin friend and fellow Duke recruit Jabari Parker, the Gatorade Player of the Year, in the state 4A Sectionals in Summit, Illinois. Although Jahlil had nine first-half points and helped the Dolphins take a 24-21 halftime lead, eventually the depth and experience of Simeon proved too much on that day, as the eventual state champion Wolverines won 52-42 ending Whitney Young's season with a record of 16-10 against one of this year's most challenging schedules in high school basketball.
After splitting his time between the Mac Irvin 17s and 16s last summer, the sociable center is anchoring the paint for the Mac Irvin Fire 17U team full-time this AAU season. This weekend in Dallas, the sophomore Okafor stepped up and had his best AAU weekend to date, leading the Fire to a 5-0 session and averaging over sixteen points, seven rebounds, and two blocks in twenty-one minutes at the third leg of Nike's EYBL. This EYBL season, Jahlil, now 16, has been Mac Irvin's leading overall scorer (165 points in 260 minutes) and has shot an eye-catching 71.7% from the field, helping the Fire to eleven wins in fourteen games. During the early live period, the Duke staff was a constant presence at his Mac Irvin games, including a memorable one at the Boo Williams Complex in Virginia, where the 275 lb strong young man tore down the rim.
After an EYBL game, the bass-voiced Jahlil spoke with me about Mac Irvin's passing, his goals for this summer, and his relationship with Jabari Parker, amongst other topics.
Well, first of all congratulations on making all-state as a sophomore in Illinois. 
 It was an honor. It's something I talked about setting as a goal with my Dad. It was great. 
This year you made much more of an impact on the team than you did as a freshman. You had a really competitive schedule. How do you view your season overall?
 Well, we had a couple of our key guys injured early in the season…
 Yeah, Tommy Hamilton.
 Yeah, Tommy Hamilton was hurt and Paul White as well. It put a lot of pressure on me and made me grow up a lot faster.
Speaking of that, it looks like you've lost some of your body fat. Have you been working a lot on your conditioning this year? I remember that it was something that you wanted to work on the last time I spoke with you.
Yeah, I was speaking with all of my coaches and the thing that they thought that would prevent me from getting to the highest level would be me being out of shape. I wanted to focus on that.
[private]
You guys played a very tough schedule this year, traveling around the country at various showcases and tournaments. How does it help you now and into the future?
It helps. It just helps to play against other top players in the country, you know, and other top high schools. It was just a great experience. 
And you get to experience different places.
Yeah, yeah, definitely 
What's your current size?
I'm like 6'11," 275.
Let's talk about visits. What about some of the visits you've taken?
Sure, I went to Nebraska recently. I've been up to Ohio State. I visited Duke. I went to North Carolina and Arizona as well. They're all great campuses. 
Can you talk a little bit about each of them?
 Yeah, Duke speaks for itself. Meeting Coach K. it was just beautiful. It was great to talk to Coach K and look at their facilities. And North Carolina had a great team.
 Did you get to see any games in person this season?
When I went to Arizona, I went to a football game. I had a fun time there and the weather is always nice.
What were you looking for on those visits?
I'm looking to see how happy the players are on campus, how the players and coaches respond to each other, and then other students and how they interact with the team.
I remember that you said that you went to Whitney Young, not because of the basketball, but because it had the reputation for being the best school in Chicago. 
Yeah, absolutely, that's right. 
You're originally from Arkansas, can you talk a little bit about your background?
Yeah, I'm originally from Arkansas, but I moved to Chicago in the fourth grade.
I know you also have a Nigerian heritage. Was your father born in Nigeria or your grandfather?
No, my grandpa was born in Nigeria, but my father was actually born in Chicago.
In terms of roles, what was your role for Whitney Young and what do you feel your role is for this team? 
With Whitney Young, pretty much I had to do everything this year. I had to rebound, score inside, and block shots. On this team, I pretty much have one role: to be a dominant low-post man and rebound. I have a bunch of help on this team.
I was looking through my notes and saw that you wore your dad's number. 
Oh, yeah, I wore #32, I didn't even know it was my dad's number, but, then, I wore #15 for my Olympic jersey, but I knew that was his number.
In terms of your recruiting timeline, how far along do you think you are? When do you think you'll decide on a school?
I probably won't decide on a school 'til my senior year.
Since you mentioned Tommy Hamilton before, what's it like to play with him now that he's healthy? Have you ever played with his father (7'2" Thomas Hamilton)? He used to be a good player and a massive guy.
No, I've actually never met his father in my life, but Tommy and I complement each other perfectly well out there on the court. I like playing with him. 
Just out of curiosity, do you have a rivalry with Cliff Alexander (a 6'10" fellow sophomore from Curie HS in Chicago)? They seem to talk up on in the Chicago papers from time to time. He's about your size and age.
Yeah, Cliff's a really great friend. And I have a rivalry with Jabari and Cliff, but we're all great friends.
Can you talk about that last playoff game against Simeon? It was your second time seeing those guys (lost in December at the University of Illinois-Chicago Pavilion) and you lead at the half. For your sake, I was sorry.
Oh, yeah, that was a heartbreaker against Simeon. I walked away feeling like we should've won that game. There were a couple of plays here and there, but we're really excited about the team that we'll bring back next year.
You've got a good shot next year.
Yeah, I think so too.
(Interrupted by 6'10" sophomore Dakari Johnson)
Now, he's a rival.
Yeah, Dakari's a rival (laughs)
This year, you'll be playing against seventeens exclusively. What did you gain last year from facing players that were two age groups up in the EYBL?
Yeah, everybody's got better ball skills at the seventeen level. They're more developed physically. It's a challenge, game in and game out in the EYBL. 
I spoke with you after you played in your first game and you had just faced Elijah Macon, who was shorter than you, but built like a bull. You said he was the toughest guy that you had guarded at that time.
Oh, yeah, I remember.
One of the unique things about your game is that you're a back-to-the-basket player in an age where there are a lot of big guys that want to face up or play away from the basket.
Yeah, it's just something that I'm real comfortable with. I've been doing it since I've been in seventh or eight grade. It's helped and now I have a lot of confidence with my back to the basket.
I know that you read some of your articles. What goes through your head when you see some local scouts saying that you're the best Chicagoland center or big man since Eddy Curry?
Oh, yeah, I've read that, but..
You just go about your business.
Yeah, I don't feel like I've achieved anything yet. I'm hungry.
Well, that's a good attitude. You've got those big, "soft" hands. How much of an advantage does that give you over your fellow bigs? Also, how do you account for having soft hands?
(Mac Irvin teammate throws a fake mouse)
Sorry about that. Yeah, everybody always talks about having great hands. I think it's a pretty big  advantage. Well, at least, mentally, you know, knowing that you have them.
One dimension that you've worked on this year is your face-up game..
Yeah, my coaches are always telling that I've got to continue to perfect my low-post game, but I've also got to extend my range and expand my game.
I remember that was you wanted to add a jumper and be able to finish around the basket with either hand at the end of last summer.
Yeah, exactly, both of those things.
One things that helps you differentiate yourself from some of the softer big men is that you don't mind contact at all.
Yeah, no, absolutely, it's something that I actually enjoy. I love to get in there and mix it up. I love to be aggressive. 
And then you can knock down your free throws to help your team too.
Absolutely, you've got to take advantage of those free throw shots. You can win or lose sometimes by just a few shots, here and there.
You guys lost Mac Irvin over the offseason. He was obviously a major figure in Chicago basketball over the past few decades. He was always nice to me, but can you tell the audience your thoughts on Mac Irvin's passing?
It was sad. You know this year we're going to try to put our egos aside and just try to win the Peach Jam for him and in his memory. He was a very nice man.
Speaking of your Mac Irvin team, what's your relationship like right now with Jabari (Parker)?
Oh, you know Jabari is just someone that I've known since seventh grade and he's just somebody that I can always talk to.
He's, sort of, going through some of the same things that you are, but just a year ahead.
Yeah, exactly, we're experiencing a lot of the same things with the college coaches and the fans and everybody coming at you, but it's just nice to have Jabari.
The next one I was going to ask you about, but, unfortunately, I couldn't confirm if it was true. Someone said that before you visited there, that Coach K said something to the effect that you could've started or played for him this year. Did he actually say that to you or this just an urban legend?
Oh, wow, no, I didn't hear that. If he said that, then it's really humbling to hear, but I don't believe that. I couldn't have. It's still good to hear.
You mentioned about five schools before that you had visited. Have you cut down or reduced your list at all?
No, I haven't reduced my list just yet.
Who are some of the schools that you're interested in?
Pretty much everybody. I'm hearing from Ohio State. I'm hearing from Duke. Who else? Illinois, Michigan State, DePaul, Arizona, and UConn.
In the Chicago papers, they've written a lot about that Illinois job and the hiring process. As I recall, you were a Sun-Times guy, but did you pay any attention to the various articles about potential coaches or Coach Groce?
I did a little bit. I spoke with the Illinois coach soon after he got the job.
Well, I'm sure that you're a major target. He ought to be after you.
Yeah, well (laughs)
Lastly, let's just close by talking about what you hope to accomplish this summer. 
Sure, well, first, I'd like to win a championship for Mac Irvin. That's my top goal. Then, personally, I'd like to play hard for the majority of each game and keep my conditioning up. I've been trying to work on my conditioning and, hopefully, it can pay off.
I remember last year around this time you were focused on winning the gold medal. That was what you were targeting.
Yeah, well, we won the gold medal.
I was proud of you.
Thanks.
I saw that picture that you put up of you, Coach (Mike) Jones, and Tyus (Jones) in Mexico.
(laughs) Yeah, well, that was a great experience. Now, I just hope that I can make the team again.
Thanks for your time, Jahlil.
Oh, sure, no problem.
[/private]