Blue Devil Nation Premium has learned that Duke has offered a schlorship to Kevon Looney.  When you're a versatile and skilled 6'8", your highly respected five-time state title winning coach says that -- as a rising junior -- you're the best player he's ever coached, including NBA players Rodney Buford and Carl and Marcus Landry, college programs will take notice. When you add in a 3.6 cumulative GPA and the reputation of being a high character player, schools from around the country from Stanford to Duke will start to pay even closer attention. So it's no surprise that Kevon Looney, a player who fits such a description, has seen his recruitment and rankings take off over the past few months.
Partially out of necessity, Looney was thrust into a starting role as a freshman for Coach Tom Diener, a thirty year veteran, and the Hamilton Wildcats of Milwaukee. He took like a fish to water, averaging a near double-double and earning second-team All-City honors. Despite being severely undermanned (the starting five played the vast majority of the minutes and included three freshmen), the Wildcats enjoyed a miraculous run to the state semifinals at the Kohl Center in Madison before losing narrowly to Memorial HS of Madison. This past season, as a sophomore, Kevon played more of a point-forward position for Coach Diener, and averaged over twenty points, nearly nine rebounds, and two assists. In the toughest conference in Wisconsin, Looney was named the Milwaukee City Conference Player of the Year. Kevon was also a unanimous First Team All-State selection by the Wisconsin Basketball Coaches Association and a Sophomore All-American by MaxPreps.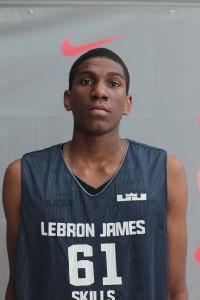 This camp season, Looney's unique skill set, versatility and rebounding on both ends of the court really helped him stand out, first at the Pangos All-American Camp in Long Beach, California. He followed that up by performing well at the NBA Top 100 Camp in Charlottesville, VA. In July, he was invited to compete at Nike's prestigious LeBron James Skills Academy, where he excelled as a long, face-up wing in his preferred small forward position alongside teammates Austin Nichols and Andrew Wiggins on the Duke camp team. On the AAU circuit, the Wisconsin native played for the Milwaukee Rebels, where he stood out at the Spiece Run N' Jam in Fort Wayne, the Kansas City Classic, the NY2LA Swish 'N Dish, and the Under Armour Summer Jam in Wisconsin. Most recently, he played for the Rebels at the FAB 48, where Duke special assistant coach Nate James watched him at courtside.
When the summer drew to a close, Kevon has been recognized as a consensus top ten caliber player in the class of 2014. I spoke with Kevon at multiple events and, off the court, he's got the same poise, directness, and maturity that belies his age and so impresses on the court.
How do you feel about your AAU season overall?
It's gone pretty well. We played pretty well. 
You've had a bit of a breakout year.
I'm pretty happy with how I've played this spring and summer. (laughs) I've been working hard.
How do you account for it? Was it something you did either in the off-season or the high school season? Getting more physically developed?
Yeah, I think it's a lot of working out and staying in the gym..just putting in the time. Just try to out-work people, working on things that people say I need to improve on.
[private]
So it's a work ethic thing for you?
Yeah. 
I would assume this is the case, but do you feel that your recruitment has picked up over the last few months?
Yeah, definitely. I've gotten a lot more suitors. 
Which ones? Who are some of your suitors?
I've got Michigan State, Kansas, Wake Forest, Stanford. All of them offered.
Oh, so you must be a good student.
Yeah, and Kentucky and North Carolina have shown interest as well. There are some others.
How far along are you in your recruitment?
Not very far along. I'm going to try to sit down and put a list together in the middle of August. I'd like to cut it down a little bit.
So if a school wants to get in with you, they've got to start pretty soon, would you say?
Probably, but I'm still open. 
What do you view as your strengths and weaknesses?
My weaknesses are I need to get stronger. I need to improve my athleticism and work on my handle. 
Do you view yourself as like a 3-4?
I really see myself as a pure 3. A 3. 
Will distance be a factor in your decision?
No, not really. 
What was it like to play with Andrew Wiggins and also Austin Nichols?
They're both very good. I had never seen them before this summer or played with them. 
What would be your scouting report on both of them?
They're both very athletic and they're both real good.
Away from the court, what would you like the audience to know about you?
I'm a humble and smart kid. I have a good family and I'm fun to be around.
Although you're capable of doing both, do you consider yourself more of a face-up player or back-to-the-basket player? 
I like to face-up more. I mean, I'll post if I have to, but it's usually only because I have to. I like to face up against my opponent. 
You mentioned before that you're a good student. Academically, you'll be in good shape?
Yeah, my cumulative right now is about a 3.6. 
Well, that's impressive. That's better than two of these normal guys combined.
(laughs)
What do you know about Duke and have they called?
Oh, they're a great program and actually, they have called. I can't believe I forgot. 
And what did they say?
They said that they wanted to come see me play. 
Do you know which coach was communicating with you?
Nate James. 
And what did he say to you?
Just that he was looking forward to seeing me.
And what do you know about the program?
I know they've got a great program. I know they play in the ACC and I know that they have a great coach in Coach K. We saw them practice. 
What do you know about Coach K?
I know he's one of the greatest college coaches. 
What is it like for you to play in front of college coaches? Is it helpful for you?
Well, I did it last year and I thought it was a bit stressful, but this year, it's a lot more fun.  
Does it make you excited or nervous before a game? Can you telling anything different about yourself before a game?
I mean, like the first time it did, but now, I can't say it really does. I get pretty excited every time. After you talk to them awhile, it helps. 
What's the one thing that you hope college coaches walk away thinking about you?  "Oh, that kid's a…?"
That I'm one of the best players out there, that I'm a good person, and stuff like that. 
I read in an article that your high school coach, Tom Diener, who had coached two other NBA players in high school, felt that you were the best player that he's ever coached.
Well, that's high praise. It's great to hear stuff like that, but you know, you still have to keep heading to the gym and work hard. 
I was wondering what went through your head when you heard that.
I just didn't pay attention to it.  I just tried to work hard. (laughs)
Do you have any visits planned?
I don't have any plans, but I'll probably take some visits later in August. 
Do you have a favorite at this point?
No, no favorites at this point. 
For you, what is the difference between AAU basketball and high school?
In AAU, there's a higher level of competition than in my high school. We're playing with better players in AAU. Everyone plays harder. We get to travel a lot more.
This year, in high school, will you be traveling a lot? Going to showcases or tournaments?
Oh, no, we pretty much stay in the same state. 
I was hoping that some people could see you play around the country. What are your goals for next season?
In high school, I'd like for us to be state champs.
Do you have a good shot?
We have a shot. We were only like two games away this year and when I was a freshman. The first year we got really close, so I'd really like to be state champs. I think eventually we will. 
Well, with you there, I'm sure you've got a great chance. Where do you feel comfortable shooting the ball?
I feel pretty much comfortable shooting anywhere middle and in.
Like 15 feet and in?
Yeah, I like to attack. I like to shoot pretty close in. I can shoot three's a lot, but, you know, I guess I prefer to get a better shot.
Your handle seems to be something you worked a lot on. What has been the key and do you feel a noticeable improvement?
Oh, yeah, I work on my handle a lot. I mean, I don't have to dribble a lot in AAU because I've got two good ball handlers, I just try to give it to them and go to my spot. Like bang bang. But yeah, I work on my handle a lot.
One of your strengths is defensive versatility. Which position do you feel comfortable defending?
I think I can pretty much defend anybody. (laughs) Well, I mean, 2 and up. 
Yeah, I think 2, 3, and 4. What would be some people who will be important whenever you do decide?
My parents, my parents are most of the influence. A couple of my AAU coaches. Mostly, my parents. 
Did your parents play basketball at all?
My dad played a little bit. 
In college?
I'm not sure, I think it was like NAIA school. I can't even think of it.
Does he work with you a lot?
He worked with me when I was smaller, but not right now. 
Do you have a trainer?
Actually, I work out with my AAU coaches. I've been lifting a lot lately.
Yeah, it looks like that in the upper body. You're looking a little stronger. What's your current height and weight?
6'8", 190.
And what would you like to be?
I'm trying to get to at least 205. 
One thing that comes up with you a lot is versatility. 
Yeah, I'm pretty versatile. I can play a lot of positions and I can score from a lot of positions. I would say I'm pretty versatile. 
Lastly, for an audience who has never seen you play before, how would you describe your game?
A versatile forward that can score and defend. 
That's perfect. Thank you very much, Kevon.
Thanks a lot.
[/private]