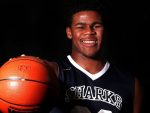 A lot of the recruiting world was in mild shock when Bryan Antoine picked Villanova over Duke yesterday.  Actually, I am not that surprised for recruiting is an inexact science when trying to read the tea leaves of the information which is available.
This one started to turn a little while back in that the Wildcats put on a full court press on Team Antoine.  And let's face it, they have won two of the last three titles, so this is a hot school.
The surprise, however, is that Antoine did not even take his Duke visit.  Hey, I thought he was a Duke lean, but there had been scuttlebutt coming from the Wildcats for the past two weeks where they were appeasing him by saying he could be close to his entire family.
Not to alarm you, but another player who is getting the full court press from Duke who is considered a strong lean, Isiah Stewart is also getting a monster push from Villanova and they have closed the gap to where his recruitment is in doubt.
I have already heard that Antoine and other Nova recruits are on him hard to play with them, so this is one to watch closely.  There are also rumors saying that negative recruiting is going on where some are saying Mike Krzyzewski will not be at Duke much longer and could ride into the sunset if his team won it all this coming season.
I cannot confirm or deny the rumors, but it is not a stretch to think some version of negative recruiting is going on.  It has also been mentioned, mainly on Duke sites; that missing Jeff Capel is playing a role in recruiting.  While this is true in some cases, Duke still has guys who Coach K trusts and they have Coach K.  But Capel was one to speak his mind and relate to players which will serve him well at Pitt.
I do not completely buy that missing Capel is the cause of a slow recruiting start.  I see it more as what players are available who grew up liking Duke to be lacking a tad this season.  This means the staff has to sell them on what is best for their basketball future for their hearts do not necessarily make them want to automatically come to Duke.
There is actually more to the negative recruiting I am hearing but I am just not comfortable in speaking to unsubstantiated facts.
Let's face it, Duke cannot always pick and choose who it gets on campus and there will be off years.  And it is also good to keep in perspective that the Blue Devils are riding high with a direct pipeline to the NBA of late.
That is why they hope the rest of the kids they're recruiting wait.  The staff wants them to see this years team on campus and the success their alumni has on the NBS this coming season where they will have a record number of players on rosters,.
While there are not the sure things like in the past with concern to prospects, the Blue Devils are not dead in the water yet.  They are still in the mix with some of the nations top rated players but each one presents a difficult challenge.
With the loss of Antoine, the Blue Devils will likely go all in on Josiah James now.  They need some wings and he can play multiple guard spots.  They could use an early commitment from James about now or any other player but we will likely have to sweat it out for a bit longer.  James will visit the Duke campus on the 21st of this month and he will do so at the same time as Wendell Moore.
Not getting kids on campus like in the case of Antoine, could alter their plans.  The bottom line is the staff felt it would get a visit before his decision and they were confident in what they had to offer.
I would imagine with the loss of Antoine, the phone calls will increase and that has to happen when you have a limited crop of kids left on the wish list.
In short, the phones and texts are going out and the staff is showing kids proper interest.  They had an idea before we did that Antoine was being tugged to stay near home.
Also, let me interject here that we live in a world where Antoine can go to Villanova and Zion Williamson can pick Duke and nobody saw it coming.  This is worth remembering when worried if Duke will get anybody as many are falling victim to.
Some seem to think Vernon Carey will be a tough get and I think he will, but Duke will need to get in his grill with reports that Villanova wants Stewart to round out their class.  And I hate to say this, but the word is that Stewart is open to doing just that. Official visits to Kentucky on October 17, Duke October 19, Miami October 26, and  UNC November 2.
Duke has to get one of Carey or Stewart in that they will only have Javin DeLaurier and Marques Bolden up front next season.  And who is to say they will be here for sure?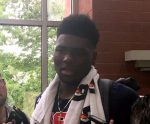 I think Duke is strong with Isiah Stewart, but this one is not over and they have to close.  There is a pile of unsubstantiated rumors going on with concern to where he leans, but it appears he will take his visits before doing anything, which means we'll sweat it out a bit,  I sometimes cringe when people call kids a lock, but the truth of the matter is Duke let Armando Bacot go to UNC thinking this kid was in the bag.  I think the thought process here was looking who we turned away from in favor of you but we will have to wait and see what that means to Stewart and Duke has yet to get any player out of the City Rocks AAU system.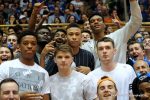 The Blue Devils have gone all in on Matthew Hurt but so has every school on his list.  He played for Bill Self with USA Basketball and he gets more calls than the hottest girl in school.  Still, the word is that Mike Krzyzewski is building a good relationship with the standout player and he will have to stay on him hard and sweat it out should Duke win this one.  As you saw in our earlier update, Duke will be in-home with him this Sunday as will Kansas and Kentucky.  Whoo!  UNC and Minnesota will visit shortly thereafter.  I think Duke will have a better feel about where they stand after this visit and that Hurt will begin to make official visit plans.  I think the three visitors on Sunday have the upper hand in this one and that it will be a race until the end.   Some reports have him going to Kentucky's Big Blue Madness already but I have not confirmed that as of yet.
And it now looks like Duke will have to sweat it out with the aforementioned Carey and Stewart as well.  But hold on before you jump off a bridge.  Keep in mind that Duke will be able to offer immediate playing time and exposure and a tested method of getting players drafted in the lottery. That is why I may be a little worried in that there is no player in the fold just yet, but I also see the openings Duke will have to offer.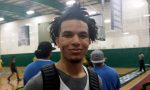 Many have said that Cole Anthony will only come if Tre Jones goes pro.  Well, if Jones goes pro, then Duke probably just won the title in the same way his brother left early.  In short, just let this one play out for a lot can happen.  It is a win-win here.  If Jones goes pro, it gives Duke a chance to offer Anthony the ball.  If Jones stays, we are still okay,
That brings us to Wendell Moore.   I think Duke will get Moore but his camp is taking it slow and going through the motions.  I just feel Duke has too much to offer for him to be swayed over to N.C. State or North Carolina.  And the main thing Duke offers is playing time for a player like him.  They are telling him he can be their Justise Winslow and he visits campus at the end of the month.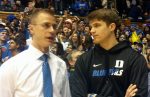 May I also remind you that Duke likely sees Joey Baker as a part of the incoming class as well.  I am not sure if he will redshirt, but his impact is a year away, save some spot up shooting.
I know some players recently decided to stay in the 2020 class as in R.J. Hampton.  But situations change things.  And we have a summer to go with Hampton and other 2020 targets who may come out a year early and we are in good with some kids capable of that feat.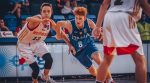 As for Nico Mannion, he too is getting a major push from Villanova and Duke is in contact.  We will know this coming week if Duke will turn it up with his recruitment in that no official visit has been set up of late.  It is time to make a move if they really like the kid and if they do not, they feel comfortable with Jones and other options including waiting it out with Anthony.
Duke may also get into the transfer market in that it is now like recruiting.  In fact, I would be shocked if they didn't should they fall short a body or two on the recruiting front.  It will have to be the right fit, but I can see this scenario playing out sooner rather than later.
The bottom line is Mike Krzyzewski will find a way to adjust to the situation presented.  He will fill his roster, so no need to get overly worried as some are in the Blue Devil Nation.
We'll get into the upcoming visits next update and there will be a clearer picture with more information at that time.  In the interim, I will check in with sources to see where we stand with the prospects as things progress.  Until then,  remember, do not believe everything you hear and crystal balls do not always work as they should.
Lastly, the word is that Tre Jones and Cam Reddish are doing more in workouts and that they will be ready to go once camp starts in less than three weeks.  Alex O'Connell will be held out of contact drills for a bit but will be ready to go as well.
I am also working on my take on the Canadian and a preview for the season.  Those of you remember last seasons 3200-word take and another one is coming.
We don't have the most active message board for our members seem to be readers.  But you can ask questions there and get further updates and analogies.  One more side note, the staff is in regular contact with Brandon Boston and Jalen Johnson and will be adding more names to their wishlist as time goes on for 2020.