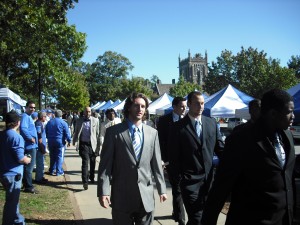 Duke beat Navy 34-31 on the strength of a record setting performance by Sean Renfree and a strong first half by the entire offense; however, the defense played great and acknowledging true freshman linebacker Kelby Brown's 12 tackles, along with Abraham Kromah's 11 tackles, and Matt Daniel's huge tackle on 4th down is appropriate. The defense dominated Navy for three quarters and provided many key performances in the victory.
The Top 8 Statistics in Duke's Win over Navy:
1. Sean Renfree set a single game pass completion percentage record with his 28-30 (93.3%) performance. Renfree didn't set just a new Duke record or an ACC record, he set a new NCAA record, for games with a minimum of 30 passes thrown, by besting Steve Sarkisian's 31-34 (91.2%) performance for BYU against Fresno State on November 25, 1995.
2. Zero turnovers for the Blue Devils. Multiple turnovers doomed Duke in losses against Wake Forest (four), Army (Five) and Miami (seven). The importance of not turning the ball over cannot be overstated. Entering the game, Navy was ranked tied for fourth nationally in turnover margin, while Duke was ranked 119th.
3. Two for two on onside kick recoveries. Navy attempted two onside kicks in the 4th quarter but first Conner Vernon and then Cooper Helfet foiled Navy's attempts by successfully catching the ball for the Blue Devils. Navy's offense was hitting on all eight cylinders in the 4th quarter and these two key plays by Vernon and Helfet prevented the Midshipmen from gaining extra possessions.
4. Duke's vaunted receiving corps earned their accolades: five receptions for 90 yards and a touchdown by Conner Vernon, seven receptions for 69 yards by Cooper Helfet, five receptions for 57 yards by Donovan Varner, five receptions for 49 yards by Desmond Scott, four receptions for 23 yards by Austin Kelly and two receptions for 26 yards by Brandon Braxton. Fifteen of Duke's 21 first downs were achieved on pass receptions.
5. The defense dominated Navy's triple option offense until the 4th quarter. Kelby Brown recorded 12 tackles including three solo and Abraham Kromah had 11 tackles with five being solo. Patrick Egboh was credited with 1.5 sacks.
6. Time of possession. Duke mounted multiple long drives and controlled the ball for 36 minutes and 57 seconds. The drives included: 10 plays for 68 yards resulting in a field goal, 14 plays for 76 yards resulting in a touchdown, 10 plays for 45 yards resulting in a touchdown, eight plays for 64 yards resulting in a touchdown, 10 plays for 70 yards resulting in a touchdown, and 12 plays for 60 yards resulting in a field goal.
7. Conversions on 3rd and 4th down. Duke was two for three on 4th down and 8 for 15 on 3rd down. Converting on these plays allowed the offense to mount multiple sustained drives, which kept Navy's offense off the field.
8. Duke rushed 45 times for 142 yards and six first downs. Desmond Scott was the leading rusher with 42 yards including a key 17 yard run during Duke's opening drive. Quarterbacks Sean Renfree and Brandon Connette combined to rush for 61 yards and three touchdowns.