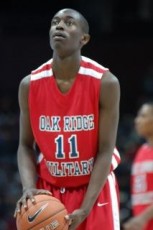 Blue Devil Nation Premium is bringing the fire this week as Andrew Slater shares his in depth interviews with the nations finest talent. and players on the Duke coaches radar. We started on Monday with Nerlens Noel and Julius Ranldle on Tuesday.  Today, Theo Pinson Jr. takes center stage and you don't want to miss his comments on Duke and so much more.  If you have yet to  subscribe to or try BDN Premium, now is the time to check it out and we are sure you will be more than satisfied with our content.  And next up?  Rasheed Sulaimon checks in tomorrow, so join now and chat it up with our knowledgeable members on our message board.
Theo Pinson, Jr. is a long 6'5" wing from Greensboro, NC. Presently, he goes to school at nearby Oak Ridge Military Academy. This past season, the versatile freshman took on added responsibilities, as the team's senior leaders, Jacob Lawson (Purdue) and Chris Jones (Tennessee), were unable to play, due to a season-ending injury and a violation deemed worthy of dismissal from the school, respectively. The bouncy 2014 prospect helped weather the storm and added a much-needed scoring punch, allowing the academy to finish with a commendable 35-6 record.
On the AAU circuit, he's joined forces with Rodney Purvis, as the backcourt for the CP3 All-Stars, helping them achieve an 8-2 record thus far.  Playing with the 17s, he's managed to average over thirteen points, five rebounds, two steals and assists over the initial ten games of Nike's first two EYBL stops. His three-point shot improved, as the rising sophomore was able to connect on fifty percent  (10 of 20) of his deep perimeter shots in the recent Dallas wing.
 Last October, the North Carolina native chose to enjoy the atmosphere at the Countdown to Craziness. During the recent open period, Duke reciprocated, visiting Pinson at his current school.
In late March, Pinson was named as one of twenty-four players, including Duke recruit Jabari Parker, invited to be part of USA Basketball's next developmental team. In June, he will fly out to Colorado again, hoping to make the final cut of twelve for the USA's U16 team that will compete for the FIBA Americas U16 Championship in Leon, Mexico. It's an exciting time for the Pinson family and his dad, Theo, Sr., refreshingly embraces seeing his talented son have to compete for available spots and playing time.
Recently, Theo Pinson spoke exclusively with Blue Devil Nation.

How have you done individually and as a team this AAU season? [private]
I mean, we're winning a lot of games, but we've got to take care of business every time we go out on the court. I mean this is really like a business. Everybody spending money for us to come out here and play basketball so that we can get out there in front of everybody. There's a lot of money out there so we've got to go out there and play.
And how was your high school season?
Oh, I mean, I played really good. I mean, we had a couple of things that happened during the season, but we got over it. We was like 35-6 or something.  We played pretty well considering.
Right, I caught you early in the year and then you…had those players leave or whatever.
Yeah, yeah. I mean at the end of the year we had to adjust to all of the players leaving or people leaving.

But then, you took on a bigger role after a couple of the senior guys, Chris (Jones) and Jacob (Lawson), were no longer playing.
Yeah, exactly, after Chris and Jacob left… or Jacob with the injury and Chris just left, I had to step up my scoring and be a bigger leader for the team. I just had to do what I had to do so that we could still win games.
How about the huge honor of getting invited to compete for USA Basketball?
Oh, that's huge. Just huge. I feel like it's an opportunity to represent Greensboro, my city, my family, and make everybody proud. Hopefully, I'll be able to make it.
Your dad and I were talking about the opportunity. He's very proud of you.
Yeah, it's huge.
This is so early for you, but what schools are already showing interest in you? Are schools already coming after you pretty hard?
(laughs) Oh, yeah, there's a lot. There's Syracuse, Duke, North Carolina, Virginia Tech, Clemson, Marquette, Tennessee, and there's quite a few more.
It must be a fun time.
Yeah, it is.
Do you have any time in mind for when you'd like to decide by? I feel badly asking you this. (laughs) No, it's cool.
 I really don't know, but I might want to decide by my sophomore or junior year so that I can have it out of the way by my senior year.
Too much of a headache?
Yeah, it is.
Did any teams come to see you during the open period?
Yeah, Duke came. Carolina and Tennessee came. I think UNC-Charlotte and a couple of other teams. That was cool.
Which coaches came from Carolina and Duke?
McGrath from Carolina and I forgot the dude from Duke. He had a long last name. Oh, man.
Wojciechowski?
Yeah, it might've been. He had a long last name. I apologize. I forget.
How would you describe your game to an audience who hasn't seen you play yet?
,I like to get my teammates involved. If we're in transition or if I have to score, then I'll score, but I really don't like to force my game. I'd rather play within the flow of the game.

You've got a really, for lack of a better word, natural game.
Yeah, I like to let the game come to me and just play basketball. Don't force it, if it's not there.

I was talking with you father about your left hand..
I'm a righty. Oh, I see what you're saying. Yeah, I can go either way. That was like one of the first things that I worked on. Tightening up my ball-handling.
In terms of position, do you prefer to play the one or the two? Your dad mentioned that you played a lot of both towards the end of the high school year. Now, you're playing alongside Rodney Purvis.
It depends. If I see somebody else who likes to handle the ball and they can do that, then I can just roll with it
You and Rodney have pretty good chemistry out there?
Yeah, we've played all right. We've played in, like, four tournaments so we're pretty good right now and we're getting better.
And now you picked up two guys (Brice Johnson and Travis Hammonds)..
Yeah, adding them two was big. Like the first weekend that they were supposed to play, they had to take the ACT.
Your dad told me. He's been very helpful.  Who are some players, at any level, that you look up to?
Kobe. He's my guy. I'm a big Kobe Bryant fan. I like Kevin Durant too, but Kobe's my man.
Well, of those two, right now your game's closer to Kobe's.
Yeah, it is.
What's your current height and weight?
I'm 6'5" and about 183.
Do you know how tall your projected to be?
I think I'm supposed to be about 6'8."
What are you looking for ideally in a college program, whenever you do decide?
Coaching. The coaching will be number one. The people that'll be around me. Academics will be important and I'd really like a good atmosphere at the games. For me, I love a good atmosphere at the games. That gets me going.
Are you a good student? Solid?
Oh, yeah.
That's good to hear. Will distance be a factor for you at all?
I haven't really thought about that yet.
What can you tell the audience about you away from the court?
I play around a lot. I mean we joke around all of the time.
(laughs) I feel badly that I'm asking questions.
No, no, it's all right.
Are you an only child?
No, no, I have a sister. She's not here. Only my dad is.
What would you like to show college coaches this summer? What are your goals?
Probably shooting off of the dribble, attacking the basket and finishing, dunking on people and stuff. Playing good defense too.
What do you feel are your strengths and weaknesses? What's the greatest thing that you do right now?
My strengths are probably attacking the rack in transition and getting or hitting the open man. I feel that I do that good right now.
How about your range?
Oh, yeah, my jump shot's getting a lot better than it was. I've been working everyday during the week on it. Just keep improving it and getting my jump shot down.
At the high school or at another facility?
At my high school.
What are the facilities like there?
Oh, I mean we've got one gym, but it's a nice gym.  We've only got one gym, but they upgraded it this year. It's really nice.
What about the weight room facilities and stuff like that?
Oh, our weight room facilities are real little. I mean real little.
Alright, what do you feel are your weaknesses right now?
Probably my ball-handling. That's probably still my number one thing that I need to work on.
You mentioned before that you were working on your left.
Yeah, I have been. I mean it's not terrible, but it's just not yet where I want it to be.
Just need a little bit more work.
Yeah, that's it. I just feel like I need just a little bit more work to feel completely comfortable.
Going back to position for a second, which position do you actually prefer to play?
Probably like the two or three. I mean I can play the one if I have to and I like to look for the open man, but I like to play off the ball and find spots. Roam around.
 
Playing with Rodney Purvis, what's the experience been like so far?
 It's been fun. A whole lot of people come to see me and him compete.
It's a hell of a backcourt.
Yeah, definitely. It's been great so far. We just get out there and push it and compete. We love to run and we always have fun. It's been great and we already know what the other's thinking.
I've talked to him a few times, but what's he like with you.
Oh, he's real funny. He's a funny dude. He's just like me. He likes to have fun and he walks and talks basketball.
On the court, though, he looks dead serious.
Yeah, yeah.
I normally talk to older guys, but who will you turn to for guidance whenever you do decide on a college program?
A whole lot of people in my family play and talk basketball.

Well, your dad is very knowledgeable. I can tell that already.
Everybody in my family knows and talks basketball and so, realistically, I'll probably just talk with them all about it.
I don't know if this is a touchy issue, but what kind of a squad are guys expecting to have for next year at Oak Ridge?
I really don't know, man. I'm just trying to get through this year, man.
Oh, okay. (laughs)
Yeah, I just don't know. It's been..
Since we're running low on time, can you tell the audience what you know about Duke as a program and as a University?
Oh, absolutely, I've been to Duke twice and I loved it. I mean the atmosphere was crazy. Just crazy. I went to Midnight Madness and I just like the way Duke plays also. I like them a lot. I visited and I liked it both times.
And what do you know about their coaches?
I really don't know too much about their coaches. I'm sorry.
Well, you're still so young. You've got plenty of time to meet with different staffs. Thanks very much for your time and good luck with the USA team.
Oh, all right, thanks. I appreciate it. [/private]