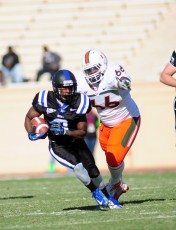 DURHAM, N.C. - Duke Coach David Cutcliffe entered the media room and immediately looked at the stat sheet with a most sour expressio. His Duke Blue Devils had just lost to the Miami Hurricanes on Senior Day by a 52-45 score, yet there was a feeling amongst all who watched the game, that a stop or two by the defense or one less big play could have led to a winning record heading into a guaranteed bowl invite.
Instead, Miami rolled up some impressive offensive numbers and just when you thought the resilient Blue Devils might make a comeback, they'd score on one big play before the taste of a good effort to get into the end zone for Duke had faded. It was that kind of day in Wallace Wade Stadium, a game which the home team fought their way back into after taking a 28-10 deficit into the locker room at half time.
Cutcliffe glared at the stat sheet and said there is no way we can win giving up 11 yards per carry and that's what Miamis' Duke Johnson averaged on his way to 181 rushing yards and three touchdowns. In fact, Miami rolled up 646 total yards in the game and did what the Duke defense struggled with, making an occasional stop,
That was the difference on a day when Duke set all kinds of passing and reception records. Sean Renfree had a stellar game going 36 of 59 for a season high 432 yards and four scores. Duke was 4 of 4 in the red zone as well, which is quite effective. And then there was the longest play from scrimmage in the history of Duke Football, a 99 yard pass from Renfree to Jamison Crowder and a career day as well for the wideout who pulled in eight passes for 203 yards and two touchdowns.
Even Conner Vernon closed his home career out as good as one might have hoped for, with 11 catches for 109 yards and another two scores in his Wallace Wade finale. And then there was running back, Jelea Duncan a true freshman who average 10.7 yards per carry. All that is impressive.
But as impressive as that might be, there was frustration on the faces of the seniors as they addressed the media. There was a feeling as if they had fallen short of something they could have accomplished. Many of the players stated and Cutcliffe confirmed that he was not a bowl of cherries in the half time locker room and Duke made good adjustments winning the second half 35-24, but there was just too big of a deficit to overcome and that was another lesson learned for a program still learning what it takes to break through to another level.
Despite all the pain from losing on Senior Day, Duke fans can rest better knowing not a player or coach was accepting of what happened. Nobody especially wanted to talk bowl. Instead, it was as if they were all itching to get back to work as soon as possible.
And that folks, is the difference in this season and those many unfortunate past. This Blue Devils team is hurting and reeling in many ways on the defensive side of the ball, but they've got one more game to play and a lot of practice earned which bodes well for the future.
There may have been an opportunity lost today in a cool and windy Wallace Wade Stadium for Cutcliffes' team, but one teams season will continue because they are doing things right, while the others ended with a win, but a trip back home is their prize for pending violations.
Nobody likes a loss and everybody wanted that coveted seventh win which guarantees a winning season but at least the Blue Devils still have opportunity ahead. Duke now has just under a month to shore up the defensive side of the ball and they can right the ship in the most important game of the season going in to next year, that being the last game in a place they've been invited.