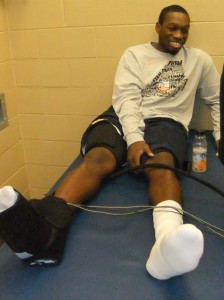 INDIANAPOLIS -  It's a windy, rainy and gray day in Indianapolis but it would take much more than that to dampen the spirit of 71, 300 fans decked in their school colors.  The day is finally upon us when we'll find out who will advance to Monday's National Championship game.
It's been a while since both games were considered toss up's in the Final Four.  While Duke may be a 2 point favorite over West Virginia the betting lines and Butler a mere 1 point favorite over Michigan State, neither team can be called a huge favorite. [BDN uses spreads for entertainment purposes and we do not advocate gambling in any form.]
That will make for some really competitive games and there are few places better to host a Final Four than Lucas Oil Stadium, home of the Indianapolis Colts.    Which ever teams handle the preparation well could win the games.
It's not easy for teams to sit around all day, especially Duke and West Virginia who play in the late game.  Yep, it will not be long before we know that one of two teams will be crowned national champions and the anticipation is at fever pitch.
There are three story lines developing.  On of course is obvious, that being the hometown Butler Bull Dogs in that you could not possibly have written a better script.  The whole town is on fire, even Indiana faithful have adopted the locals.
There are full page ads in supporting Butler in the Indianpolis Star which brings me to another story line.  Somebody at their newspaper lost all concept of professionalism.  If it were not enough that fans have been beat over the head with more Duke hate which by now is extreme overkill, somebody okayed a picture of Coach K where they drew devil horns, glasses and a target on his forehead. You can read more about that by going here where Brett Friedlander chimes in.
The aforementioned is nothing new.  An incredible amount of errors have been made in local newspapers in Jacksonville, Houston, and now Indianapolis.  In fact, they are too numerous to name.  Bottom line is a lot of writers are not doing their homework and all this Duke hate?  It's not nearly as bad as some claim, but lazy research and falsehoods seem to gain steam in an era when media standards have been seriously compromised.
The third story line is whether Darryl Bryant, the West Virginia point guard will play.  If one reads between the lines of answers from players when confronted with the question, it seems that he will.  While Bryant did not practice yesterday he has been approved to go and what a boon it would be for the Mountaineers to bring him off the bench.
BDN talked with Bryant and the interview is just below this paragraph.  Earlier in the week it came out that Bryant went to Duke Sports Medicine for treatment, but he told BDN it was just in Durham and had nothing to do with Duke.
Daryl Bryant on his injury and whether he will be playing in today's game -
In closing we'll talk about the Duke-West Virginia match up.  Both teams hovered close to one another in the polls all season long.  The thing which makes the Mountaineers dangerous is their version of the "Big Three," and the fact that a lot of other players have had big games offensively.
Everybody is expecting a heavyweight fight and a physical game.  It'll be interesting to see how the game is called early on and you can bet there will be some foul trouble and that's something Duke needs to avoid.  Just ask Kyle Singler who picked up two quick ones against Baylor which essentially took him out of his game.
Also worth watching is how Duke responds to the West Virginia zone which is a 1-3-1.  Kentucky got off a lot of shots against the zone, but Duke struggled with Michigan on the road last season who employs the same zone.  However, Duke played them twice and won the first game handily.
The four teams in this years Final Four are the closest in proximity than any other and of course, Duke is the farthest away.  The longest trip Duke has ever made to a Final Four was in 1989 in Seattle where they were 2,862 miles away.  Butler at 6 miles is by far the closest team to ever play in a Final Four game.  West Virginia comes into Indianapolis withe the longest winning streak of ten straight.   Michigan State and Duke will wear their home colors today.
Stay tuned for more from the Final Four in Indy where BDN  is covering the Duke beat.