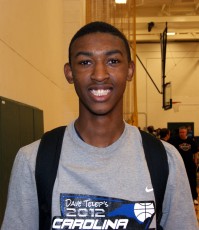 A name which popped up during the recent Carolina Challenge was Chris Hairston, a 6-7 lithe forward who professed his love for the Duke Basketball program.  His dream school is Duke and the prospect is now on the rise but whether he gathers true interest will depend upon him blowing up on the summer circuit. 
Suppose I had never seen you play.  How would you describe your game to me?
I have a little bit of everything in my game, a jack of all trades  who is not trying to master one thing but multiple things.  As of right now I'm just trying to do everything in an above average manner.
What area of your game do you feel needs the most work? [private]
My ball handling, especially my off hand and I'd like to gain consistency on my shot and that will come if I keep working.  So those are are the things I am working on right now.
Do you have any favorites in the recruiting process?
No favorites, it's early.  I have offers from Garner Webb and Texas Arlington and a lot of schools putting feelers out.
Did you have a dream school growing up?
Duke was my dream school.
Have you ever heard from them?
No. not yet.  I would love to hear from them.
And you will ball with which AAU team this Spring and Summer?
The Carolina Cobra's.
Have you made any unofficial visits?
 I visited Wake Forest and Carolina once.  I'm not sure yet if I will take all my visits, but if Duke offered that would be a deal breaker, I would commit on the spot.
And who will help you make your decision?
My family and high school coach.
My take - Hairston fits the role of a program kid, meaning he can ball and makes great grades and exudes character.  But I doubt he will make the cut for Duke despite loving them to his core.  He improved a lot according to those who had seen him play before and his stock took rise in the Carolina Challenge where he averaged 8.5 ppg.  He can finish nicely around the rim but floats on the perimeter a lot.  He has had a growth spurt which puts him at 6-7 and growing and that means he has some guard skills.  Very narrow shoulders show little muscle at this time and he needs to work on getting bigger in the weight room but he is not without talent and seems to be a kid who would work to make himself better,  He played matador defense in the middle game but came back strong after a break to play his best game while catching a few guru types eyes in the process.  Since the event, Wake Forest has moved on him as has several other schools.  Not thinking he would be of major  interest to Duke, I went a little light on the Q and A.   He would not be a bad fit on the roster if there was room, for he is a kid who will not cause trouble and work to get better while making great grades.  I think he is looking at Duke for an education and basketball. [/private]