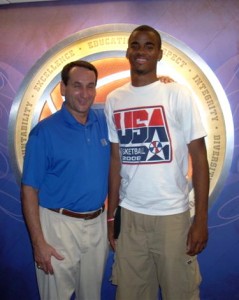 Blue Devil Nation Premium caught up with Josh Hairston to find out how his AAU season was going.  In the process, we talked of his high school season, his future AAU events, Adidas Nation and much more in an informative interview.  Having talked with Josh on several occasions during his high school and AAU career, I have a good idea of who this young man is, but he never disappoints in adding something new each time we speak.  Josh is open and excited that he is to be a future Duke Blue Devil.  We think you'll enjoy this detailed interview -
I just wanted to check in and see how things we're going with you ...
Yes sir (in an upbeat and excited voice)
When do you get out of school?
About four or five weeks ...
Are you counting down the days?
(emphatic) Aw man, I'm counting them down.  It's been a long and successful school year but I'm ready to move on to that senior year.
How about recapping the end of your high school season for the Blue Devil Nation ...
We made a great run and finished at the top of our Battlefield District, won the tournament and went on to the regional tournament and then down to Richmond for the state tournament and won all that.  So it was a real successful year.  We set our goals and took each one a step at a time and the further we got the better and better we played, so it was a real successful year.
That's great!  Did you win any individual honors?
Yes, I was named [private] player of the year for Virginia AA and regional player of the year and district player of the year.
Wow!  Congratulations ... I know you've already played in a couple of AAU events, can you tell me about those a little bit and how you played?
Okay.  I started off in New Jersey and I feel I played very well.  All the [private] write ups that came back and the feedback I got was very positive.  We also went to the championship game where we lost by one point to the New England Playaz so that was hard.  We didn't come ready to play so we had to live with it and keep on working.  Then we had pour tournament up in Chantilly, Virginia and we went through that and we actually beat the New England Playaz by 20 or 25 points in the championship game.  Then we went down to Arkansas.  We didn't play our best as a team but the feedback I got was pretty positive but none of that real matters if your team didn't do well, so it was a disappointment for us but you just have to shake it off.
You are going to be playing exclusively for D.C. Assault this spring and summer, correct?
Yes sir.
You guys have like a black team and such, can you talk of that and which one you'll play for?
We have like three or four 17 and under teams but I play for D.C. Assault Gold.
Can you tell me a little bit about your team and who plays with you?
Tyler [Thornton], you know, Tyler is on the team.  We are a real successful team.  We have Eric Adkins who just recently committed to Notre Dame.  Then we have Max who is headed to UMass and Cedric Lindsey - a whole lot of schools are looking at him too.  We are very deep on the beach and are a well rounded team that plays well together.
You have played with Tyler [Thornton] several times in the past already.  Can you find that the chemistry continues to build when you two are on the court.
I do. (Keeping the upbeat tone for the whole interview now) It's almost like we can read each others minds when we are pout there.  I know what he's going to do and he knows what I am going to do.  I can tell you when he is going to pull up for a jumper or head to the basket and when I know he's going to do things like that, I just go to the basket and try to get a rebound.  Tyler, the kind of player he is, when he wants to take over a game he can and we can kind of read each others minds on the court.
Can you talk about your future AAU events and what you have coming up?
Yes sir.  I know we have the Southern Invitational coming up and then we'll have Bob Gibbons down there at Duke and UNC.  And then I know we will go to Las Vegas and Los Angeles and we will go down to Florida for Team Breakdowns tournament.  I'm on that Adidas Nations team so I'm going to miss some of that.
Tell me a little bit about that?
(exuberant) Aw man, that's a great experience, it's an honor to be a part of that.  You are selected and play with a select group of players.  I am talking about Josh Smith, Brandon Knight, guys like that.  We recently had a practice in Las Vegas and it's the real deal.  I enjoy playing with them.  I think we have a couple fo more practices left and then we'll head out to Dallas and I can't wait for that.
What is it like playing with a bunch of stars as opposed to AAU and high school ball?
You know, it's hard sometimes because you have to play with as good or better players.  Josh Smith, Brandon Knight and Jared Sullinger are all at the top of their class and that is not even necessarily saying that they are better than everybody or better than everybody in the program, but we are all used to being the man on our high school team.  When all of us come together it's hard, but our team is playing well together.  I mean, as soon as we stepped on the court the chemistry was there.  It's hard at first, but you have to learn to play through it and work as a team and that's hopefully how you will ge the job done.
Who do you think is the toughest guy out there?
Tristan ... (paused to think)  I remember, I played Tristan fifteen and under and I mean, his game has grown so much.  I mean he can shoot the ball and get to the basket at will.  If you let him, he'll dunk on you.  So, Tristan I've been impressed with.  Then you have guys like Trey Golden and Josh Smith.  They impress every time they step out on the floor.  I can't really say that one person has impressed me more than another because I was impressed with everybody so far.
How do you feel that you played?
I feel I played very well.   A lot of them were on the team last year and I think there were like three or four of us added on this year.  Those guys welcomed me with open arms and I have learned everything quickly.  I mean they threw me right in there and I started playing.
Can you tell me who this team will be playing and when these games will go down?
For Adidas Nation, we'll play the other countries of the world.  We will play Europe and Canada, Latin America and such like that.  We will just prepare for that.  That comes up in August down in Dallas.  Right now, we are just scrimmaging the 2011 team and they're full of talent of late.
What is your current height and weight?
6-8,  215
So you are a solid 6-8 now?
Yes sir, a solid 6-8.
Do you still feel like you are growing?
You know, I hope so.  I don't know if it's because they see me everyday but my teachers and priciple at school, when I walk into the office they always say I'm getting bigger and my mom says that too, so I hope so.
Do you ever go around the message boards and see rumors like Josh might open up his recruiting and the like?  What do you make of stuff like that?
Yes sir.  My mom reads that stuff, but I don't really pay attention to it.  You hear things like, I'm not that good, I won't make it Duke and I will sit on the bench and stuff like that.  I really don't pay attention to it and I know what coaches have told me.  I know I can walk into any situation and walk into to any college and start, but I know I will have to outwork the next guy.  On message boards some people are very negative and others are very positive and supportive and things like that.  I know I see some backing me up at times and I wish I could thank them, but I really don't pay attention to that.  I know that my commitment to Duke is full and they know it and as long as that is the case, it's all that counts.  I called to talk with Coach Wojo today and left him a message so we'll talk by tomorrow.
Do you continue to follow recruiting and who your future teammates might be?
I do, I do because it's important who I will play with.
What do you think about the John Wall situation which seems to dominate the talk of late?
Whatever school gets John they are getting a one and done player.  I think John Wall really is that good and I would like to say I will be able to play with him when I get there.  But I am going to be honest with myself and say John Wall is a one year player.
How would you feel about playing with Harrison Barnes?
Aw man, I played with Harrison at the Nike Hoop Jamboree Camp.  He's a phenomenal player and can do almost everything out on the basketball court.  When he was down at the UNC game in Cameron and I saw him with that Duke T-Shirt on, my face lit up and I said, okay we have a chance with him.  I really don't push the envelope and try to get him to come to Duke, but I will throw little hints here and ther telling him Duke really wants him and he knows that.  I think he will make the smart decision.
What will you work on the rest of the summer with concerns to basketball?
Definitely to continue to get bigger.  I don"t want to put on too much weight and be a muscle head, but if I can put on some more weight it will help me finish around the basket.  I will work on my jump shot and continue to take it our further.   I feel if I do those two thing everything will be fine.
Josh, it's always a pleasure to talk to you and I will see you on the AAU trail soon.
Yes sir, thank you.
Talk about this article on the Blue Devil Nation Premium Message Board. [/private]