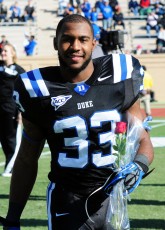 DURHAM, N.C. - One of the things which has impressed me as a media member since Duke Coach David Cutcliffe has been at the helm of the football program is the fact that his players have character.  No, this is not a statement from homer media, but something grounded with actual facts.  There have been many instances where Duke football players have been active in the Durham community and beyond.  Last season several offensive linemen went to Africa to help some in need.  And the list goes on.
The latest act of goodwill is from Desmond Scott.  The senior wideout is a player of high character and conducts himself during interviews the same way he lives his life, with high standards, always thinking first of others.  While Scott is not afraid to joke or be light with teammates as you will see in the video chat I had with him below, he knows when to get serious too.
I had spoken with Coach Cutcliffe on several occasions in the past about Scott and his selflessness.  Here was a player who had played running back at Durham Hillside, just down to road from Duke University, as well as in his first three years at the college level.  But in the pre-season, Duke suddenly was devoid of depth at the wideout position following the unfortunate accident involving Blair Holliday.   Scott willingly changed positions.
That position change from running back to wideout allowed Cutcliffe to get his best players on the field, something he referenced again today.  But I also learned of Scott and his latest selfless act today as well.  Players participating in bowls are allowed $550.00 in benefits, and Duke players -- who will face Cincinnati in the Belk Bowl in Charlotte -- have that luxury available to them.
Belk allows the players from both teams to enjoy a $550.00 shopping spree at their anchor Belk store in Charlotte, but Scott told Blue Devil Nation today that he would not be shopping for himself.  And he would not be shopping for parents or family members either.  Instead, as his family has no pressing needs, Scott decided that he will shop for others, so that he could share his gift with someone less fortunate during the holiday season.  Pretty nice, huh?  See for yourself what Desmond Scott had to say in our latest BDN Video offering, and know that Duke football players are truly young men you can be proud of.