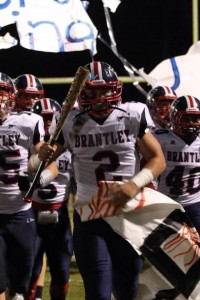 Despite earning their first bowl invitation since 1994, the Blue Devils finished at or near the bottom of the ACC in nearly every major defensive statistic in 2012. With several key playmakers from an explosive offense expected to return next season, the Blue Devils are in need of a few more high impact defensive players if they hope to take the next step forward and begin competing for ACC Championships. Coach Cutcliffe and his staff have already secured 15 verbal commitments in the class of 2013 and are looking to fill their remaining scholarships with an elite defender or two.
At the top of their list is 6'1" 235 pound LB Dominic Zanca-McDonald from Lake Brantley High School in Altamonte Springs, Florida. The elite prospect committed to Tennessee back in April, before a disappointing season in Knoxville resulted in a coaching change. Now, the hard-hitting linebacker is left in a difficult position, with less than a month before he plans to enroll in college. With scholarship offers from Tennessee, Duke, and Purdue, along with interest from several other ACC and SEC programs, the top senior still has a number of good options. The Blue Devils hosted Dominic and his father on an official visit in Durham this weekend, and clearly left a good impression on the talented Lake Brantley senior. [private]
Obviously, a lot has changed since you committed to Tennessee back in April. Can you talk a little about where you are in your recruiting process now?
Right now, it's definitely between Tennnessee and Duke. I'm going to hear what Coach Jones has to say. He'll probably call me sometime this week and then I'll make my decision about where I want to go.
Can you talk a little bit about your contact with the Duke coaching staff and the relationship you have with them?
Yeah, Coach Collins has been my recrutiing coordinator. He's a good guy. I really like him, I like their scheme. He's coached a lot of really good football players, so it would be really cool if he was my position coach. Coach Cutcliffe is just an amazing guy, he's really strong on family, and he's really turned the Duke football program around.
How did you end up scheduling your official visit to Duke and how did your visit go overall?
Basically, Coach Collins really wants me. He asked me to come up for a visit, and we checked the calendar and it worked out where I had time to go, so I came down. I had an awesome time, it was really fun.
What were your thoughts about the Duke football program and the school as a whole?
The school is obviously a lot smaller than Tennessee or any other state university, but I actually kind of like that. You're kind of secluded but you still get the college experience. The school is beautiful, the architecture is insane, you feel like you're in Hogwarts when you're there. The football program - I mean, it's the first time Duke's gone to a bowl in how many years? Coach Cutcliffe, with all the improvements he's making with the facilities and stuff, he's an SEC background guy, he's coached at Tennessee, Alabama, and Ole Miss, so he knows what it takes to be the best and I really feel he's going to turn the program around.
How do the coaches see you fitting in to the Duke program and their defense?
They want me to come in and have an immediate impact on the team. I'm an early enrollment, so I'll be there in the spring and they want me to play early, hopefully get that starting posiiton as an inside backer.
You've been put in a difficult position with the changes that have been made at Tennessee. What have you heard from the new staff and what are your thoughts about the Tennessee program?
I don't know anything about the new staff. My recruiting coordinator, Coach Hinshaw, I talked to him yesterday, and Coach Jones fired him. He fired everybody else from the original staff, so it's all new people that are coming in, except for Jay Graham, the running backs coach, but I don't really need to talk to him because I'm not ever going to play running back in my life, so it doesn't really help me too much. Basically I'm going to hear him out and hear what he has to say to me, and then like I said, I'll make my decision after I talk to him. It will probably be by the end of the week that I'll know where I want to go.
How did your senior season go at Lake Brantley? What were the strengths of your team and how would you assess your own performance?
Our team this year was actually really good. We were supposed to go pretty far in the playoffs this year. We ended up going 9-1 in the regular season, and lost in the first round of the playoffs again for the 6th year in a row to Jacksonville Fletcher, 24-21, we missed two field goals in that game, obviously would have won the game. There was no clear cut offense was better than defense or anything. This year, more than any other year at my high school, we were more of a team. The defense fed off the offense and the offense fed off the defense. Me, as a player, I increased tremendously my play, just by being a leader, having the crowd feed off of me when I can make a big play, you hear the roar, so just stuff like that.
A 9-1 regular season and a playoff berth is a great accomplishment. Congratulations! Thanks a lot for your time and best of luck with your decision.
Thank you. [/private]
Stay tuned to BDN this week for the latest on Dominic's decision.