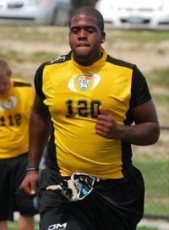 Donovan Smith is a 6'5" 285 pound OT from Owings Mills, Maryland, and one of Duke's top remaining targets for the class of 2011. The Blue Devils were one of the first schools to offer Donovan a scholarship, and the four-star prospect was finally able to visit the campus earlier this week. With nearly two dozen scholarship offers, Smith is one of the most sought after lineman on the east coast.
On the field, Donovan has impressed coaches with his quick feet and great knees. He considers himself a fast learner and is always working to improve his strength and footwork. "You can never be too good with footwork, and I've been spending a lot of time in the weight room," he said to BDN.
As he approaches his college decision, Donovan has several criteria he's looking for in a college. First, "the player-coach bond, the relationships where you can say anything on and off the field," are really important to Donovan, along with "a family atmosphere – I'm a big family man," he added. He wants to play for an enthusiastic fan base, and he'd like the opportunity to play early in his career. "I don't want anything to be handed to me," he explained, "but I want to be able to earn a spot. I don't want to be just another name to fill the depth chart." Of course, academics and a coaching staff are important, as well. In summary, he's "looking for a program that will prepare me for the next level," and would prefer to play in a pro-style offense.
As 2010 has progressed, Donovan has continued to receive interest and scholarship offers from more and more schools. "I was hoping to narrow it down to a top 10 or 12 soon, and hopefully by the end of August or early September," Donovan said when asked about his timeframe for a decision, "and then continue to narrow it down through the fall." While he doesn't have any leaders at this point, he did mention six schools that have stood out to him and "will definitely make the cut" in late August: UCLA, Virginia, UConn, Michigan State, Syracuse, and Penn State.
Donovan recapped his Duke visit for BDN: "I got to Duke at about 9 AM and spent about two hours there. They showed me the campus, facilities, and stadium – the regular stuff. I met all the coaches – they were actually in a meeting – and then I sat down with Coach Cutcliffe. He told me what they were about, how he's preparing his guys to be good in the classroom, and a good father and husband. He told me the importance of a college degree and that even if football doesn't work out, you're always going to be a father and a husband. It was a good visit."
Later that day, he visited North Carolina, where he toured their facilities and met with Offensive Line Coach Sam Pittman, followed by a brief introduction to Head Coach Butch Davis. "He was kind of giving me the eye test," Donovan said of his visit with Coach Davis. At the end of the day, Donovan made the trip to Raleigh to visit North Carolina State, where he was surprised to meet Head Coach Tom O'Brien, who greeted him with a written scholarship offer.
In closing, Donovan mentioned that he plans to bring his positive attitude to college, and he'll stay the same person despite the attention, successes, and failures. "I'll still be me, on and off the field, regardless of what happens."