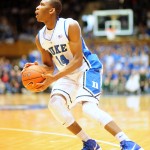 The Duke Blue Devils will play their second and last exhibition game on Saturday against Drury, the defending Division II Champion. The Blue Devils seek out the defending lower division champions each season for their exhibition match ups per Mike Krzyzewski who was recently on record as saying the schools look forward to playing in Cameron and have actually initiated contact for their reward.
Well, a sort of reward for the Panthers who take on the nations fourth ranked team in their house where rabid fans await. Duke rebounded last week after a sluggish first half defensive effort to roll past Bowie State 103-67.
Drury will fly into Durham tomorrow evening and practice on Friday before facing the Blue Devils in a game which tips off on Saturday at 1:00 in Cameron Indoor Stadium.
The Panthers will be the sixth D-II champion in seven years to face Duke and many may remember some of the teams past, such as Bellarmine and Western Washington who actually scored 87 points on the Blue Devils.
Drury has been picked by the media to win the Western Division of the GLVC in the pre season and they ride 23-game winning streak, which included a 71-65 victory over Southern Indiana in the GLVC Championship game.
The Panthers return five of their top eight scorers from a team which won it's first-ever NCAA Men's Basketball Championship where the Panthers defeated Metro State 74-73 to close out a 31-4 season.
The Blue Devils officially open the 2013-14 season on November 8th with a home game against the Davidson Wildcats before taking on Kansas November 12th in the State Farm Champions Classic in what will billed as one of the top matchups of the season.