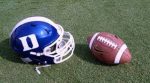 The Duke Blue Devils pushed their season record to 3-0 with a 40-27 victory over Baylor which falls to 2-1.  The Blue Devils won their second consecutive road win against two power-five conference teams, something few teams have done in the early season.
Despite being down six starters, the Blue Devils found a way to win via the play of some backups.  Quentin Harris is now 1-0 as a starter at Duke where he settled into the game nicely after a sluggish start.  Harris was 12-30 for 174 yards and 3 touchdowns in the air and added 83 yards on the ground.
Duke will certainly reap the rewards from Harris gaining valuable experience in Daniel Jones absence.  Harris will also start next week for Duke who will take on N.C. Central in their homecoming game. Harris connected on passes of 7 and 28 yards to T.J. Rahming and added a 66-yard toss to Jeremy Lloyd in his teams win.
The Blue Devils offense produced 225 yards on the ground where Deon Jackson led the way with 83 yards.  Brittain Brown added 53 yards for Duke.
Jackon put Duke on the board with a 33-yard scamper to the end zone and the Blue Devils would jump out to a 23-0 lead.  That lead seemed to run a lot of Baylor students from behind the Duke bench once the second half started.
The Duke defense had some big plays of their own.  Leonard Johnson intercepted the ball and took it back 53 yards for a score.  That gave Duke a 40-20 lead.  Duke was also aided by a forced fumble from freshman Josh Blackwell where Dylan Singleton picked it up.
Duke held the Baylor team in check for most of the game but their potent passing attack would ultimately lead to 270 passing yards, much of that coming late.  Considering the Blue Devils were down three key defensive starters in the secondary, the number of yards should be no surprise.
The defense also bottled-up the Baylor running backs all day long but allowed some yard to the quarterbacks.  The Bears keep you off balance with their two-quarterback attack.
This was an impressive win for the Blue Devils where they were considered the underdog on the road for the second consecutive week.  Duke did not commit a penalty in the game and they fended off difficulty with travel logistics due to Tropical Storm Florence.