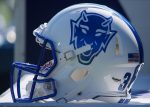 The Duke Blue Devils have the unenviable task of opening their college football season against #2 Alabama in the Chic-Fil-A kickoff game.
While the game is technically played on a neutral field, Crimson Tide fans will be  in 99% of the seats in Atlanta, Ga.  Duke Coach David Cutcliffe said during his press conference, that he turned up the crowd noise as loud as it would go trying to prepare for the noise factor expected in Atlanta.
Adding to the difficulty in this matchup is the fact that Alabama has incredible depth and talent.  The Tide simply reloads from season to season with future NFL players and they have multiple All Americans on their roster.
Alabama is coming off an unusual lopsided loss to Clemson in the national championship game a season ago.  So, yeah, they will be more than a little focussed and they have already tabbed as a 35 point favorite over Duke.
If you need more hype for the Blue Devils opponent, Alabama has won 44 consecutive non-conference games.  The Tide has also won 17 straight season-opening games.
Alabama has it all.  Check the boxes off on household names like quarterback Tua Tagovalga who leads a bevy of NFL talent at every position on offense.
Another box to be checked is overall talent where this teams roster has the nation's top recruits for several years running.  In short, they have playmakers galore on offense with too many names to mention.
If that is not enough bad news, Alabama has what is projected to be the best defense in the country.   The Tide backups would start at most of the schools in the country.
The Tide will actually start four freshmen, two of them being interior linemen.  But these are diaper dandies or young men who will be gone after their sophomore season to the NFL draft.
You may have heard Duke coach David Cutcliffe say his program has earned this opportunity and they have.   Duke has been to 6 bowl games in the past 7 seasons.  Duke is also 9-2 in openers since Cutcliffe took over at Duke.
The last time Duke faced Alabama, they added extra bleachers in Wallace Wade Stadium.   That game took place nine years ago and Alabama embarrassed Duke 62-13 and this was when Alabama was just returning to the dominance they display today,
The talent gap has closed since that time, but Duke is rebuilding on offense with the loss of Daniel Jones to the NFL.  Duke will have three true freshmen on their two-deep at wideout and not necessarily because they are ready for this kind of playing time.
While Duke has recruited better, especially up front since the last meeting, Alabama has pretty much gotten every other player they wanted since that time under Nick Saban.
I suppose cutting to the chase is in order here before going any further.  Duke is not going to win this game.
Duke will compete as best they can and Cutcliffe will use film from this game to learn a lot about his team moving forward. The Blue Devils can ill afford injuries at certain positions, so they will look to come out of this one as healthy as possible.
If this game gets out of hand, look for Quentin Harris to be pulled for Chris Katrenick.  The good news is that Duke needs quarterback reps.  The bad news is Duke drops off a lot without Harris due to their backups inexperience.
The bottom line is that Duke has to survive this game.  And this is the best team they will face all year.  Heck, Alabama is the best team every team in the nation would face.
While Duke has some good talent at several positions, Alabama is the kind of juggernaut that just wears you down and then runs roughshod in the second half.
Duke will struggle to find the end zone against Alabama.  The Blue Devils need to control the clock but you have to move the ball in order to do that.  This is quite simply a nightmare of a match up if not the worst possible scenario on paper.
While the Duke defense is a strength, Alabama has a boatload of skilled players want to wipe the loss to Clemson from their memory.
So what I see happening is the defense letting up some points, not so much from not playing well but just getting worn down.  I do not think Duke has the horses to gain a lot of yardage against a stellar Alabama defense.
If Duke turns the ball over, the game can get ugly which is what the majority of people in America expect.  Duke just needs some positives in this game and to come out of the contest relatively healthy. while learning about themselves as a team.
There are just too many negative intangibles in this one.  It is not a good match up for a Duke team breaking in new wideouts and with the kicking game still in question.
The pick here is Alabama 45 Duke 10
Our brass tacks season projecion can be seen by site members on the Blue Devil Nation forum.