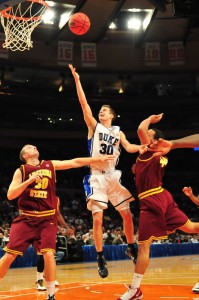 NEW YORK - Duke just didn't look itself in a building where the Blue Devils have been so impressive so often.
The seventh-ranked Blue Devils were tied with Arizona State with 13 minutes left in the second semifinal of the NIT Season Tip-Off on Wednesday night at Madison Square Garden.
But then Kyle Singler, who uncharacteristically missed eight of his first nine shots, made his second straight to give Duke the lead for good and the Blue Devils turned up the defensive intensity in a 19-3 run that led to a 64-53 victory over the Sun Devils.
"I could have played more aggressively and that's what I do," said Singler, who finished 5 of 16 from the field and had 13 points. "Being aggressive is what I do and that gets easy baskets."
Jon Scheyer had 16 points and six assists, and he was the one who found Singler for the two field goals that tied the game and put the Blue Devils ahead for good.
"I don't think looking for him any more than usual and I'm always looking for him when he's open," Scheyer said. "Crunch time is always Kyle's time and those were two big shots for us."
Nolan Smith had 14 points for Duke (5-0), which led by only four at halftime.
The Sun Devils (4-1), who managed to stay close behind their patient offense and pesky zone defense, tied it at 43 on two free throws by Derek Glasser with 13:11 to play only to see Duke break it open with the deciding run.
"I thought defensively after the first 5 minutes was the key to the ballgame," Duke coach Mike Krzyzewski said. "And Singler, who was not having a good shooting night, after that timeout in the second half he came out and hit those two buckets right away. It's nice if you're 9 for 12 but when you're whatever he was, when the score is tied, that's very good."
The Blue Devils will face No. 13 Connecticut in the championship game Friday. The Huskies beat LSU 81-55 in the other semifinal.
"A championship here would mean a lot because this is like a Final Four or a Sweet 16 because you play two games in three days against two good teams," Scheyer said. "We'll be ready and so will they."
Singler's second straight field goal gave Duke the lead for good at 45-43. After Scheyer scored in the lane, Singler hit his only 3-pointer to make it 50-43. Rihards Kuksiks' three-point play slowed the run some but the Blue Devils were back at it behind some suddenly effective defense that allowed Arizona State just that one field goal over a 10-minute span.
"I thought their defensive effort, especially in the second half, was terrific," Arizona State coach Herb Sendek said. "Nothing came easy for us. Everything was challenged."
Trent Lockett, limited to 30 minutes by foul trouble, and Glasser both had 13 points for the Sun Devils.
"I think we executed early and we played with a lot of energy," Glasser said. "We just couldn't make that shot we needed down the stretch."
The victory allowed Duke to extend some impressive streaks. This was its 11th straight win in this tournament as the Blue Devils swept to the title in 2000 and 2005. They also won the inaugural tournament in 1985.
This was Duke's fourth straight win at Madison Square Garden and the 11th in its last 12 games in the building. It also was the Blue Devils' 21st straight win in November, a streak that dates to a 2006 loss to Marquette.
Scheyer hit a 3 as he was falling in front of the Arizona State bench to give the Blue Devils a 34-30 lead with 4.8 seconds left in the first half.
Scheyer committed his first turnover of the season 8:02 into the game. The senior guard entered with 21 assists and no turnovers in 131 minutes over the first four games.
His first turnover of the season came when he stepped on the sideline as the Blue Devils were setting up a play, but it didn't lead to any points for the Sun Devils. He finished with two turnovers in the game.
Scheyer had a big smile on his face when the first turnover was brought up.
"Everybody looked at me when it happened," he said. "I just wish it could have happened on a cool pass, not stepping on the line. It's something that just happened but I'm blaming everybody on the team because they started talking about the streak after last game."