We will get the ball rolling on our coverage from this past weekend, starting with some of Coach K's comments and my take on the pecking order.  I have now seen, 5 practices, the Blue-White and Virginia
Union game and some individual workouts.  This has given me enough looks to form what I consider a valid opinion.  I will be examining the team in a close manner, breaking players down individually in segments.  At the bottom of the page is Brian Zoubek.  The next installment will feature four more players.  Of course, I will see the Lenoir Rhyne game on Wednesday night and incorporate those thoughts into the analogies as well.  There will be plenty more of Coach K comments coming too.  There will be a thread on the premium message board, where you can ask questions, and I will add them into the articles.  If you are not signed up for the message board, please do so.  If you are signed up and yet to be approved, send me the user name you chose and e-mail me that information at watzonebdp@gmail.com.  Premium members will also get an updated state of recruiting report and the usual interviews with key prospects.  For non members, step inside for the latest skinny for we'd love to have you aboard.
So, whats the pecking order looking like? [private]
The lineup-  Make no mistake in that the starting lineup to this point is Nolan Smith, Gerald Henderson, Kyle Singler, Jon Scheyer and Mason Plumlee.  Coach has gone with this lineup since the second practice.
First off the bench- Greg Paulus, Lance Thomas, Dave McClure, Elliot Williams
Close behind- Brian Zoubek, Marty Pocius
When the game is in control- Olek Czyz, Steve Johnson
What is K saying about his team?
"We have three great players, those being Gerald Henderson, Kyle Singler and Jon Scheyer.  That's not to say that a Nolan Smith or a Greg Paulus might not lead us in scoring, but that's the three stars we are built around."
"As you can see, we are a deep team and it gives us a lot to work with.  This team should be a good rebounding team in that we can keep fresh guys on the court at all times."
"We're going to be good, we are good, we can be really good and make a run for it all."
"I want my team talking.  Communication is one of the most important things in basketball.  We want guys telling their teammates where to go – a shared vision.  We want out guys to call for the ball."
"Miles is going to be a good player.  He can do a lot of things.  He walked on to the track team as a senior and jumped for a school record.   He can be good for us."
Brian Zoubek - Brian is still recovering from the lack of cardio training he missed when injured.  The injury has not impeded his movement, which is still more mechanical than reactionary.  Duke has been using him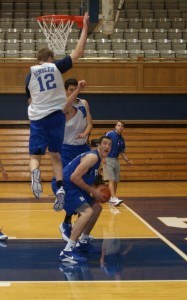 thus far to simply plug the middle.  The players do not hesitate to challenge him in practice, especially his former roomate Jon Scheyer.  Both players now live alone, a perk for upper classmen.  What he does right – when he positions himself, it's hard for defenders to shoot anything over him.  He has developed a bit of a hook shot and is using the glass right underneath the basket in an efficient manner.  He moves fairly well for a big guy and is not moved too easily from the lane when his feet are planted.  What needs work – he is sometimes positioned wrong defensively with concerns to the baseline drives and cuts.  Brian has little hops and does not explode to the basket.  How he'll be used – Duke will look for him to log fifteen minutes a game and keep teams out of the lane.  He will play more against teams with top notch frontcourts and less when Duke can go small. [/private]