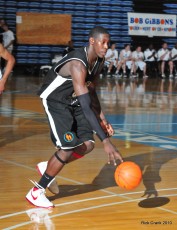 With the season winding down one might think Duke is not recruiting hard, but they are quite active and still persuing several kids.  The Blue Devils added a solid one-two punch when Alex Murphy and Rasheed Sulaimon  chose to play their collegiate careers in Durham in the same week.  Murphy is a wing player who'll likely play the small forward role while Sulaimon is more suited to play out front.  Many have wondered if Murphy would re qualify and the answer is (A 1227 word update awaits BDN members) [private] no, not unless he goes to summer school.  Look for Murphy to transfer from St. Mark's in the coming year to a school where he'll play better competition.  I should be able to tell you where that will be soon.
The addition of these two prospects allows Duke to now turn their attention to other main targets, two of which are Tony Parker, a behemoth big man from Georgia and Shabazz Muhammad, a multi talented wing.  North Carolina has moved hard on Parker but in a chat with Dave Telep this past weekend, the ESPN talent evaluator said he still feels Duke leads.  As for Muhammad, the team to beat is Kentucky, a school he'll soon visit.  Duke is still very much in the mix for these two but they do have stiff competition and only time will tell how they'll fare.
We reported that Justin Anderson was getting some looks and that will continue.  Anderson's camp is claiming an offer per Andrew, but the offer is contingent at this time but that could change any time now.  Anderson is close friends with current Duke player Josh Hairston and he is a bit of a hybrid player in that he plays a bit bigger than he actually is.  Duke feels he is a type of player they currently don't have, but harbor your emotion for that is said of many prospects, especially the aforementioned Parker.
This past weekend Michael Gbinije, Quinn Cook and Marshall Plumlee played in Cameron and I took in the action.  As has been said, Gbinije has to be the shyest guy ever.  But that's not all bad in that it is a part of his make up as being a team player.  Gbinije still needs to be more aggressive, especially on the boards but he is capable and seems to be able to do what he is told.  He was named his teams MVP.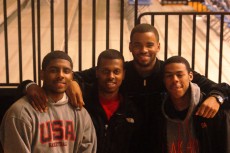 Quinn Cook led his Oak Hill team to two wins and he seems to be coming along but is still favoring his knee.  On occasion, he tries to do too much, but he is a distributor and he has above average offense for a point guard.  Marshall Plumlee is coming along nicely as well and he continues to play hard and aggressive when in the game.  Despite  being the only big, Christ School runs few plays through Plumlee this season which is curious when you consider his passing skills and his ability to draw a crowd in the post.  Both prospects will join Austin Rivers in the McDonald's All American game, but Gbinije is a fifth year senior and like John Wall last season, is ineligible.  There has been much discussion since the ESPN telecast of his game said he may redshirt.  While that has been discussed it will still be a wait and see thing and there is no reason to get caught up in worry one way or another until the start of next season for we'll no nothing until then.
You may have seen that Duke didn't make JP Tokoto's list which was trimmed recently.  That's because Duke backed off of him, showing little interest.  And to think, Tokoto could have given Duke a verbal during their camp!  Duke offered him at that time and he almost signed that day after a great trip, but they decided to wait and they are still waiting, almost dragging their feet with the process.  That is fortunate for Duke in that he took a major tumble in the rankings and has yet to show he can step up and be the man on any of his teams.  He'll still be a good one, just not at Duke.
After being on the AAU trail for several years, you learn to take in guys who are not always on the radar in that the recruiting landscape changes.  That's why BDN talked with Austin Rivers when he was a 15 year old prodigy, two months shy of picking Florida.  Well, we know what happened and the guys we've kept up with of late are the aforementioned Anderson, once thought to be off the radar and now Andre Drummond.
As Andrew has stated, Drummond is no longer a UConn lock as has been thought.  He also has some Duke ties which again, Andrew has mentioned on our message board.  I still feel he is a long shot but you never know.  And for some breaking news of sorts, Duke Assistant Nate James was check him out last evening but connecting flights issues kept him from doing so .  The catch is he was going to see a new name on the radar, big man Mitch McGary.  What a great opportunity for James to check out these guys go head to head.  We'll have more on this new kid on the block later and we will hopefully be talking to him before TOS's suddenly happen upon his name once this article goes to press.
As for James, he is up to more than just checking this game out.  Another new name on the recruiting radar is Anthony Bennett and the Dogg will take the lead on this one.  We have more.  He will also check out North Carolina in state product Montrezl Harrell [6-7 BF Tarboro, NC] in the coming weeks.
There are some names on the radar in the class of 2013, but those will not solidify until AAU ball this summer and you guys know how active we are that time of year.
A note on women's recruting is that highly rated Betnijay Laney will is down to Duke and Rutgers.  If the Blue Devils land her, they'll have the top class with three outstanding women.  BDN Flashback
Lastly, there is the Kyrie Irving situation.  It's day to day and his return is dependent on complete healing.  Irving cannot help his stock by returning to the court and that could be a factor.  However, so far, so good with concerns to the timetable we mentioned long ago.  He can play this season if he wants to but that decision with be a family one.  While Duke has certainly not shut the door on a possible return, they are cautiously optimistic at best in the way the convey things to insiders and the public.  They want the current players to play as if Irving will not return but they'd welcome Irving with open arms if he suits up.  I remain a glass half full kind of guy on this one and I will not back down now from saying I still think we'll see him play.  As I have been saying, the door had by no means been shut in any official manner to date but keep in mind that he is not going full throttle in practice yet and that means time will tell. Discuss the latest on the BDN message board and please adhere to user agreement with concerns to this article.  Go Duke! [/private]