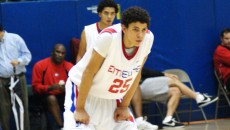 Austin Rivers, a nearly 6'5" guard from Winter Park, Florida, was a basketball prodigy who has been on the radar of scouts since he was in middle school. The fact that his father is Glenn "Doc" Rivers, a thirteen year NBA veteran and current head coach of the Boston Celtics, and his older brother Jeremiah was a high-major player at Georgetown and currently is at Indiana only heightened his notoriety. Austin committed to the then twice-defending National Champion University of Florida Gators in the July immediately following his freshman season at Winter Park High School.
This past summer, Rivers was teamed up briefly with Gatorade Player of the Year, Brandon Knight, on the AAU circuit for Each One Teach One (FL). He was also one of the top performers throughout the live period at the LeBron James Skills Academy, the Peach Jam, and the AAU Nationals, where he was closely observed by Duke's Mike Krzyzewski. Recently, the industrious and confident young man made headlines by telling the Sporting News that he was going to visit several schools. Before the Boost Mobile Elite 24 game in New York, Austin Rivers sat down with Blue Devil Nation to discuss a wide variety of topics, including what he is looking for on his upcoming visits, his business-like approach to basketball, why he initially chose Florida, his experience with Brandon Knight, and why he'd like the current coach of the Celtics to be known as Austin Rivers' dad.
There was that recent piece in the Sporting News. The noteworthy part was that it mentioned that you were going to visit other schools out of respect for your father. Can you expound on your decision and did your mother recommend that as well?
Not really. It was mostly me and my father. You know after seeing what happened to my brother…You know he went to college and had a tough time, you know, getting comfortable. You know seeing that he made the wrong choice by going to Georgetown.
I was going to ask you about Jeremiah in a moment.
Yeah, you know, just out of respect for my dad, I wanted to go look at, you know, a couple of other programs. You know just in case something happens. You never know with Coach Donovan. With the caliber of coach he is, he may get an offer. You never know. I just wanted to go out of respect..
Well, you also committed at a relatively young age.
Yeah, exactly, I committed at a really young age just because…
Were you feeling a lot of pressure at the time?
Yeah, well, at the age...I mean, when I got offered, you know Florida was just coming off of two national championships.
Right, right, there was probably also some hometown pressure.
Yeah, exactly, the hometown school so, you know, everybody was like "Whoa, Florida." So, at the time, you know, I was like why wouldn't I go there? They have everything right. So, you know, that was why I chose to go there and, you know, I still love it. I'm still as committed as I was when I first committed. It's just that I want to look at other schools, in case anything ever happened.
Sure, have you finalized a list of schools that you intend on visiting yet?
Yeah, I'm going to try to go up to look at Duke [This preview is a small sample of  in depth interview] [private] and then Carolina. Then I'll look at UConn and UCLA.
Do you know of any definitive dates when you'll be visiting?
Not yet, I'm trying to get it done before school starts. Maybe, actually, school starts on Monday so..
Wow, school starts on the Wednesday after Labor Day in New York
Wow, do they really? Yeah, well, in the next couple of weeks, I'm going to try to, well, before it gets busy with high school, I'm going to try to go over to Duke.
Will your whole family be making the trip?
No, it'll probably just be me, my dad, and my coach. And then I'll try to knock out Carolina at the same time. And then later try to visit the other ones. I can visit UConn when I go up to visit my dad in Boston.
What insights are you looking to gain from the visits? The article wasn't very specific, as to what you were looking for?
(pauses) I just want to see what other schools have to offer, you know.  I want to see what makes Florida the school for me. You know there are many good reasons for Florida, but you know I would like to see what are some good reasons for the other schools. What makes UConn have all of these great players come out of there every year and the same thing for Duke? And why do they have that rep? You know that's why I want to go see them.
Do you feel you were, in a sense, robbed of that opportunity to look around by committing at such a young age?
Yeah
To an extent ..

Exactly right. You know I like Florida because, in the past six years, I think Florida has won the most NCAA Championships and I don't think people realize that. I think when I get there, we could have a really good program, where we could start maybe a dynasty or a rep that Duke and them have.
Having watched your brother go through the process at Georgetown and Indiana , what have you learned and what has Jeremiah recommended to you in terms of going through the process as well as preparing for college basketball?
To be smart and..
Are you guys very close, by the way?
We're definitely close. We're real close. If he's in town, we go everywhere together. We go everywhere. He's recommended to me to just stay focused. Stay focused because you're not going to come in and just own the program. You know it's very rare.
Well, that touches on another point. I think it can be really helpful to younger brothers to have a close relative, who has been through the experience and can pass along the potential pitfalls and can help them learn from their mistakes or challenges. I thought Kevin Love, who had a great freshman season, did a good job of expressing the difficulties and challenges of taking the next steps to both the college level and the pro level.
You know, exactly, exactly. You've just got to go in with the right mindset.
I mean I know you're dominating high school kids, but there's a big step between that and playing against the best players in college basketball on a routine basis.
Yeah, it's a huge step. And then I know there's a big step between college and the NBA.
Sure.
College is a whole different thing. Those are grown men out there as well. So, you know, going to college is going to be a huge step, but you know I'll work hard and I think I have enough determination to where I think I can change a program.
Okay, on the court, what have been the things that your father has recommended you work on most? Is he generally supportive or critical?
Just help-side defense...score on that. Just getting better on defense and my awareness. Oh, and my strength.
I was going to ask you about that next because, in an interview you did fifteen months ago, you said that your jump shot was your biggest strength and your physical strength was your biggest weakness. Do you still feel that to be the case?
Yeah, I do and I've actually gotten a lot stronger
Well, then I guess how have you addressed that?
Yeah, I've definitely gotten stronger. I've added to my strength and starting in a few weeks, well, that's when I'm going to start lifting weights heavy. I'm probably going to be..
Do you have good facilities at the school or do you work out at home?
Yeah, yeah, we have good facilities there, but I go elsewhere.
You work out at a private gym?
Yeah, I work out at a gym not at my house. I have a guy that I lift with and I'm hoping that it'll help me add maybe ten to fifteen pounds.
What do you weigh now?
About 190. So I'm hoping to get up to 200 or maybe 210.
How tall are you now, 6'4" or 6'5?"
Yeah, like 6'4 ½," I'm hoping to get up to 210.
Okay, before his injury, you teamed up with Brandon Knight. Can you talk about that experience and give a short scouting report on him?
It was great, man. I think when me and Brandon were on the same team I thought we were the best team in the country. You know he was hurt.
That's a heck of a backcourt to go to work against.
Yeah, it was. You know he was hurt for most of the AAU season. So the load was really heavy on me and we ended up losing the championship, but, when it was me and him, we really, really could beat everybody.
Now, would you play mostly off guard with him or vice versa?
Oh, when I would get the rebound, he would go. When he would get the rebound, I would go.
Okay.
Yeah, we would just switch back an forth and both be combo guards. When he was a shooting guard, I was the point. When he was the point, I was the shooting guard.
You're both guards. Let the other team worry about matching up.
Exactly, so you know, we were very tough to guard.
Can you give a little scouting report on him?
Brandon is probably the quietest dude you will ever meet. That's Brandon. He will not tell you where he will go.
BDN: (laughing)
AR: I've asked him. My dad's asked him. He will not tell you where he is going. I think he likes Florida, but then I hear he likes Kentucky. So, you know, one day you this and the next day you hear that.
Are you excited about playing him next February on ESPN?
Yeah, that's going to be fun. I can't wait.
Have you played a lot on television? Oh, yeah, the AAU Nationals, etc.
Yeah, I've played on ESPN maybe four times and then, well, down in Florida all of my games are on TV.
Really?
Yeah, it's Bright House.
Does the Sun Network pick it up or another regional carrier?
Yeah, it's like a regional network, but the game should be fun.
Getting back to an earlier point, what position do you view yourself as?
I would say a scoring point guard.
A scoring point guard? I watched you a lot at the LeBron James..
Yeah, you know, at the LeBron James, we had little Andre with us so I could only play the off guard.
Yeah, he was, what, maybe 5'7?"
Yeah, exactly, so I kind of had to give up the ball. For my high school this year, I'm going to try to get a lot more point guard in. Going into college, I'm going to be a scoring point guard, but I'm also going to try to average six, like, six assists a game.
Do you feel more comfortable playing off the ball or with it?
I like with the ball. I'm not a dude that tries to come off of screens or anything like that.
Because at the Nike event they had you playing almost exclusively off the ball so I didn't know if you had changed your game or were looking to get more time in at shooting guard or even transition..
Yeah, yeah, yeah, the problem was that there were so many star players that I can just get in wherever I fit in. It worked out for me though I feel.
Yeah, it absolutely did.
Thanks, but, yeah, I prefer being on the ball.
Are there any players that you try to model your game after?
Well, the player that I'd really like to play like is Brandon Roy.
Brandon Roy? Now are you expected to grow a lot taller?
Yeah, I should be about 6'5" or 6'6." I think 6'6" so I'll be a big guard. You know kind of like Brandon Roy.
That's an interesting one. I don't think anyone has ever given me that one.
Yeah, it's because people, well, everybody wants to say "Kobe" or maybe "LeBron," but, you know, I like Brandon Roy and Dwayne Wade. Those are my two favorite players. Dwayne Wade gets to the rack a little bit more, while I think Brandon Roy has a nice mid-range game.
He's an excellent shooter and smooth.
Yeah, great shooter and smooth. People underestimate him
Alright, the word that I associate with you at all of the different events where I observed was "professionalism." I'm thinking particularly at the LeBron James camp. When some kids were joking around or not really paying attention, you approached the drills and games with a professional, really business like manner or approach. Is that a mindset that you learned over time or is it more of a natural characteristic for you?
Yeah, exactly, I'm not joking around.
Kids are always going to joke around, but I mean, at the end of the day, this is a business. I thought you really took that approach in the drills and throughout.
Exactly, I'm trying to show everyone that I'm the best one out here. It's a business. I don't play games. I play to have fun, but, at the same time, I play to show everybody that I am the best guard out here. I want people to say Austin Rivers. I mean I want people to say that's Austin Rivers' dad instead of Doc Rivers' son.
Yeah, I was wondering if you felt that way.
Yeah, exactly. That's my view on that.
What was it like for you at the LeBron working with Kevin Eastman, who's one of your dad's assistants?

Oh, he was great. People think I work with him a lot, but I really don't. So, when I get a chance to, it was awesome.
Is there any chance that you reclassify to the 2010 class?
No, no.
I was trying to do the math, but I didn't have your birth date. Were you were born when your dad was on the Knicks or the Spurs?
Oh, um, I think the Spurs.
Just out of curiosity, does it ever frustrate you or your mother that people always want to know or ask you about your father, when she is essentially helping to raise you in the eight plus months a year that he's in Boston?
No, I mean she's the most hardest working mom I've ever met.
I read that in a recent interview.
She had four kids. Four kids that all play ball. She does everything for us and takes us everywhere. Not to mention we adopted a kid. Not to mention that my best friend lives with me. We have like eight kids in our house and she takes care of everybody. She definitely deserves more credit.
You made it to the state semifinals against Olympia Fields this past season. What did you learn from the experience and how good do you expect your team to be this upcoming season?
Not to take anything for granted, man. You never know how many opportunities that you are going to have. I have two more opportunities and time flies. I think my team is too good and I'm too good not to win a state championship. (Points around gym) Everybody here is talking about winning a state championship and next year I want to come back here and talk about winning the states.
What is it like growing up in Winter Park?
It's nice
It's a very unique place, by Floridian standards.
Yeah, exactly, it's very low-key and a really nice place.
Did your parents ever contemplate seriously about moving the family to the Boston area?
No, not at all.
Do you do well in school?
Yeah, I do well. I've got a 3.2.
Who's the toughest player you've ever had to guard?
Hmm, probably Brandon Knight
Do you ever have feel the need to put your guard up with people or that people make assumptions about you, as a result of being Doc Rivers' son?
Yeah, definitely.
Alright, well, thanks, Austin. I hope you find what you're looking for.
No problem, thanks a lot, man. [/private]