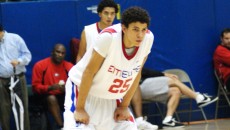 Austin Rivers verbally committed  to the Florida Gators at a very young age and now per his Dad's wishes, he will visit other schools in August [private] to make sure that Florida is indeed his dream school.  His Dad of course, is Glen "Doc" Rivers the head coach of the of one of the NBA's storied franchises, the Boston Celtics.
BDN caught up to Rivers where he made it clear that he is still a Gator.
"I am definitely committed to Florida and that's where I am going to school.  I mean, I don't see why people don't  think I am going there.  I mean that's where I am committed to and that's where I will go."
When talking of what it was like to have a  Dad who is in the limelight, Rivers responded, "I just see him as a normal  father  and or a normal  guy.  He just has a job that requires to coaches pro athletes.  It's cool that he coaches them, but I just look at him as a regular father and nothing special."
Austin also gave his mom props, "She's my biggest fan man!  She does everything for me and my family and I mean everything.  She takes us everywhere, cooks for the team.  I mean she has like 12 kids over and will cook for them, so she works the hardest and she should be the most famous one."
The word leaked earlier this summer that Austin was seeking to reopen his recruitment.  BDN found out during the Nike Peach Jam that Duke was on his short list of schools to visit, but we decided against running with the information at that time due to this being a sensitive issue.
Or at least, I thought it was sensitive until Coach Krzyzewski made it clear during the Orlando Showcase and AAU Nationals that he had interest in the outstanding high school baller.  Coach K sat alone for one of Rivers games and was joined by assistant coaches during other contests.
However, Rivers maintains that his verbal to UF is solid.  In fact, I asked him about the Sporting News article which came out the day before saying he reaffirmed his comittment to Florida.
"My dad wants me to look at other schools and see what other people have, but I am definitely going to Florida.  I will definitely visit other schools out of respect to my father."
It wasn't hard to see that Rivers would take an occasional look in the direction of Krzyzewski.
"I think it was great to have Coach K looking at me.  I'm just going to go up there and look at Duke.  I will look at other schools, but right now I want to play basketball at Florida."
Rivers said he would take a break mid August and ponder his thoughts while resting up.  He also said he thought about graduating early like Duke's incoming freshman Andre Dawkins.  His mom wants him to go through the natural process and judging from his answers, she looks to play a big role meaning that she'll likely want Austin to stay in Florida.
On the other hand, Doc seems to like the thought of Duke from afar and maybe even North Carolina.  For whatever reason, he just wants Austin to go through the recruiting process before signing on the dotted line.
BDN has learned that Rivers will make it to Duke sometime this month but a date has yet to be confirmed.  Some might say where there is smoke there is a fire, others will say seeing is believing.
By the end of the month we should know if there is a chance Duke might pull of a coup and land a guard that fits their system well, be it sheer basketball skills or NBA pedigree.
It should also be noted that the Rivers camp contacted Duke earlier in the summer inquiring about a visit.
Stay tuned.
Sidebar - Rivers team played in both the Showcase and Nationals, not to mention a made for TV game on ESPNU.  "It's the last tournament of the year and we want to go out with a bang and play as hard as we can," said Rivers after his sixth contest of the week.
Life would have been easier for Team Stat but numerous injuries claimed three players off their roster, including one of the nations top players in Brandon Knight.
Rivers lived most of his life in Florda, but has also lived elsewhere when his father was involved with NBA teams.
"We'll talk and I'll tell him what I did good or bad and analyze the game, but after that it's just Dad and son.  It's not always about basketball," said Rivers when asked about his Dad's input after watching his play.
Rivers is competing in the Nike Global Challenge
[/private]