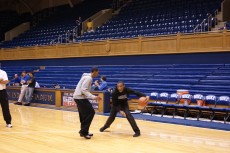 It's time for another Duke Basketball Team and Recruiting update and with that said, onto the latest happenings around the program.  Many of you have asked what's the deal with [private] Alex Murphy.  Well, Duke plans to redshirt him along with Marshall Plumlee but both could  play if there were significant injuries.  This will push Josh Hairston into a larger role and it definitely shortens the bench but the Blue Devils feel Michael Gbinije is starting to come along and they can afford to do this.  The Blue Devils do not want to wast a year on Plumlee and Murphy and this of course gives them a three man class with the aforementioned joining Rasheed Sulaimon.  The staff loves that Murphy and Plumlee are getting accustomed to the Duke system and both have made strides in practice.  The decision on Murphy had little to do with the concussion and more to do with how much burn the guys would actually get this year.
Everybody wants to know what's up with Tony Parker and only he knows.  The feeling is that he will not choose a school in December as he said he would.  The feeling is it will go on for a while despite the parents wanting him in Durham.  There is no way of telling what Parker thought of the loss to Ohio State, a school high on his list but surely he can see that there is a major spot available at Duke.
The Blue Devils coaches will be out and about in the next few days and we'll add more to this update when the visits are finalized.  You can bet that Julius Randle and Jabari Parker are high on the list as is Jahill Okafor.  I still feel the Blue Devils lead for the top player in the class in Parker and they are turning up the heat with Parker in limbo with Randle and other post players I will mention later.
The Blue Devil made the call to Matt Jones who recently signed and sort of prodded him along.  Jones has known Duke was his team of choice and it was time to pull the trigger.  The Blue Devils got a shooter like Dawkins, but Jones has a more rounded game.  Jones, like Sulaimon, will start to recruit for Duke as well and the Blue Devils think both players can and will play together.  Sulaimon is a much better on ball defender and has the potential to be one of the best in a while at Duke.  The Blue Devils love the energy he brings when on the court.
With the exception of Mason Plumlee and Austin Rivers, all spots are open and the hungriest players will earn burn against Colorado State.  Yes, Kelly, Dawkins, Curry and Thornton were all in the dog house on Tuesday and a message was sent to those guys to step it up.  All of them looked tentative and at times played on their heels against Ohio State.  The loss gives Coach K a great teaching opportunity and he will take advantage of it by fine tuning his team, so look for some serious effort in the next few games.
Despite the loss, the staff likes what this team has done and one bad loss will not take away from that.  Mind you, nobody is happy with the blowout but the season is long.  I expect Quinn Cook and Michael Gbinije to get more burn but neither really impressed in extended minutes during the loss in Columbus.  Duke also wants to find a way to get senior Miles Plumlee going and he has had a mildly disappointing season to date.  The Blue Devils will really need him when his brother Mason gets in foul trouble as the season goes on.  The word is Miles plays good in practice but spaces a bit when in a real game, seemingly not being ready for the ball or to react when it is needed.
Coach K will be honored by Sports Illustrated as the Sportsman of the Year, a great honor.  We'll add an addendum to this update shortly on who the Blue Devils will visit. [/private]