The Duke Blue Devils held practice #12 today in the Mike Krzyzewski Center for Athletic Excellence Practice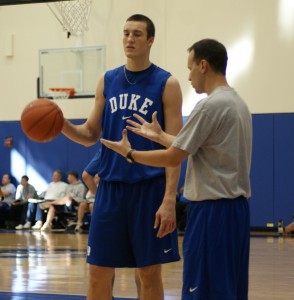 Facility.  The Blue Devils were coming off a hard fought scrimmage where they had ACC refs come in the previous days.
Since the start [private] of the season, Duke has had just two days off.  So today they decided to run no contact drills, working on several aspects of their shooting.  Coach K and the staff watched on as his team went through free throw drills, where Marty Pocius beat Jon Scheyer to face off with Elliot Williams for the most accurate of the day.
Despite those two ending up the drills, Miles Plumlee hit more than 18 in a row in one stretch.  Plumlee looks as good in the drills as he did in the season opening exhibition games and he is a pleasant surprise for those unfamiliar with his game.
Coach K said that his team had been getting better all preseason, but they had plateaued of late.  He stressed the importance of backing off at times like this, but said they will go full throttle tomorrow and that he wanted to see how his team responded.   He also mentioned that his team was nursing some minor injuries from going at it so hard of late.  Despite that, nobody looked but so hobbled to the naked eye.
The HOF Coach said it should be obvious that his team would be deep and that was easy to see.  He mentioned that Duke would have a chance to win against anybody, anytime, anywhere if they played to their abilities.
David McClure looked healthier than ever and showed some solid hops which I hadn't seen before.  In fact, the whole team is athletic and all can dunk with authority with the exception of Paulus.  Before you get on Paulus, he showed tremendous leadership, egging on his teammates, saying to Olek with fire, "Come on, you have to finish that off, after he missed a dunk on a drill.
Singler looks solid and Henderson is primed to fulfill his potential.  Miles Plumlee continues to impress with his athletic ability.  All in all, this is as K said, a very deep and talented team.  After tomorrow, I will have seen 5 practices, the Blue-White game and the Virginia Union game.  Now that I have had several viewings of the 08-09 team, I will begin to tell you my thoughts on each player.
Josh Hairston's father also attended today's practices with AAU coaches from his daughter's team.  Coach K's family was also present, or at least his wife, two of his daughters and five grandchildren.  The kids were dressed in their Halloween outfits and there was as always a family atmosphere.
I will report on two practices tomorrow and you are sure to hear something you like.  Check back in tomorrow night.[/private]