Blue Devil Nation Premium brings you an interview with prospect Quinn Cook.  The DeMatha product is a pure PG who is comfortable with the basketball in his hands.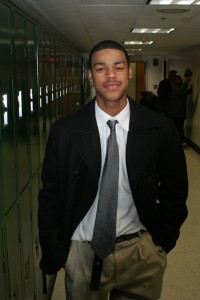 He was a man among boys on his team during the recent Southern Jam Fest scoring in the mid twenties in almost every outing.  He has a good handle and advanced offensive skills, but still needs work on his on ball defense.  This kid stood out in the crowd and after viewing him in six games now, I feel it safe to say that he will be one of the top 25 players in his class of 2011.
You  guys lost a tough championship game on a buzzer beater, what do you do to bounce back from that?
I mean, the good thing about basketball is that you have more games to play and this loss has to be put in perspective.  Next time we just have to make sure all their guys are checked.
How do you feel about your play in the Hoop Group Southern Jamfest?  Most observers have to see you as all tournament team.
I felt [private]  pretty good, but I think I could have done a lot more better.
What would you like to improve upon before entering college?
My foot speed. If I get that, I'll be ready.
You are coming back from an injury, is that mending well now?
Yeah, yeah, it's healing well.  Today is actually the day I sustained the injury last year.
Are you getting serious about the recruiting process?
Yeah, I take it one day at a time getting advice from my elders and mentors, my coaches and Mother.  After this school year I'm really getting into it.
Are you hearing from a lot of schools?
Yeah.  Indiana, Ohio State, North Carolina, Georgetown, N.C. State, Florida, a few schools.
Did you have a dream school growing up?
North Carolina and Michael Jordan.
You played for DeMatha and  weren't exactly in the shadow of Josh Selby last season, but what will it be like to be on your own this coming year?
It's going to be tough, but my coaches and team are prepared for another big year.  We are just working hard in the gym and pushing each other.
Are you still open with the recruiting process or open to other schools coming in?
Yeah.  I'm interested in anyone who is interested in me.
Did you grow up pulling for any particular conference?
I was always an ACC guy because Maryland is right down the street and Duke.  My Godbrother goes to Duke so, I was always a big ACC guy.
Now your God Brother is ...
Nolan Smith.
Growing up a Carolina fan, is Duke somewhere you would consider playing for them should they offer?
I mean, I respect ... my favorite coach is Coach K.  The way he could transition over and lead the USA to a Gold medal.  The way he leads his team, I have respect for Coach K and if they started recruiting me, I would be very proud.
It seems like you would be playing with the older DC Assault team, but with Tyler Thornton and Eric Adkins there, I suppose there is an overload of guards in the system.
I used to play with them because I have never had an age group.  I played with the older guys growing up but they formed another team and I play with Chris Martin.
You seem very confident with the ball in your hands.  What are you thinking out there?  Are you looking for your shot or just to make a play?
I'm a pass first point guard and ...
Now, you might have to convince a few people of that.  I mean you averaged 24 ppg in this tournament and seemed really comfortable on the offensive end.
Out here, I have to score but for DeMatha I get everybody involved.
And the ideal situation in college for you would be?
To go where I could fit in and make an impact as a freshman.
You're still a a very young man, but is there a timeline in your mind with concern to the process?
No, there is no rush.  I will just have to sit down with my AAU coach and my Mother and we'll make a decision.
Now who is this on your t-shirt?
That's my Dad.
Now wait a minute, it's Mothers Day ...
(smiling as his Dad walks up and says, you're giving me a shout out to the people) Yeah, my Mom is here too.
Good luck on the rest of the year.
Thank You. [/private]