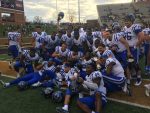 The Duke Blue Devils defeated Wake Forest 31-23 to become bowl eligible today.  I checked in with my best sources and have the most likely destinations and the opponent which they may play.
Here is a breakdown of the three possibilities and the likely opponent.  My best guesses are -
Walk On's Independence Bowl on December 27th Shreveport, Louisiana - Duke (6-6) vs Kentucky (7-5) Payout $1,200,000 each
A match up of basketball giants who have turned their football programs around in recent years.  Missouri is a possibility here.  With the lack of eligible SEC teams, this matchup could be a long shot.  Middle Tennessee or a Conference USA team is in play.
Military Bowl by Northrup Grumman at Navy Marine Corp Stadium, Annapolis, Maryland - Duke (6-6) vs Navy (6-5) Payout $1 million each
Navy will be playing Army before this game.  Duke fans would attend this game in the D.C. area.  UVA could be attractive with concern to attendance,
Quick Lane Bowl
on December 28th in Detroit Michigan - Duke (6-6) vs Purdue (6-6) or MAC Team Payout $1,200,000 each
An ACC vs Big 10 matchup at Ford Field.  An upstart Purdue team would face the Blue Devils.  Another possibility would be a MAC team such as Central Michigan or Akron.  The current feel is that this will be the Blue Devils destination but some politics are in play so we will wait and see.