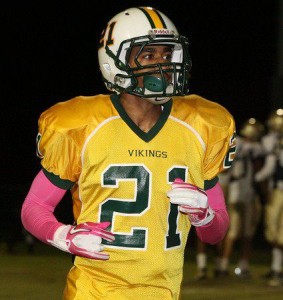 During Coach Cutcliffe's revitalization of Duke football, he has maintained the program's reputation for featuring the top student-athletes in the ACC. A year ago, the program led the ACC with 19 Academic All-Conference selections, more than three times any other ACC program. The goal is to match that success in the classroom with the results on the field, and ultimately, that effort starts on the recruiting trail. This weekend, Coach Cutcliffe extended a scholarship offer to a top student-athlete from Virginia, who he hopes can help the Blue Devils continue to build their success both in the classroom and on the field.
Evrett Edwards is a 5'11" 175 pound cornerback prospect from Woodbridge HS in Woodbridge, VA. Though he didn't start playing football until 8th grade, Edwards was a quick study, learning from his uncle, Benny Guilbeaux, a former safety at Notre Dame. By his junior year in 2011, Edwards earned 1st Team All-District honors, totaling 38 tackles, 6 interceptions, 4 pass break-ups, 3 fumble recoveries, 2 blocked field goals, and 1 blocked punt. The speedy prospect has seen his recruitment take off in recent weeks, and he now holds 6 scholarship offers from Boston College, Duke, Illinois, Ohio, Wake Forest, and West Virginia. BDN caught up with Evrett shortly after his unofficial visit to Duke on March 17. [private]
BDN: How would you describe your strengths as a player?
My understanding for the game. I've been told that I have a very high football IQ. I use that to my advantage. I study a lot of film, I study so much film to the point where I know if they run a certain play, I know what their whole drive will consist of. My footwork, I play soccer, so at my position footwork is a big deal. My quickness and my speed, I run a 4.42 [second] 40 [yard dash] and 3.91 [second] 20-yard shuttle.
BDN: What are you working on this offseason as you prepare for your senior year?
First of all, better myself. Second of all, better the people around me, and through that, obtain a state championship.
BDN: As you approach your college decision, what are the most important things you are looking for in a school?
I'm looking for a school that will last with me for 40 years. I understand that football is going to be finished at some point, and whenever football is done with me and I'm done with football, I need a degree from a school that is going to mean something in the business world. So, a 40-year, not a 4-year school.
BDN: Is business something you want to study in college?
International Business.
BDN: Where do you stand with offers and visits now?
I have 6 offers, most recent came from Duke yesterday. Earlier this week, on Tuesday, I got one from Wake Forest. On Friday, last week, was West Virginia. Thursday last week was Boston College and Wednesday last week was Ohio. Two or three weeks ago, my first offer came from Illinois.
BDN: Which schools have you had a chance to visit?
I've visited Duke and UVA thus far. I'm really trying to plan a visit to West Virginia and then April 13th I'm going to Northwestern, they're interested and talking about a possible offer. On the 14th I'm going to the University of Illinois.
BDN: Can you talk a little bit about your visits to UVA and Duke and what stood out to you about those schools?
Virginia, I talked to Coach Poindexter and he invited me to their Junior Day so we went down and visited, sat down and went over some film with Coach West, nothing serious. Duke, I've been in contact with Coach Roper for quite some time now, I went to spring practice, liked what I saw, had a chance to see the position coaches, watched film with them in a meeting, and then at the end of the day, Coach Cutcliffe called me into his office along with my parents. He told me he wanted to extend me an offer and thought that I would be a perfect fit for this school with my upbringing from my parents and how it's hard to find true student-athletes that excel both in the classroom and on the field, and he really liked that about me.
BDN: Do you have a timeline in mind for when you plan to narrow things down or make your final decision?
I had been saying November/December, but now, after the way things have been going the past couple of weeks, I really don't have a timeframe. I've prayed about it with my parents and when I get that feeling, I'm going to make the phone call and drive or fly to whatever school and talk to the coach.
BDN: Thanks a lot, Evrett, and best of luck.
Alright, thank you.
[/private]