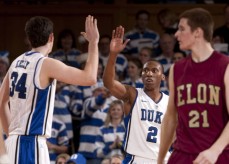 The Duke vs Elon game will most be remembered for Coach Mike Krzyzewski tying North Carolina's Dean Smith at 879 all time wins.  Duke came away with a 98-72 win over their outmatched performance and the Phoenix played with a lot of heart and found some good looks in the Duke defense.  Without further ado, here is the BDN Post Game Report with Coach K audio after his historic win.
Coach K ties Dean Smith on All Time NCAA wins list
As we alluded to in our Monday Musings column, Coach K downplayed an historic win in favor of concentrating on his team's improvement.  He was very gracious in the postgame chat, where he complimented Dean Smith and gave the media the quotes they needed to fill the numerous pieces you'll see in the morning papers.  For those of you who were around during the Krzyzewski-Smith years, you know this was quite an accomplishment, but with Kyrie Irving still not projected to be back any time soon, working on his team is the right thing to do.  Still, BDN sends out a hearty congratulations to a man who has built quite a program and is a living legend.  Duke fans should enjoy and embrace every moment he remains the head coach of Duke University.
Happy with the performance?
Coach Krzyzeswski said his team played well and at times they did but there was quite the lull before media was allowed into the Duke locker room.  The players told me the message was that they couldn't play like that in ACC games, and the maestro knows a brutal January slate awaits his Devils.  "It was intense and Coach K told us we had a long ways to go to be the team we are going to be," said Kelly of the post game meeting with their coach.
Kryie Update
According to Coach Krzyzewski, Kyrie Irving is still out indefinitely.  He is being evaluated every ten days and could miss the season still according to the Duke coach.  You can hear Coach K's comments via BDN audio below.
Kyle was the man
Kyle Singler tallied a team-high 24 points to go with 7 rebounds and 5 assists.  Singler told BDN he wasn't sure why his game elevated in late December going into the rest of the season, but we know why.  He loves competition and it gets better every step of the way from here.  Kyle dished 5 assists in the first half and that helped Duke take an 18 point lead into the half.  Duke also had a 14-0 run early and that put the game pretty much out of reach.
Ryan Kelly had a nice game
Kelly scored a career high 13 points, grabbed 6 rebounds and had a team-high 6 assists.  I tried to attribute the 6 assists to Andre Dawkins which you'll hear shortly when my eyes crossed a bit on the score sheet in the locker room.  "Every play I'm out there trying to play my hardest.  If I can earn more time by doing that, it's great.  I'm going to play just as hard when good things happen," said Kelly.
Nolan was effective when he was in
With 19 minutes to go in the game, Smith got his fourth foul.  He played just 21 minutes and scored 22 points on 9 of 11 shooting.  He had 4 assists and his 6 rebounds were impressive as well.  Smith was not too happy with their team's performance saying, "We just want everybody to step up, start talking and be ready to play when we come back."
A.D. played well too
We'll have a chat with Andre Dawkins up in the morning.  Dawkins reached double figures in scoring for the seventh time this season.  Dawkins leads the team with 30 three point field goals on the year.  He tallied 17 points, 4 rebounds and 4 dimes. 
Sidebar - Duke moves to 11-0 on the season and for the first time was not the unanimous number one team in the nation when today's A.P. poll came out.  Duke outscored Elon 34-24 in the paint, 28-18 off turnovers, 15-11 on second chance baskets and just 9-4 on the fast break.  Elon's bench tossed in 33 points but the Duke bench beat them by 1 at 34 points.  Duke will now have a nine day Christmas break before Krzyzewski passes Dean Smith when they take on winless UNC-G.  The Duke wireless internet went down in the media room, so the picture gallery from Lance King will come in the morning.
Coach K's post game audio below, just press play -